The 28th edition of Tokyo International Film Festival will shine a spotlight on home-grown cinema, offering fans of Japanese film a taste of everything. Chris Gallagher reports.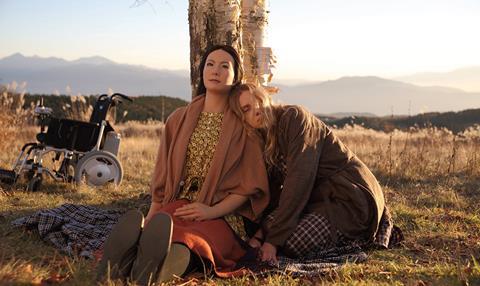 'It's important that we do special features on anime'
Yoshi Yatabe, Tokyo Film Festival
Tokyo International Film Festival (October 22-31) has picked three Japanese titles to play in official competition: veteran director Kohei Oguri's Foujita, up-and-coming helmer Koji Fukada's Sayonara (see box) and hit-maker Yoshihiro Watanabe's The Inerasable will vie with 13 other films for the Grand Prix, to be awarded by the Bryan Singer-led jury. This is the highest number of domestic films selected since 2004, and a direct reflection of the high quality seen in recent Japanese films believes competition programming director Yoshi Yatabe.
"These are three very different types of film that highlight the diversity of Japanese cinema today," says Yatabe, who notes that diversity is a common thread for the line-up as a whole with a fairly even representation of the world's regions among the other titles.
New sections this year include Japan Classics and Japan Now, which centres on recent Japanese films not eligible for the Competition because they had already premiered overseas or been released theatrically in Japan. "There wasn't a venue at the festival to screen these important films that are representative of current Japanese cinema," says Yatabe. "Media or buyers coming from overseas weren't able to watch such films. So we decided to make Japan Now as a section to screen these kinds of titles."
Titles in the inaugural Japan Now section include Hirokazu Kore-eda's Our Little Sister, which premiered at Cannes this year, and Sion Sono's Love & Peace, which was released in Japan this summer. Masato Harada will be the director in focus of the 16-film section, with five of his films to be screened including The Emperor In August. To accommodate an increase in screenings, the festival has added movie theatres in the busy Shinjuku shopping district in addition to its usual Roppongi Hills venue. The Shinjuku Piccadilly will scare up a Masters of J-Horror night, including Hideo Nakata's Don't Look Up and Ghost Theater, Kiyoshi Kurosawa's Cure and Takashi Shimizu's Ju-on.
Celebrating the past
Across town in Ginza, the 'Special Night Event at the Kabukiza Theatre' returns after its successful launch last year. This year's event will feature the Kabuki performance 'Goro In The Rain' and a screening of Akira Kurosawa's They Who Step On The Tiger's Tail, an adaptation of a Kabuki play. Separately, Kurosawa fans will also be able to see a 4K digital restored version of Ran, the opening film of the first Tokyo festival in 1985.
On the animation front the festival will hold the special programme 'The World Of Gundam', screening the entire robot anime series, after last year featuring the works of animator Hideaki Anno. "Japan is strong in animation so I think it's very important that we do special features on anime artists," says Yatabe.
Despite the increased emphasis on Japanese cinema, the festival remains strongly committed to its mission of discovering and supporting young directors from the wider Asia region, including through its Asian Future section. It will also hold the the second part of the Crosscut Asia series, which began last year with a spotlight on Thai film-makers. This year's instalment will feature the cinema of the Philippines, including a special programme on Kinatay director Brillante Mendoza.
The festival is also supporting the 'Asian Three-Fold Mirror' omnibus film project, part of its initiative with the Japan Foundation Asia Center to promote co-operation between film-makers in the region. The film's directors will be Mendoza, Sotho Kulikar of Cambodia and Isao Yukisada of Japan, with the world premiere slated for next year's Tokyo International Film Festival.
Content marketplace
This year, TIFFCOM, part of the Japan Content Showcase marketplace for music, film, TV and animation, will again be held at the Grand Pacific Le Daiba hotel on Tokyo Bay, running October 20-22. The number of exhibition booths at the Japan Content Showcase, now in its fourth year, will hit a record high of 219, up 7% from last year. The marketplace will feature a seminar on the streaming video market and global potential of Japanese content, with executives from companies including Netflix, Amazon and Hulu discussing the outlook for the VoD market.
TIFFCOM director Fumio Takagi believes the timing is ideal given that Netflix and Amazon have just entered the Japanese streaming market. "The attention from the industry is expected to grow more and more," he says.
Robot uprising
Film-maker Koji Fukada tells Chris Gallagher why directing a real android was a challenge in Sayonara, his TIFF competition entry.
Koji Fukada has become a regular presence at the Tokyo International Film Festival. The Japanese director took the prize for best picture with comedy Hospitalité in the Japanese Eyes section in 2010 and broke into the main competition section in 2013 with drama Au Revoir l'Été. Now he returns to the latest edition of the festival with the world premiere of Sayonara, adapted from Oriza Hirata's short play of the same name about a terminally ill woman and her android caretaker.
Fukada says getting a project off the ground based on an original idea or lesser-known source material has become increasingly difficult in this intellectual property-driven age, but having a female robot as one of the film's stars can sure help pave the way.
"What's especially hard in Japan is that there isn't a strong subsidy system like in Europe to mitigate the financial risk — film-makers need to use famous actors and have famous source material like novels and manga," he tells Screen. "I don't feel like making Sayonara was any easier just because it was based on a play; it's not like it had the reach of a manga or novel where millions have seen it. But I think the concept of having an android and a human acting together drew a lot of interest and helped us get financing."
Sayonara follows South African-born Tania (Bryerly Long) and android Leona (Geminoid F) in a near-future Japan that is contaminated with radiation following a series of accidents at nuclear power plants. With Tania becoming increasingly isolated as other residents evacuate for overseas, questions about life and death are examined through the communication between her, a dying human, and Leona, an immortal android.
Fukada first saw the play in 2011 and was drawn to how it made audiences really think about its theme. "I immediately thought I wanted to make it into a movie," he says. "I got the rights to the material and started the project."
Fukada had to broaden the story considerably to make it in to a feature-length film and he added the nuclear accidents, which were not in the original play, as the issue of atomic safety was grabbing headlines following the Fukushima disaster. He felt it was important to stick with the same cast from the play and made an offer to Long, who had also appeared in Hospitalité. Long expressed an interest in film-making and so she also came on board as a producer.
"Hardly anyone has acted with an android before and she had several years' experience in the play, so we got her to make use of that experience for the film as well," Fukada says, noting that the American-born Long — who speaks both Japanese and English in the film — gave him a lot of advice based on her familiarity with the capabilities of Geminoid F. Fukada was able to borrow Geminoid F from Osaka University, where she was developed by roboticist Hiroshi Ishiguro, at a significantly low cost. Robot technicians on set controlled her movements and voice, which was pre-recorded for dialogue scenes. Fukada says he had no major problems at all working with the android thanks to the experience of the technicians, who had also worked on the play.
Financing came from production company and distributor Phantom Film as well as other partners. The film will open in Japan on November 21 in limited release, and ColorBird is handling international sales.
Sayonara marks the second time Fukada has adapted an existing property after Zakuro Yashiki in 2007, which was based on a story by Honoré de Balzac and took the prize for Best Newcomer at the Paris Kinotayo Film Festival. He followed that effort with Human Comedy in Tokyo in 2009. Hospitalité also won Best Asian Film at the Bucheon International Fantastic Film Festival, and Au Revoir l'Été won the Grand Prize at the Festival des 3 Continents.
Fukada is set to begin work on his next project this month. Details are under wraps but it does not involve any android performers; that's not to say, however, that Geminoid F won't be seen in any other productions. "She could be back at Osaka University or could be off performing somewhere, she's in real hot demand," Fukada says with a smile. "It was really tough to pin down her schedule. Harder than with an actor."