Senior US critic for Screen International, Grierson has written for the magazine since 2005. Based in Los Angeles, he also contributes to New Republic and Rolling Stone.
Read more: More critics pick best films of 2017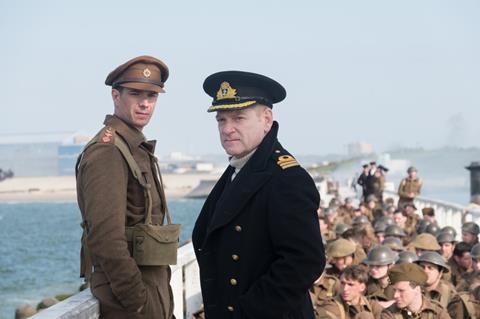 Top five
1. Dunkirk
Dir: Christopher Nolan
Raising the bar on how immersive, visceral and terrifying a war movie can be, Christopher Nolan's recreation of the battle of Dunkirk brilliantly fuses the two sides of his filmmaking personality. Both a cerebral puzzle of jumbled chronology and an effortlessly stirring big-screen spectacle, Dunkirk is a thrilling sensation with a deeply moral centre. Wars are fought by individuals, and Nolan makes us feel the terror, heroism and elation of his scattered protagonists.
CONTACT: Warner Bros
2. Call Me By Your Name
Dir: Luca Guadagnino
A poignant love story plays out over one sultry summer. Timothée Chalamet astonishes in a breakthrough role, aided by pitch-perfect performances from Armie Hammer and Michael Stuhlbarg.
CONTACT: Sony Pictures
3. A Ghost Story
Dir: David Lowery
A Ghost Story intimately explores mortality and existence with a hushed modesty that radiates with cosmic grandeur.
CONTACT: A24/Picturehouse Entertainment
4. Loveless
Dir: Andrey Zvyagintsev
A divorcing Russian couple discover their son is missing and their ordeal becomes a bleak, angry metaphor for a country losing its soul.
CONTACT: Wild Bunch
5. Phantom Thread
Dir: Paul Thomas Anderson
America's finest filmmaker delivers an enrapturing portrait of a most unusual love affair. Daniel Day-Lewis may be retiring, but Vicky Krieps' terrific turn suggests she is just getting started.
CONTACT: Universal Pictures
Best documentary
The Work
Dirs: Jairus McLeary, Gethin Aldous
An ambitious, unconventional group-therapy programme — one that brings together dangerous criminals and ordinary civilians — is the backdrop for this startling documentary about masculinity and inner demons.
CONTACT: Dogwoof
Undiscovered gem
Lindy Lou, Juror Number 2
Dir: Florent Vassault
Twenty years ago, Lindy served as a juror in a murder trial that sentenced a man to death. In this fascinating documentary, she visits her fellow jury members to see if they are eaten up by guilt as much as she is. A prickly road movie that doubles as an examination of the US criminal justice system.
CONTACT: Wide House


Based in the United States.