A longtime contributor to Screen, Jonathan Romney also writes for Film Comment, Sight & Sound and The Observer, and teaches at the UK's National Film and Television School.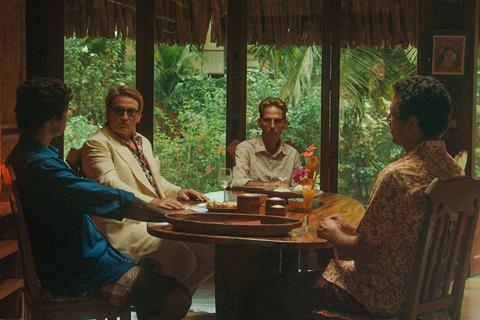 Read our other critics' top tens here.
Top 10
1. Pacifiction
Dir. Albert Serra
The Catalan avant-gardist makes a bold step towards mainstream narrative — after a fashion. A South Seas political thriller deconstructed down to its bare bones, it features a white-suited Benoit Magimel as a seedy diplomat steeped in intrigue under nightclub neon and Gauguin skies.
2. Trenque Lauquen
Dir. Laura Citarella
From a member of Argentina's experimental El Pampero Cine (La Flor, Ostende), a two-part, four-hour labyrinth of narrative about a missing woman, the men searching for her, an intrigue pieced together in radio programmes and old love letters and other elusive phenomena, set in an Argentinian backwater where mundanity exists alongside deep enigma.
3. R.M.N.
Dir. Cristian Mungiu
The latest from a pioneer of Romania's New Wave, and one of the year's overlooked best, this brilliantly executed, deeply provocative Cannes Competition title arguably had more to say than any other film of 2022 about the tensions and hatreds currently afflicting Europe. Set in a Transylvanian village and involving local reactions to the arrival of Sri Lankan bakery workers, it begins as a naturalist drama, then becomes something more perplexing and haunting.
4. EO
Dir. Jerzy Skolimowski
Now 84, the Polish veteran returns with a film so fresh and experimentally vibrant that it could have been made by a radical newcomer six decades younger. The story of a donkey and its travails in several European countries, the film is unsentimentally moving and Kubrickian in its visionary invention — and deeply satisfying for anyone who ever wondered how Isabelle Huppert might smash crockery (with lofty insouciance, naturally).
5. Alcarrás
Dir. Carla Simon
The Berlin Golden Bear winner from the Catalan director of the autobio­graphical Summer 1993 — a rural drama about a family trying to hold on to its peach-farming heritage, while Europe's economic landscape changes all around them. A non-­professional cast persuasively portray family bonds and tensions, with the film's children running riot joyously.
6. Klondike
Dir. Maryna Er Gorbach
7. TÁR
Dir. Todd Field
8. Showing Up
Dir. Kelly Reichardt
9. Saint Omer
Dir. Alice Diop
10. Winter Boy
Dir. Christophe Honoré
Best documentary
1. The Afterlight
Dir. Charlie Shackleton
Not a documentary per se, so much as a conceptual assemblage and a resonant contemplation of cinema, memory and metaphysics. A host of actors no longer alive are reanimated, magically preserved in the aspic of film and inhabiting a parallel world in which they can live on as long as Shackleton's single celluloid print allows.
2. The Kiev Trial
Dir. Sergei Loznitsa
The prolific Ukrainian filmmaker follows his Babi Yar. Context with another archive film, this time using footage of the 1946 trial of German soldiers responsible for atrocities in Ukraine in the Second World War.
3. Russia 1985-1999: TraumaZone
Dir. Adam Curtis
In his archive series, political-­cultural essayist Curtis holds back on his much parodied spoken commentary, and lets the images speak. Footage shot for the BBC records events before, during and after the collapse of the Soviet Union, from the Kremlin to the streets to the factory floors.
Performance of the year
The ensemble non-professional cast in Under The Fig Trees
Dir. Erige Sehiri
The tradition of casting non-professionals never ceases to offer new surprises, and Under The Fig Trees is a singularly fresh example. This superb Tunisian drama from the writer and director of Railway Men was cast, among other places, at the gates of high schools and features a predominantly young, briskly vital ensemble — including sisters Fide and Feten Fdhili — in a Renoir-esque piece about a group of fruit pickers on a day's work in an orchard. Loves, friendships, rivalries and resentments emerge in one of recent cinema's more nuanced and revealing films about everyday life in an Islamic country.