Screen profiles the next wave of exciting British indie projects.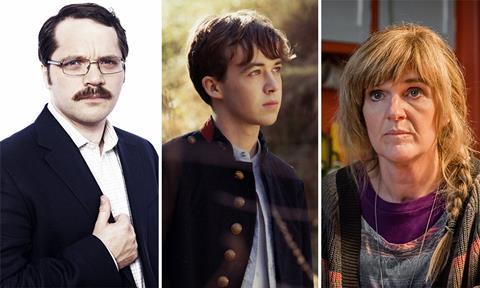 There's been a creative boom in low-budget British films in recent times, with the critical success of projects like Lady Macbeth, God's Own Country and I Am Not A Witch creating a new sense of optimism for the UK independent film sector.
Screen checked out the next wave of low-budget projects that are earning buzz in the industry, all of them by first time directors.
Apostasy
Dir. Dan Kokotajlo
Siobhan Finneran (TV's Happy Valley, pictured, top right) stars in this drama about a faithful Jehovah's Witness forced to shun her own sister because of a religious transgression. Dan Kokotajlo, a Screen International Star of Tomorrow in 2015, directs and co-writes with Charlotte Wise, with Marcie MacLellan and Andrea Cornwell serving as producers. The film was developed and produced through Creative England's ifeatures, and was greenlit in 2015 at the same time as Lady Macbeth and Hope Dickson Leach's The Levelling.
Beast
Dir. Michael Pearce
National Film & Television School graduate and 2011 Screen International Star of Tomorrow Pearce presents Jessie Buckley, Johnny Flynn and Geraldine James in what is being described as "a dark, intense love story". Beast, which is produced by Kristian Brodie of Agile Films, and Ivana MacKinnon and Lauren Dark of Stray Bear Productions, is backed by BFI Film Fund back and Film4.
Old Boys
Dir. Toby Macdonald
Alex Lawther (pictured, top middle), who played the schoolboy Alan Turing in The Imitation Game and is upcoming in Goodbye Christopher Robin, stars in this reworking of the Cyrano de Bergerac premise set at a British boys' boarding school. Macdonald, who picked up BAFTA nominations for his shorts Je T'aime John Wayne and Heavy Metal Drummer, directs from a screenplay by Luke Ponte and Freddy Syborn, with Luke Morris producing for Momac Films. The film is co-developed and co-financed by the BFI and Film4, while Creative England and Film i Väst, in partnership with Erik Hemmendorff, also contributed finance. West End is handling sales.
Pin Cushion
Dir. Deborah Haywood
A 2007 Screen International Star of Tomorrow, shorts director Haywood makes her feature debut with a Derbyshire-based teen drama about schoolgirl friendships and rivalries that spiral out of control. Initially developed through ifeatures, the film is produced by Gavin Humphries for Quark Films with Maggie Montieth for Dignity Film Finance, the latter financing alongside the BFI.
Possum
Dir. Matthew Holness
Holness (pictured, top left), co-creator and co-star of UK comedy-spoof TV series Garth Marenghi's Dark Place, directs Sean Harris and Alun Armstrong in a supernatural horror fused with a psycho-drama about a disgraced children's puppeteer confronting his stepfather. Producers are James Harris, Mark Lane, Robert Jones and Wayne Marc Godfrey of The Fyzz Facility with production finance from Ingenious and The Fyzz Facility. Creative England and Bankside Films developed the screenplay, with Bankside handling sales.