Vicky Jones took a step into the unknown with Run, her new comedy-drama for HBO.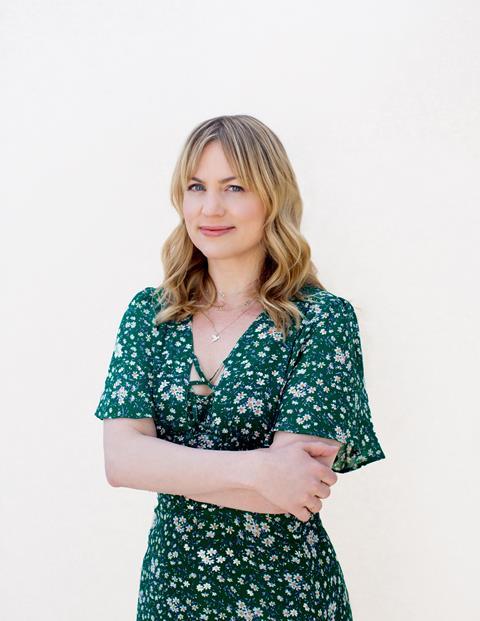 Previously best known for her work with Fleabag star Phoebe Waller-Bridge, Jones served as both writer and producer on the half-hour series, giving the British theatre and TV writer her first outing as a TV showrunner.
Before starting the project, Jones admits: "I didn't really know what a showrunner did."
Now she can see that the job has its benefits and its challenges. "Being able to dip into everybody's incredible craft and hard work and make decisions about what's right for the story is a wonderful, wonderful privilege," she says. "And a responsibility as well. Because there's a lot riding on it: a lot of money, a lot of people and a lot of effort. So you have to be on point all the time."
Run – produced for HBO by eOne and distributed internationally by Warner Bros International Television Distribution – follows a woman (played by Nurse Jackie's Merritt Wever) who walks out on her suburban family life to reunite with her former college boyfriend (Domhnall Gleeson), a charming Irishman who's made a killing as a self-help guru, for a whirlwind trip across America.
The trip – the result of an unlikely pact the pair made 17 years earlier – gets predictably wild, but rarely in the predictable ways, making the show as much an action thriller as a bantering romantic comedy.
Jones says the idea came from the fact that, for her, "other people's romances are always such a mystery. I wanted to get into the nitty gritty of a relationship that had been very romantic but then, for whatever reason, the couple had split up."
The couple's pact puts a smartphone spin on a joking arrangement Jones once made with long-time friend Waller-Bridge. "If either of us was in a situation we wanted to get out of we'd whisper to the other one, 'Run,' and we'd run out of there," she reveals. "It was just an idea, it wasn't something we really did."
Mixing comedy with thriller aspects was a move to keep viewers off guard. "We wanted people to lean in and not know where they stood, whether the next thing that happened was going to be action or comedy," Jones explains. "I've learnt that from Phoebe – playing around with audience expectations helps keep them glued to the screen."
Working with Phoebe
Her collaborations with Waller-Bridge began when the two formed the DryWrite Theatre Company and Jones directed the 2013 one-woman stage version of Fleabag, first for the Edinburgh Festival Fringe and then for its West End and off-Broadway runs. The stage production was also a hit in UK cinemas last year when it was broadcast as part of the National Theatre Live event series.
Jones was also a script editor on Waller-Bridge's 2016 comedy series Crashing and the critically acclaimed TV adaptation of Fleabag as well as writing an episode for the first season of Killing Eve, which was developed by Waller-Bridge.
There have been solo credits too. She wrote stage plays Touch and The One and contributed to TV series including Snatches: Moments From Women's Lives and Flack – but the work with Waller-Bridge (who in turn is one of the executive producers of Run and a recurring guest star on the series) has been formative.
On taking Fleabag to TV, Jones says: "I was in the room with her for months on end as she compiled the story. I'd been the dramaturge on the play so I knew the material very well. But of course, the play was only an hour long so there was a hell of a lot more that needed to be written."
Among the tricks learned from Waller-Bridge, she says, was "a lot about keeping things feeling fresh and new and unexpected, and staying ahead of your audience".
Being involved as the series was shot was also significant, Jones adds, since "understanding the way that a set works trickles down into how you write a script".
With the initial seven episodes of Run now safely across the finish line – the series debuts on HBO in the US on April 12 and on Sky Comedy in the UK on April 15 – Jones is contemplating future work in both theatre and TV, describing the stage as her "first love, because of the craft and the live element, and there are so many incredible UK theatres I'd love to work at".
She's also hoping for a second season order for Run. "I feel like there's more to say, more of their relationship I'd love to explore. So I'd love that to go forwards."
And "at some point", Jones says, she plans to write a feature film. Getting into another new medium, she suggests, would take her into territory both familiar and unfamiliar.
"Structurally I'll need a bit of help, working out what happens and in what order," she concedes. "But being able to create characters that feel true and real and complicated is what I hope to do in anything I write."