Israeli film-maker Maya Zinshtein discusses the fallout from her football doc Forever Pure, which plays in TIFF Docs.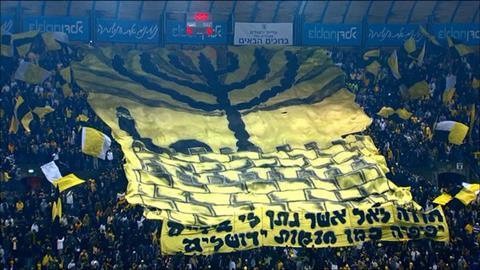 "Your next film will be made about your funeral." That was the message that Israeli documentary film-maker Maya Zinshtein received via email after she had published a 10-minute excerpt of her documentary Forever Pure, which is playing at Toronto International Film Festival, on The Guardian's website in November 2015.
It was to be the first of a prolonged campaign of death threats from Beitar Jerusalem's right-wing supporters' group – referred to as La Familia – who had taken exception to her depiction of their protest against the Israeli football club's decision to sign two Muslim players from Chechnya. With its politically-charged, historically right-wing support, Beitar had until that point never signed an Arab player to play for the team. In chants at matches, sections of the support often refer to themselves as "the most racist football team in the country".
Zinshtein, a journalist and film-maker, had initially begun making the documentary after receiving a call from an Israeli TV channel asking her to make a programme about the arrival of the two Chechen players to the football club. "They told me that they were landing in two hours and I was going to make a film about them," the director recalls.
Shortly, she found herself travelling in a car with the two footballers, Zaur Sadayev and Dzhabrail Kadiyev. "I was one of the first people they met in Israel," remembers Zinshtein, who went on to spend four days with the young men as they acclimatised to what was immediately a tense environment.
Zinshtein says that even though her work on that project was complete, she knew that the real story was only just beginning, and that she felt she should "begin looking at the club and asking questions, to try to figure out what was going on".
The film depicts the hostile reaction from La Familia as they protest the club's decision to sign the two Muslim players, with reactions varying from stadium protests – including a mass walkout when Sadayev scores his first goal for the club – to an arson attack at the team's training ground. "It was a nightmare for them [Sadayev and Kadiyev]," says Zinshtein.
However, it also attempts to look deeper into the climate around Beitar, which has the largest fanbase in the country. The club is seen as a symbol of Israel's right-wing and has traditionally had backing from many political leaders. "All our leaders are Beitar fans," says the director.
Current president Reuven Rivlin has been a lifelong supporter of Beitar, but has bucked a political trend by being openly critical of the racist undercurrent amongst sections of its supporters. Zinshtein interviewed Rivlin for the film, and he even turned up in his motorcade to the film's premiere at the Jerusalem Film Festival in July (see picture above). "Beitar is his love, he told me that he still watches all the games at home," the director says.
Another figure who features in the film is the club's controversial former owner, Russian-born billionaire Arcadi Gaydamak. Having been linked with arms trafficking in Angola, Gaydamak was sentenced to three years in French prison in November 2015 for money laundering and tax offences.
Zinshtein conducted two long interviews with Gaydamak for the film, in which he recounts his personal and political motivations behind his time at Beitar with remarkable candour. "I think he really wanted to speak out," surmises the director, noting Gaydamak's frustration at his unsuccessful campaign to become mayor of Jerusalem in 2008 (in the film, it is suggested that Gaydamak may have bought the club simply as a political tool to win himself the city's mayorship). "The club has always been a political tool," notes Zinshtein.
The director also spent time with members of La Familia, though this was limited by her decision to tell the club's story rather than focus on the supporters' group. "The film was never really about them, it's about the club," asserts Zinshtein. "I don't feel I went into La Familia and uncovered them, that was never my purpose."
The harassment and death threats that members of La Familia sent to Zinshtein included ones targeted at her mother, and a particular threat that alarmed the director because of the level of detail it went into about her background. "They began calling me five times an hour, for three days, that was really not fun," says Zinshtein, who was eventually forced to go to the police. "After making the film, I knew it would be very stupid to underestimate them," she adds.
Quality stamp
The film includes plenty of footage from actual matches, which was an expensive rights undertaking, reveals the director. "It was important to make it look high quality, so we invested lots of money in the footage," she says. "It's actually a very expensive film in a documentary sense. It's a big club and I felt that it had to be a big film."
Looking forward, Zinshtein is relieved to note that the death threats have just about dried up, and she has worked with Israeli police to have one of the culprits charged. The director's main goal is for the film to serve as an education tool to help future generations understand the reality behind Beitar Jerusalem as a club. "My goal is for every child in Israel to watch this film."
The director hasn't finalised what her next project will be but don't expect her to be putting herself out of the firing line. "I find it very interesting to explore how big, powerful organisations affect the people, I like drawing the line from top to bottom," she says.
Forever Pure was produced by Geoff Arbourne alongside Zinshtein and had support from bodies including the Irish Film Board, which suggested they hire Room composer Stephen Rennicks to do the film's score. UK documentary specialists Dogwoof boarded international sales in August.
The completed feature version of the film has played to strong initial reviews and had an award-winning bow at this year's Jerusalem Film Festival, picking up three prizes. It is now set for its international premiere in the TIFF Docs strand at this year's Toronto International Film Festival.
Supporters of the project included YesDocu, NFCT, Sundance Institute, BBC Storyville, Gucci Tribeca Documentary Fund, DR, Liminal Fund Grant - BRITDOC, Bertha Film Fund and Documentary Marketing Foundation CoPro.