The co-founders of Fortitude International, Nadine de Barros, Daniel Wagner and Robert Ogden Barnum, tell Jeremy Kay about their plans for year two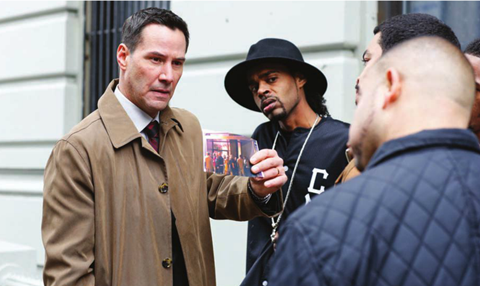 One year after their first public outing as business partners, Fortitude International's trio of co-founders arrive in Berlin on track for 'phase two'.
Nadine de Barros, Daniel Wagner and Robert Ogden Barnum have achieved a lot in their first 12 months on the circuit.
James Ponsoldt sales title The End Of The Tour starring Jason Segel as David Foster Wallace recently premiered in Sundance and was acquired by A24, while the balance of the initial slate — Daughter Of God, Urge and The Runner — are all in post-production.
Now the plan is to nurture in-house productions. To that effect, Fortitude aims to line up six to seven projects in 2015, including submarine thriller Dive from Ariel Vromen, the in-demand director of The Iceman.
"We don't feel like a company. We feel like film-makers," says de Barros, the former Voltage Pictures and Aldamisa International senior executive with experience in film and TV, who spearheads sales. "We're not corporate. We're not bureaucratic. You deal with me, Rob and Daniel. We're honest and transparent."
Barnum and Wagner are producer-financiers. The former, also a partner with Cassian Elwes at finance and packaging firm e2b Capital, who has produced Margin Call, Hateship Loveship and Shelter among others, has served in a senior capacity at Annapurna Pictures and Benaroya Pictures and is highly adept at structuring finance.
Wagner is the Sweden-born, Los Angeles-based owner of BiFrost Pictures and former head of production at Paradox Entertainment who produced Shelter and the upcoming Miles Davis biopic Miles Ahead with Barnum. He backs Fortitude International with a group of other investors.
'We're not corporate. We're not bureaucratic. You deal with me, Rob and Daniel. We're honest and transparent'

Nadine de Barros, Fortitude International
The company's roots date back to Toronto 2013. De Barros had recently departed Aldamisa and was eager to build something.
"I knew what I needed more than just money was somebody who knew how to produce movies and somebody who understood international finance," says de Barros. "I also knew I didn't want to do it alone. I needed hands-on partners."
She was in two minds about the trip to Canada that September but decided to attend. By chance, Barnum heard about her availability and called from his bachelor party to arrange a meeting. The pair were acquaintances and Barnum brought Wagner into the equation, with whom de Barros had collaborated in her Voltage days.
"We all worked in the indie space and had that energy and indie spirit," says de Barros. "We have all grown up hustling in this business. So we began the conversation in Toronto."
As they huddled over drinks at the Metropolitan Hotel, the strength of their complementary skills became clear to all and they set about structuring a company.
The plan was to launch at Cannes 2014 but an opportunity arose with financier Kilburn Media on The End Of The Tour and they took the film to Berlin 2014 to kick off pre-sales.

Taking control
For Barnum, Fortitude has been a natural career progression. "Cassian and I have made something like 30 movies since 2012," he says. "With each film we either felt we were making a lot of money for somebody else or we felt we were getting estimates from people that weren't accurate.
"Bringing in a partner who could bring real transparency to the international sales space was a logical extension of what we were doing making films. It was something we had been talking about since 2011.
"Over the past year the market has shifted and it has become more important to produce your own stuff and put movies together. When you're putting together something from script to screen, it's nice to talk with someone [de Barros] about [the value of] actors and directors."
One year on and the company's other three third-party sales titles are all in post: Daughter Of God headed by Keanu Reeves; Pierce Brosnan starrer Urge; and The Runner with Nicolas Cage.
"The first year was more about acquisitions," says de Barros, adding: "Year two is going to be more about projects we are more selective about doing ourselves."
The company also has television ambitions and has struck a deal with Emmy winner Phil Goldfine and his Universal-based Hollywood Media Bridge. The partners have lined up three historical mini-series starting with Vlad The Impaler: Blood Empire set to go into production in April.
On the film side, the Fortitude co-founders agree Vromen and The End Of The Tour's Ponsoldt are emblematic of the directors with who they want to work. They welcome fresh faces and established talents.
Barnum cites the need to pay constant attention to the "ebb and flow" of global economics when putting together projects.
"It makes it tricky to price these movies and come up with budgets that make sense," he says. "You have to be nimble to make these things financially viable." Being nimble is something the experienced Fortitude trio, with their deep industry ties and restless energy, knows how to do.