Eight years after Lebanon, Israeli filmmaker Samuel Maoz returns with Foxtrot, a politically charged drama about a family given tragic news about their son. Tom Grater talks to Maoz and lead actor Lior Ashkenazi.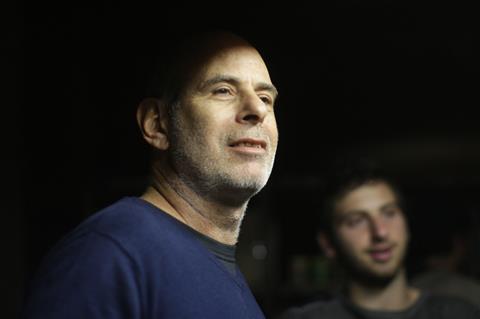 Foxtrot has endured a bumpy road. The project had been talked about in hushed whispers since early 2017, with the news that filmmaker Samuel Maoz was returning to the director's chair after an almost decade-long hiatus — surprising, following the great success of Lebanon — causing a stir in the international film community.
The team of producers, which includes figures such as Cedomir Kolar (No Man's Land) and Michel Merkt (Elle), kept their cards close to their chests throughout production, with no real announcement being made until The Match Factory launched the completed film into the market in mid-August 2017 (the German sales agent's founder, Michael Weber, is also a producer on the project).
The low profile did not last long, with the film's premiere in competition at Venice Film Festival attracting both positive word-of-mouth and sharp political criticism. The loudest dissenting voice was, predictably, Israeli culture minister Miri Regev. An outspoken figure who is popular with Israel's right wing, Regev is no stranger to courting controversy, as demonstrated by her headline-making appearance at Cannes this year, when she took to the red carpet wearing a specially commissioned dress depicting the Jerusalem skyline — a move criticised for being more of a political statement than a fashion statement.
After Foxtrot won Venice's grand jury prize, Regev lashed out in a public message posted to her Facebook page (a regular outlet for her political statements) in which she slammed the film, citing its depiction of the Israel Defense Forces (IDF) as "anti-Israeli". Her reaction was largely invoked by one particular sequence, which depicts the IDF covering up a violent incident involving civilians.
Family man
Maoz, however, is relaxed when it comes to discussing the film's genesis and reception. He explains that the lengthy pause in his filmmaking was due to him "building furniture and raising my daughters", and that it then took him nearly four years to write Foxtrot.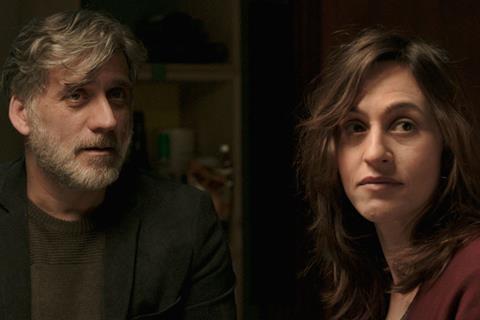 The nucleus of the idea was inspired by a real-life event. Many years prior to making the film, Maoz sent his daughter off to school one day by bus, having become frustrated with her insistence on taking taxis. Shortly after, he heard on the news that a bus on the same route had been hit by a suicide bomb (part of the conflict between Israel and Palestine that is still ongoing), and for an agonising hour he was unaware whether his daughter had been hurt. Luckily, she had missed the bus.
He is coy about the film's meaning, but says that his approach to writing a script is first and foremost "artistic". He explains that he planned to tell "a story with a relevant statement, both local and universal" and that he "wanted everybody to take what they were going to take" from the narrative. "This is a film and we need to provoke and inspire discussion — that is the job of art," he adds.
Maoz does bristle slightly when confronted with the criticism from Regev, though this is likely down to the way her comments have dominated early chatter around the film, despite the wider reception being overwhelmingly positive. He refuses to be drawn into making political statements, but does express distaste for the seeming inability Israeli filmmakers have to depict the nation's armed forces without drawing criticism. "The army is a mirror of society, everyone was in it," he comments, referring to the country's continued use of national service. "If I had made the film about a horrible crime and the police, nobody would say, 'This is a shameful representation of the police department.' They would see it as just a film."
The making of the film was a tough process, with the emotional nature of the story and Maoz's relentless approach to directing taking its toll on his actors. Lior Ashkenazi, who stars alongside French-Israeli actress Sarah Adler, recalls that during one emotionally draining sequence, when his character suffers a breakdown in the bathroom after hearing that his son may have been killed, he screamed "enough" (in Hebrew) at Maoz after the director continued to push his actor to "dig deeper for emotion". Despite not being part of the performance, the exclamation from Ashkenazi made the film's final cut, and its visceral nature makes for one of Foxtrot's most searing moments.
Maoz will be hoping he can emulate the achievements of countrymen Joseph Cedar (Footnote, 2011) and Ari Folman (Waltz With Bashir, 2008) in being Oscar-nominated for Foxtrot, and the film could even become the country's first ever winner in the foreign-language category. The political climate around the film has failed to derail it so far, and some might even say it has bolstered its campaign — it shone at Israel's primary awards ceremony, the Ophirs, taking eight prizes including best film.
Sony Pictures Classics will distribute Foxtrot in the US in 2018 and Curzon Artificial Eye has UK rights.