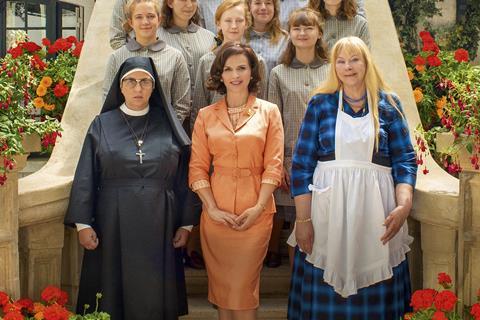 France's exhibitors and distributors are on a white-knuckle ride as their government attempts to control and slow down the spread of coronavirus in the territory.
French prime minister Édouard Philippe on Friday announced a ban on gatherings of more than 100 people in a new measure to combat the virus. It followed hot on the heels of a decision to shut nurseries, schools and universities from Monday (March 16).
Exhibition body National Federation of French Cinemas (FNCF) said it expected its members to keep their venues up and running.
The body has lobbied the government hard to keep cinema theatres in France open since the beginning of the coronavirus outbreak. It is also calling on distributors to keep releases flowing.
It says a total shutdown could cause irrevocable damage to both the exhibition and distribution sectors, and have suggested instead that cinemas agree to limit their capacity by 50%.
"What we're hearing from our members, is that if their theatres close down completely, it will be very difficult to kickstart their operations and coax spectators back in after weeks of closure," FNCF managing director Marc-Olivier Sebbag told Screen.
Countries hit by coronavirus have taken different approaches on whether cinemas can stay open or not.
In Italy and Belgium cinemas are shut. In Hong Kong, in the meantime, cinema theatres have stayed open with distancing between seats, obligatory wearing of masks and longer times between shows to allow for deep cleaning. In the UK, cinemas are operating normally this weekend.
Distributor dilemma
The country's distributors are grappling over whether to retreat or "hold the line" when it comes to maintaining scheduled releases due to take place in March and April.
Some moved quickly to pull their films as the coronavirus outbreak spread. Le Pacte announced on March 6 that it was delaying the respective March 18 and 25 theatrical launches of Matteo Garonne's Pinocchio and Jean-Paul Salomé's Mama Weed, starring Isabelle Huppert. No fresh dates have been announced.
Warner Bros France announced it was delaying Ruben Alvès's comedy drama Miss to September 23 from March 11 and Haut et Court has moved Sarah Gavron's Rocks to June 17 from April 15.
Le Pacte was too late to pull its poster campaign for Pinocchio.
"They're on the walls of Paris, on buses across France and in cinema theatres. We couldn't stop it," said Le Pacte chief Jean Labadie.
"But our hope is that it will stay in the minds of the spectators until the release, the date of which has not been set yet," he added.
Eric Lagesse, CEO of Pyramide Distribution, in the meantime, told Screen as late as Friday that he was trying to maintain his schedule.
"I trying to hold the line. I want to go on with our releases and will go as far as I can without damaging our films," he told Screen.
He has four releases lined up for the coming two months, kicking off with Gregory Magne's Perfumes on March 25 and then followed by César Diaz's Our Mothers (April 8), Marion Laine's Into The World (April 22) and Yalda, A Night Of Forgiveness (May 6).
"We're pleased with the result"
Memento Films Distribution founding chief Alexandre Mallet-Guy published an open letter in French trade paper Le Film Français last Friday (March 6) calling on the film business not to cede to panic.
He was writing on the eve of his company's release of How To Be A Good Wife, Martin Provost's comedy drama starring Juliette Binoche, on 600 screens across France on March 11.
"It's our biggest release in 17 years: both in terms of screens, release costs and minimum guarantee, (worth €25m in total). The risks are enormous for an independent company like us," he wrote.
He called on "distributors, producers, exhibitors and public powers to stick together to prevent stop a dangerous fall in cinema attendance, due to the closure of theatres and pulling of releases."
Mallet-Guy's sangfroid has paid-off. The film went on to draw 80,000 spectators on its first day and was the best performing film on the second day of its release (March 12), ahead of De Gaulle, Invisible Man, Radioactive and Onward.
"We're up to 110,000 admissions. We're pleased with the result given the circumstances," Mallet-Guy told Screen on March 13.
It remains to be seen what happens to the French box office over the weekend, following the new restrictions on gatherings of more than 100 people and decision to shut schools.
"The important thing for us is that people don't panic and that local authorities don't start unilaterally shutting down theatres," said Mallet-Guy.
He said that in practical terms the new rule around gatherings of more than 100 people would not necessarily impact How To Be A Good Wife.
"The film is playing everywhere and in some of the biggest theatres but audiences rarely number more than one hundred people given the current context, he said. "Also, the target age group is slightly older and more likely to go to the cinema outside of peak hours."
He also suggested the fact other films had been pulled could counterbalance the impact of coronavirus fears on cinemagoing because there was now less choice at the box office.
"There are so many different factors involved… we're monitoring the situation day by day," he said.
The company also intends to maintain its release of Argentinian drama Maternal by Maura Delpero on April 1, he said.
"It's a very different type of film and the release will be smaller. As of now, we're pushing ahead," he said.
Box office blues
The coronavirus outbreak comes amid an already difficult start to the year for French cinemas, which has seen a 20% drop in spectators for January and February year-on-year.
Sebbag says, however, this was due rather to the absence of big hits such as Serial Bad Weddings, which drew 5.4m spectators in February 2019 alone, rather than coronavirus.
He acknowledged fears over coronavirus as well as restrictions in cinemas in three departments, where there were early clusters of the illness, had eroded the French box office in the first full week of March, but only marginally.
According to CBO Box Office, admissions in France fell by 32% year-on-year to 2.9m (representing a gross of roughly $22m) in the week running March 4 to 10.
"We've studied the figures to understand where the fall came from and estimate that coronavirus accounted for around 4% of the fall," said Sebbag.
"In the same week last year, Captain Marvel was released, and generated 1.2m admissions in that week alone. This year, there was Onward, which achieved some 460,000 entries. A big part of the fall is due to the programme."
"For now, coronavirus has had a limited impact on audience behaviour," he said. "It's similar to what we saw after the terror attacks of 2015. Spectators see the cinema as a safe place they can go to in a time of crisis - it's part of their lives."
Sebbag also noted French films had held up well, citing historic drama De Gaulle, which drew close to 512,000 spectators in its first week on release and came second in the Mar 4-10 release chart.
"We've also looked at whether political announcements have been impacting numbers but this does not seem to be the case," he continued. "Sunday, for example, the day Italy announced its lockdown, delivered a strong box office."
Aside from keeping the cinemas open, the big challenge will now be convincing France's distributors to maintain their March and April release dates.
"It's important that the distributors don't panic. Everyone is at risk." he said. "We'll keep the cinemas open but we need films to show."
This weekend will be a decisive one for France's exhibitors and distributors alike.