French industry body L'ARP's annual meeting in November promises to be lively amid tension over changes to France's audiovisual legislation.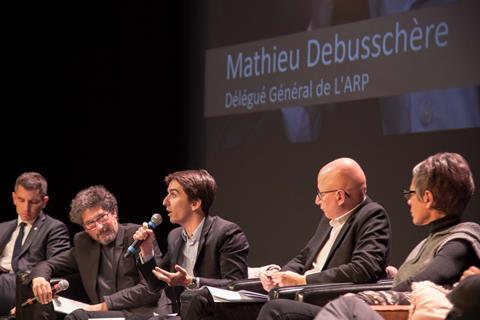 The great and the good of France's film and TV world head to the 28th edition of the Rencontres Cinématographiques de L'ARP this month, unfolding November 6-8 in Dijon, the genteel capital of wine-making region Burgundy. The convivial meeting is the annual conference of the French authors, directors and producers body created by late producer Claude Berri in 1987, with support from the likes of Agnes Varda, Patrice Chéreau, Costa-Gavras and Claude Lelouch.
As per tradition, most of its 600 participants will decamp from Paris to Dijon on a specially chartered TGV train out of Gare de Lyon on November 6. In between the dinners and lunches, attendees participate in a packed programme of panels examining key issues affecting the film and TV business in France and across Europe. This year's discussions promise to be more intense than usual, amid France's overhaul of legislation governing the audiovisual sector. The reforms are aimed at updating current regulations to take into account the disruptive arrival of global streamers Netflix and Amazon, which is expected to be amplified with the launch of Apple TV+, Disney+, NBCUniversal's Peacock and WarnerMedia's HBO Max over the coming six months.
France's minister of culture Franck Riester unveiled a draft proposal in September to a mixed reception from film and TV professionals. Broadcasters welcomed moves to re-regulate the days on which they can air feature films, currently banned on Wednesdays, Fridays and Saturdays so as not to compete with the cinemas. They will also be allowed to run adverts to promote upcoming theatrical releases for the first time in more than a decade. Film professionals have expressed disquiet at both proposals. On the advertising question, they fear that only US studios would have the budget to promote on TV while arthouse films would not benefit.
"The current law governing the financing and distribution of cinematic and TV content dates back to 1986," says L'ARP managing director Mathieu Debusschere. "There are thousands and thousands of discussions to be had around this new law."
One aspect L'ARP has chosen to highlight is the fact the shape of the new law will also have repercussions across Europe. France will be the first European territory to incorporate into law a stipulation in the European Union's new Audiovisual Media Services Directive (AVMSD) that at least 30% of content diffused by any operator — whether it be a traditional broadcaster or global SVoD player — must hail from Europe.
"France will set the tone for future negotiations with the global platforms in terms of what they are prepared to put on the table to finance European creation," says Debusschere. "All the other member states will follow what happens."
Debating proposals
These proposals also include an obligation for Netflix and Amazon to invest at least 16% of their turnover related to the diffusion of content in France back into European or French productions. Marie-Laure Daridan, Netflix's director of public policy in France, Roch-Olivier Maistre, president of media regulator CSA, and Pierre-Antoine Capton, CEO of burgeoning content group Mediawan, are all set to participate in a debate on the proposals.
Other panels will tackle the future of the National Cinema Centre (CNC), which is also undergoing a controversial overhaul, and future missions and financing models of public service broadcasters. The latter discussion is expected to touch on friction between independent producers and broadcasters France Télévisions, TF1 and M6 over their move to create Salto, a joint Netflix-style digital streaming platform. As part of this operation, France Télévisions negotiated a deal with independent producers earlier this year, allowing it to exploit content it had financed on the new platform. Producers were previously free to sell SVoD rights to the highest bidder.
John McVay, CEO of UK producers body Pact, who has been involved in a similar conversation linked to the launch of BBC Studios and ITV's joint Britbox venture, will participate in the debate. "We thought John could bring something to the discussion with his experiences back in the UK," says Debusschere.