Andra Day paused for thought before signing up to play the revered musical icon celebrated by The United States Vs Billie Holiday. But when shooting wrapped, she found it difficult to let go, she tells Screen.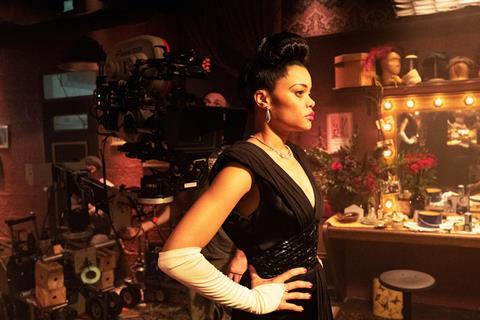 R&B star Andra Day is a Billie Holiday fan and covered 'Strange Fruit', the anti-racism protest song recorded by the jazz legend more than 80 years ago, for the Equal Justice Initiative. So when Day's manager told her about the role in The United States Vs Billie Holiday, it felt like an easy answer. The part has now brought Day awards acclaim, with an upset over Frances McDormand in the best dramatic actress category at the Golden Globes.
"To be honest, in the beginning I was like, no!" laughs Day down the phone from her home in Los Angeles. "The biggest elephant in the room was that I'm not an actress. That was huge for me," she continues. "And I love Billie Holiday, I love Diana's performance in Lady Sings The Blues [the 1972 film in which Diana Ross plays the chanteuse] so I didn't have a desire to remake that. The last thing I wanted to do as a lover of this woman was to sabotage her legacy."
Day's resistance began to melt in late 2017 when she met with Lee Daniels. The filmmaker has presented tangled female characters in the likes of Precious, Shadowboxer and TV's Empire, but Holiday is arguably the most complex of them all.
Gifted with a voice and allure the envy of most performers, the icon rose from privation and abuse to become a household name, although her life was blighted by difficult relationships and substance abuse. She died penniless in New York in 1959 at the age of 44.
"We connected over Billie," says Day. "I found out from him and from reading this amazing script by Suzan-Lori Parks [Native Son, Genius: Aretha] that it would be vindicating her legacy, because we would be touching on the fact the FBN [Federal Bureau of Narcotics] and the FBI went after her for singing 'Strange Fruit' under the guise of a war on drugs."
She was also struck by how Parks' script tackled themes that resonate just as strongly today. "It is talking about the criminalisation of addiction, which was put in our communities and criminalised to take down black people, particularly black people of influence, leaders, artists."
The story appealed to Day, a committed activist who, when invited to perform at the virtual inauguration of US president Joe Biden in January, chose 'Rise Up', her breakout hit that the Black Lives Matter movement adopted as its unofficial anthem several years ago.
Day auditioned for The United States Vs Billie Holiday in late 2017 and several months later was told the role was hers. Production took place in Montreal in 2019 and pick-up shots and ADR were complete by late 2020. In December, after a brief period where Paramount had been associated with the film, it was announced that Hulu had acquired US rights.
Living the role
From the outset, Day and Daniels agreed she would interpret, not impersonate, Holiday. "An interpretation grounds [the performance], so my reactions to things become her reactions." She did "tons" of research — wearing Holiday's preferred perfumes at different stages of her life, the brand of lingerie she favoured, reading everything she could get her hands on, and taking up smoking and drinking for the role.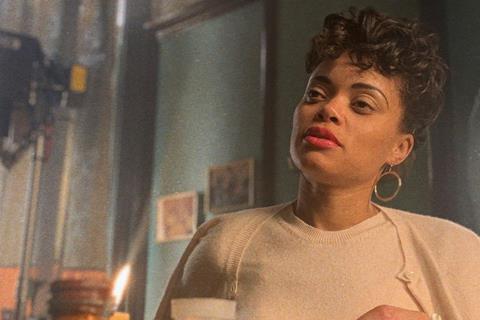 Day was shocked by the lengths to which the FBN and FBI pursued and harassed the singer. A sting operation was set up to silence her activism, which included deploying undercover agent Jimmy Fletcher, played by Trevante Rhodes in the film.
"The relationship with Jimmy Fletcher… I knew they went after her, but I didn't know how deep they went, and how ruthless they were," she says. "It's heartbreaking to do that, and his transformation to falling in love with her and realising he was being used [was also heartbreaking]."
Also troubling was Holiday's inability to accept love from Fletcher. "She was more terrified of being vulnerable and receiving genuine love than she was of a man beating her, because physical abuse was very normal for her."
Ultimately the aspect of Holiday that filled Day with hope was what she meant to people. "Billie Holiday had a pull like very few people have," she says. "It's insane to be so hated by your government because they're aware of your strength and your magnetism and the power of your ability to bring people together. People loved her, she was a global superstar while she was alive."
Under the guidance of acting coach Tasha Smith, Day embraced the method approach, using whatever personal pain she could summon to channel the jazz icon. She recalls how film craft also showed her a new way of doing something she had done most of her life.
"It's funny because for me as a singer it's different — once you perform the song, you're done. But they're turning the camera around to get another shot. It was a beautiful lesson in filmmaking; you've got to keep the same energy."
When it came to performing the film's outro song 'All Of Me', Daniels wanted his lead to let go of Holiday and sing it as Andra Day. "The training had gotten so far by that point… I tried it and he ended up using it in the movie, but I just burst into tears. I was trying to find myself and I couldn't and that was when I thought, 'Oh shit, when the movie ends, what do I do after this?'"
Along the way she had the support of the cast she clearly respects, including Tyler James Williams, Da'Vine Joy Randolph and Miss Lawrence as various lovers and members of the Holiday entourage, and Garrett Hedlund as the zealous head of the FBN.
"It was unbelievable to the point where it broke my heart," says Day. "I was asking my co-stars, asking Trey [Rhodes] afterwards, 'Why does this hurt?' You do a job and you're ready to go home and be like, 'Wow, we did it, we accomplished it.' I was fucking broken after this. I didn't want to leave, I didn't want to leave him, my co-stars. I didn't want to leave the production or Montreal."
By early March Day has secured a strong position in the awards season, with Oscar nominations two weeks away. So does this acting lark appeal to her?
"Hell no," she laughs. "No, I'm just kidding. I don't know how much of the acting side of it I'll continue to engage in, but I do have a desire to tell stories, especially black stories that have been suppressed or where the narrative has been changed. I'll probably do a little more acting and maybe focus more on the producing side of things."