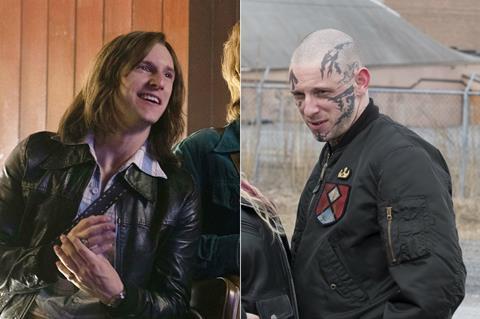 In Elton John musical Rocket­man, Jamie Bell received some of the best reviews of his career for bringing an abundance of good-natured charm to the role of Bernie Taupin — the lyricist who in the film proves the one constant in the flamboyant singer's excessive, roller-coaster life. With the actor also ably tackling one of Elton's most beloved songs, 'Goodbye Yellow Brick Road', few would contest the suitability of Bell for the role.
"There's this real down-to-earth quality and honesty and warmth and reality to him that I felt would really gel with Taron [Egerton]," Rocketman director Dexter Fletcher told Screen in May, just ahead of the film's Cannes premiere. "You know when it's right."
But to hear Bell tell it, the casting process was not so simple. He had understood that the production was initially coming to him for the role of the singer's hard-nosed manager and lover, John Reid.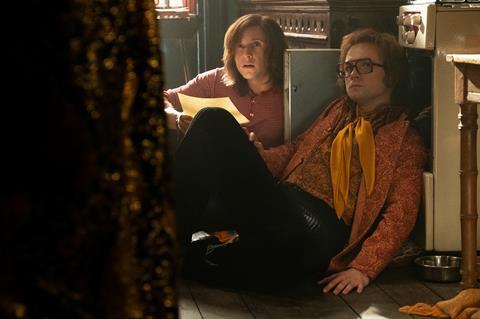 "I would just never consider myself someone with the right set of skills to play that role," says Bell, talking to Screen on a break from shooting his new film Without Remorse. "Not knowing John Reid personally, but in this script what this character needed to be was someone that when you looked at him you immediately thought, 'Wow, this guy's dangerous, this guy's attractive.' I think the first scene he had, he's popping open a bottle of vintage champagne.
"I was so surprised," Bell continues, "because having read the script, this Bernie role feels made for me. He's a sweet guy, he's a loving guy, he's loyal, he's a little bit insular. He's a hopeless romantic. I just felt so much more in line with that character."
Despite Bell being known for his versatility as an actor over the two decades since his Bafta-winning debut in 2000's Billy Elliot, the Rocketman team quickly concurred with his instincts, and the film instead found its Reid in Bodyguard star Richard Madden. ("He is exactly who should play that part," offers Bell.)
The benign role of Taupin had a particular appeal for Bell, offering a welcome change of pace after his highly immersive performance in Guy Nattiv's Skin, the true story of former racist Bryon Widner, who turns his back on the white supremacists who had embraced him and guided him since the age of 14. Undergoing painful treatments to remove his heavy facial tattoos, Widner faces death threats from his former cohorts outraged at his betrayal.
"It's really heavy work," Bell recalls of the six-week shoot in Ulster County, upstate New York. "It's heavy work because of the content and the dramatic stuff that you're doing. But then also just looking like that every day, eating incredibly unhealthy meals and looking at yourself in the reflection and wearing those tattoos."
Make-up designer Stephen Bettles, who has extensive experience in prosthetics, had patented technology for printing and applying tattoos in a way that was quick to adhere to skin — but it was also expensive for this relatively low-budget production. And because Bell's role routinely involved his facial tattoos becoming dirty or bloodied, they would have to be reapplied frequently.
"We just ran out of money to print any more [tattoos]," explains Bell. The inevitable question arose: would he mind keeping them on for the weekend or the week?
"So then you're literally inhabiting the character all the time and you're seeing how people react to you and you're hoping that people don't recognise them as what they truly stand for, because these are genuinely hateful symbols. So it was both informative, in one way, but also it's a heavy ask of anyone to be going through that for six weeks straight under those kinds of conditions. But hopefully, it led to a bit more authenticity in the performance and authorship.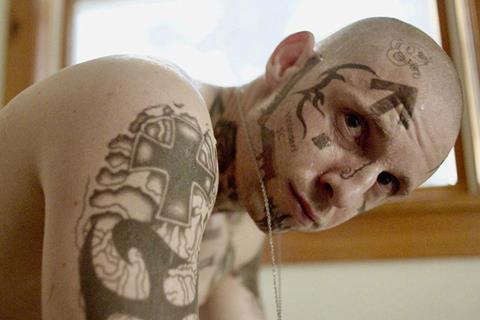 "When you've had that experience, you come to the set and you have a sense of what it feels like to be that intimidating. No-one would ever look twice at me in terms of being an intimidating force, but as soon as you shave your head and have these tattoos on your face, and you put on a bit of weight, it kind of changes things a little bit. I've never had that… I hate to use the word 'power', but it feels that way."
Skin premiered to acclaim at Toronto International Film Festival in 2018, going on to a festival run and awards-qualifying releases in both the US and UK. However, its primary life has been on home platforms — via DirecTV in the case of the US. And while Bell is grateful for any exposure for his work, he acknowledges the high-profile nature of Without Remorse — adapted by Taylor Sheridan (Hell Or High Water) from the novel by Tom Clancy, and directed by Stefano Sollima (Sicario: Day Of The Soldado) for Paramount Pictures — was one aspect in its favour, since a significant theatrical release is a given. The film, which focuses on Navy Seal John Kelly, who exists in the Jack Ryan universe, reunited Bell with his Fantastic Four co-star Michael B Jordan (in the lead role) — another positive for the actor.
Team effort
Bell acknowledges the contribution of his manager Vanessa Pereira and agent Brian Swardstrom — both of whom have guided his career for more than 20 years — in helping him make these choices. "I always want their feedback, but at times we might disagree on taste or a piece of material," he says. "I'm also the worst at making decisions and I'm the world's biggest procrastinator, so I'll do anything to put off having to make a decision. If it was left to my own devices, I probably wouldn't do anything because I wouldn't make a decision."
Bell's busy schedule, plus the fact he recently became a father for the second time (he and his wife, actress Kate Mara, welcomed a daughter in May) means he has yet to see Bong Joon Ho's Oscar contender Parasite. But having worked on Bong's Snowpiercer — which became the subject of an editing dispute with its US distributor The Weinstein Company, languishing unreleased for nearly a year — he is "super-excited" about seeing Bong's latest work.
"Making a movie with Bong was astonishing," says Bell. "I've never worked with a filmmaker who is that precise. I think we all know now that he is a genius. It's a shame Harvey [Weinstein] couldn't see that."