Genial UK director Garth Jennings says he wasn't fazed - at first - by the prospect of jumping into the often esoteric world of feature animation.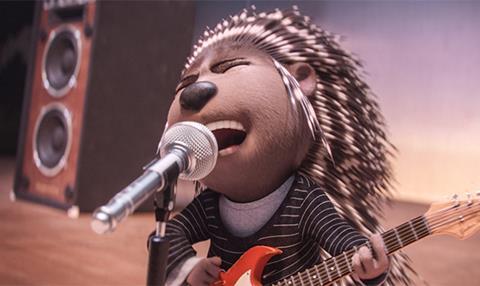 Best known for coming-of-age-comedy Son Of Rambow, director Garth Jennings (pictured below) had been developing his own animated project with regular partner Nick Goldsmith - producer of both Rambow and Jennings' feature version of The Hitchhiker's Guide To The Galaxy - when he was sought out by Chris Meledandri, head of Despicable Me franchise production company Illumination Entertainment, for his involvement on a new project.
"It wasn't a huge departure for me mentally at the time," says Jennings of his early talks with Rambow fan Meledandri. "It was only when I finally moved my wife and four kids to Paris [site of the Illumination Mac Guff animation studio] to make this film that I realised I was starting from zero in so many ways."
The film in question is Sing, Illumination's second CG animated outing of 2016 after The Secret Life Of Pets, a musically inclined comedy-drama that premiered at the Toronto festival and is set for release in most of the world this December (the UK has to wait until January) through Illumination parent Universal.
Starting as a script assignment for Jennings, who remained sole writer, even when he later agreed to direct as well, Sing grew out of an initial chat about koala bears, and Jennings and Meledandri's shared enthusiasm for what the former describes as "things like The Commitments [Alan Parker's 1991 rock dramedy], where characters have these amazing life-changing stories by going on a journey that involves them finding their voice".
Jennings notes: "Out of that came the idea that this should not be about one character, that we should follow multiple characters and have multiple storylines."
Character comedy
The storylines in Sing are brought together by Buster Moon (voiced by Matthew McConaughey), a dapper koala who presides over a once-grand theatre that has fallen on hard times. In a bid to restore the venue to its former glory, eternal optimist Buster stages a singing competition.
The contestants are a roguish mouse (Seth MacFarlane) who croons as smoothly as he cons; a teenage elephant (singer Tori Kelly) with an enormous case of stage fright; an overtaxed mother pig (Reese Witherspoon) run ragged by her litter of piglets; a young gangster gorilla (Taron Egerton) trying to break away from his family business; and a punk-rock porcupine (Scarlett Johansson) who wants to ditch her arrogant boyfriend and go solo.
While the characters on screen are all cutely or amusingly stylised animals, they all originated as human archetypes.
"We started with human caricatures," Jennings explains. "How could I do a Cockney gangster? Well, it would be great if it was a bloody great Vinnie Jones-style gorilla. The best thing with shyness is to put a big magnifying glass on it, so an elephant felt like the obvious way to go. And the koala is notoriously slow and lazy, but it felt right to have this small ball of fur who's out of his depth in almost every scenario yet not bothered by it."
Though small-screen singing contests like Pop Idol and The Voice were an obvious influence, Jennings - who visited a taping of The X Factor while writing the script - avoided taking too much from the massively popular TV genre.
"It felt like a launchpad rather than something that we had to spoof," he says. "The judges are a big part of those shows and the thing I love about the shows is ordinary people getting up and having a crack at it."
By setting Sing in a theatre rather than in the world of TV, the film-maker says that "it was easy to drop the competitive element by the time we get to the end of the movie. Then you're not pitching five characters against each other, you're just allowing them to complete their journeys".
The film's animation style, developed with production and character designer Eric Guillon, sets the action in a normal contemporary city.
"It's a world that we recognise," says Jennings. "The cars, the houses, the streets, it all looks totally familiar and hasn't been tweaked in any way. The characters were caricatures but they're finished with this unbelievable photo-realism, so you feel like you could reach in and touch them.
"I just wanted it to feel relatable rather than cartoonish," he continues. "I wanted people to know - no matter whether it's a koala or a porcupine - exactly what the characters are feeling and to be able to relate to that."
Movie magic
Jennings' background in live action resulted in a shooting style that produced "more low-key and suggestive" performances and a number of shots that were unusually long - and potentially tricky - for an animated production.
The idea was to give audiences the impression of "just watching a regular movie", Jennings says. "For me, you only cut when you need to, and sometimes in animation that means a lot more work for the team. If you start unpicking a shot at frame 48 because it's not quite right there, the domino effect is enormous."
The director's lack of experience in animation, meanwhile, was overcome with the help of producers Meledandri and Janet Healy, co-director Christophe 'Zebe' Lourdelet and the rest of the Illumination Mac Guff crew.
"This lot are magic," says Jennings of the Illumination team. "They picked me up and carried me along and after a while I found that I could use a lot of the stuff that I'd learned [in live-action filmmaking]. It's just a different rhythm of working."
In the end, Jennings was even comfortable enough with the process to add a bit of extra work to his load by voicing Miss Crawly, Buster Moon's elderly lizard assistant. Taking advantage of the fact that his office in Illumination's Paris premises was originally a recording room and was still set up for that purpose, the Sing director was able to "just jump into the booth and start being a lizard. That's a fun thing to do over a lunch break: get a sandwich, a cup of tea and be a lizard".
Croon army
Compiling the songs for Garth Jennings' animated debut was critical for the story to truly sing. The director details the process.
Given its title, it's hardly surprising that the songs and performances in Sing do much more than just punctuate the action. In fact, says director Garth Jennings, the songs "had to sort of tell the story. It's important that the audience care about every character's story, and sewing their stories together with music allows us to do it in a way that would be impossible otherwise".
The film incorporates 65 songs, most of them covers of hits from the 1960s to the present day.
Among the numbers belted out by the animal protagonists are interpretations of Katy Perry's 'Firework', Lady Gaga's 'Bad Romance', Elton John's 'I'm Still Standing', Carly Rae Jepsen's 'Call Me Maybe' and Frank Sinatra's 'My Way'.
The real singing, of course, was done by the film's voice performers, several of whom - Seth MacFarlane, for example, because of his recordings of 1940s and '50s classics and Reese Witherspoon for her Oscar-winning work in musical biopic Walk The Line - are known for their musical chops. There's also an original song, 'Faith', performed by Stevie Wonder and Ariana Grande.
Citing the song montage in the opening ceremony of the 2012 London Olympics as an inspiration, Jennings - who has directed videos for bands including Radiohead, Blur and REM - says the plan was to come up with a diversity of numbers that somehow worked together.
"One of the things we talked about at the beginning was the idea that if you did it right you could embrace all kinds of music," the director says. "It's like a great compilation that your friends would make you when you were younger," he continues. "You sometimes heard a song on there that you knew but hadn't really thought about liking until they put it next to those other two songs. And suddenly it made sense."
Though he admits to some trepidation about adapting classic songs to a family animation context, Jennings says the risk was worth taking, "as long as we made sure it felt right for the character and that the overall palette felt varied enough and dynamic enough".
Maybe the biggest risk was using Lennon and McCartney's 'Golden Slumbers/Carry That Weight' (originally recorded as the climax to The Beatles' Abbey Road) at three key moments in the film, performed by Oscar and Grammy winner Jennifer Hudson (who provides the singing voice of sheep diva Nana Noodleman).
"But when I thought about the song in the context of the story, it just worked beautifully," says Jennings. "And having such a lovely arrangement of it, and having Jennifer singing it, I thought we'd be OK."