SCREEN SUBSCRIBERS: On the back of the global symposium on gender in media that took place at the BFI London Film Festival, Geena Davis spoke to Wendy Mitchell about her mission to improve gender parity in Hollywood and beyond.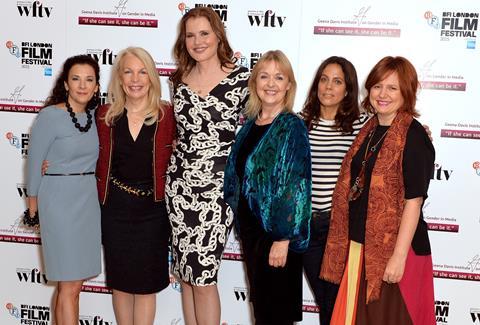 Geena Davis says she's not sure if Thelma & Louise would be greenlit today.
"The figures show it's less likely now to have a film with two female leads," she insists. "Could a small movie about female buddies happen today? Maybe. Just maybe."
Ridley Scott's seminal 1991 film, starring Davis and Susan Sarandon as friends gone wild, exceeded expectations to become a box-office success and marked a pivotal point in Davis's career.
She had already won a best supporting actress Oscar in 1989 for The Accidental Tourist, but playing Thelma made Davis see the power of putting strong women on screen.
The actress is now doing her part to turn more maybes into yes's when it comes to greenlighting female-driven projects in Hollywood, where she has become an outspoken advocate for gender parity in film and TV.
In 2006, she founded the Geena Davis Institute on Gender in Media, after watching children's TV with her then-toddler daughter Alizeh and being shocked at the unequal representation of women and girls, in terms of number of characters and the way they are presented (as housewives or sexual objects).
"Surely in the 21st century we should be showing kids that boys and girls should be sharing the sandbox equally," she says.
The institute now spearheads research about gender in media, runs the See Jane campaign and backs the female-centric Bentonville Film Festival in Arkansas.
It also holds regular symposiums to address the issues, including a summer panel on female representation in superhero films attended by producer Lauren Shuler Donner and actress Famke Janssen, and the first global symposium on gender in media held at the BFI Southbank in association with the BFI London Film Festival and Women in Film and Television.
Time for action
Hosting the symposium in the UK was no accident, Davis says. "We were such big fans of some of the things going on in the UK, like the BFI's three ticks [requirements for diversity in front of and behind the camera on any BFI-funded project]," she says.
"Our study in 2014 was global and it was fascinating to us that the UK did so well, but also the differences in gender representation when American money was coming in."
The data showed the percentage of female characters in UK independent films was 37.9%, but that figure dropped to 23.6% for US-UK collaborations.
Davis is still active as an actress, too. At the age of 59, she is currently shooting Michael Almereyda's Marjorie Prime, a futuristic story in which she plays Jon Hamm's daughter.
But she has also experienced firsthand how roles for women in Hollywood become scarcer with age.
"Roles profoundly change as you get older," she says. "It's not like it's great for younger actresses, but it's harder for actresses over 40. The number of interesting, compelling characters dwindles dramatically."
One silver lining is that more of Davis's peers are speaking out. From Meryl Streep and Emma Thompson to Charlize Theron and Patricia Arquette, established actresses are using their media influence to lobby for change.
"In the recent past, people just wouldn't talk about it," Davis says. "People would ask, 'Why haven't you done a film in a few years?' and you'd just answer that you were busy with other priorities. Now, though, more people are speaking."
Davis does not have any conspiracy theories; she believes a lot of the bias is unconscious.
"There's not a plot against women in Hollywood - far from it, they feel like they're working hard on it," she says of the well-intentioned Hollywood executives she meets. "If they have one empowered female character, it feels like they're addressing the problem."
Unlike in other industries, change on screen can happen overnight, Davis suggests. Easy steps to take include simply hiring more women behind and in front of the camera, altering scripts to include more female characters and making sure crowd scenes are representative of the population at large and made up of 50% women (not the current, inexplicable, 17%).
"I've learnt a lot about male writers," says Davis. "They have a fear about creating female characters because they're not sure what we want. They don't dare to give the characters flaws.
"If the one female character is overweight, or clumsy, will we be offended? The answer is to create lots of female characters and make them as varied and as flawed as you want. You can't just always have one female character that's tough and strong."
Getting men on board for the mission is crucial. "We don't need to talk to the women, they know and they care. Even if all the women in the world put in 100% effort, that wouldn't be enough. We have to have the men involved."
Men and women both need to understand the business sense of empowering women on screen.
"It makes financial sense to put more female characters in movies, those are the films proven to make more money," Davis adds. "Women are slightly more than half of ticket buyers; they control 80% of disposable income."
As she concluded at the LFF symposium, "I want reaching parity in film to seem fun and easy and creative and fast. Give female characters more to say, more to do. Give them more aspirations - and more clothes."