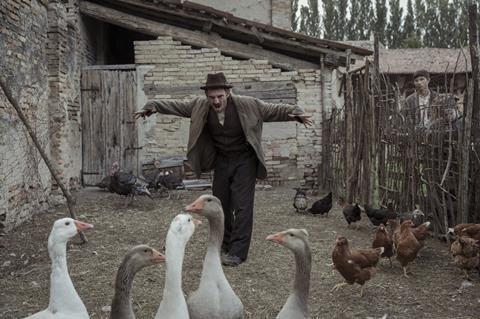 After starting out by making documentaries, Italian director Giorgio Diritti is now up to his fifth narrative feature with Berlin Competition title Hidden Away, produced by Palomar (also in Competition last year with Piranhas) with Rai Cinema, and sold by Rai Com.
Diritti is best known internationally for his 2012 Brazil-set Italo-French drama There Will Come A Day, which premiered at Sundance and then at Karlovy Vary, starring Jasmine Trinca (Fortunata).
It is his first time in Competition at an A-list European festival with a film about Italian painter Antonio Ligabue, who had both mental and physical problems but found a place in the world through art. The film set in pre and post-war Italy and features a commanding performance by Italian star Elio Germano (a Cannes best actor winner in 2010 for Our Life) as Ligabue. Screen spoke to Diritti about the project.
Was a strong resemblance to the real Antonio Ligabue crucial for the film?
I'm always very interested in a precise linguistic and identitarian representation in my movies. Here though repulsion is an important narrative element too. It's impossible to tell the story of a man rejected for his being repellent with a cute actor.
Ligabue is not Caravaggio nor De Chirico, he has not that kind of international fame, did you thought about how much international potential the movie could have?
Ligabue has a pretty national relevance, still as a man his story of diversity is universal. And I wasn't attracted by the painter but by this man with a personal history that left such a huge mark on him. A man who then was able to fight to emerge and find his place in the sun.
Was Berlin the first festival it was submitted to?
I didn't manage these things myself but the film ran very late, so yes I think Berlinale was the first choice.
Your previous film premiered at Sundance, was that a big breakthrough for you?
For me certainly, it put everything else into proportion. Sundance is very different from European festivals, there's no red carpet there but very much substance. I'm talking about 7 or 8 after-screening Q&As with a very prepared and attentive audience. People that make tough questions. These things establish a very truthful relationship between a filmmaker and the audience.
Did it also have an effect on your career or on the production of the next movie?
I wouldn't know. The film was sold in a couple of territories but in Italy, Sundance doesn't have that much of a weight. And in order to find partners I think one should stay there a little more and work his way through PR. Not that it didn't interest me, it just didn't happen.
Has making festival films for an international audience become easier or more difficult in recent years?
I think streaming platforms are doing a great job of creating a space for movies that had become very difficult to produce. At all levels. There are no closed doors with them, I'd like to make something for Netflix or Amazon. I don't think it matters that much where you watch a movie. Of course I love theaters but I know it's not that easy for everybody to go to a theater. If you think of all those movies a person wouldn't see and now can see thanks to streaming platforms it's a great advantage.
There Will Come A Day was an international project, Hidden Away is a national one that is receiving international attention. Will your next project be international?
Yes, that is the intention. It's a European story so it can very much be.
You're in Berlin looking for co-producers?
Well… Let's say I'm here looking out for what happens