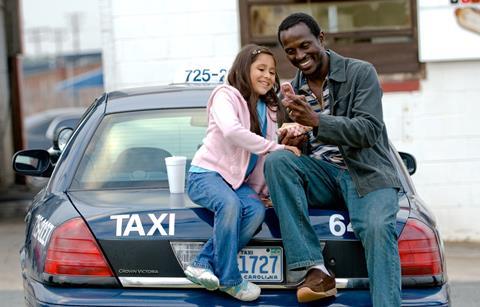 Dir: Ramin Bahrani. US. 2008. 91mins.
An odd-couple relationship fuels a slow-burning but ultimately moving emotional and spiritual journey in Ramin Bahrani's third feature. As in the well-received festival faves Man Push Cart and Chop Shop, the US director of Iranian origins unspools a story set among America's immigrant underclass - represented in this instance by Solo, a Senegalese taxi driver in Winston-Salem, North Carolina. But this time round Bahrani's steadfast refusal to exaggerate the chances of underdog success in an indifferent world is tempered by a greater sense of lyricism than he has previously allowed himself.
Underpinned by two convincing performances - by first-timer Souleymane Sy Savane and former Elvis Presley bodyguard Red West - indie charmer Goodbye Solo will undoutbtedly score further festival bookings after its Venice debut and Toronto follow-up. And although the film's finely-judged ending is not exactly feelgood, it is resonant and poetic enough not to alienate the international arthouse crowd that Bahrani's film looks set to attract.
In a way Goodbye Solo might be read as Bahrani's creative response to Abbas Kiarostami's Taste Of Cherry. The set-up is almost identical: in both films, an older man offers a large sum of money to a driver who will help him to commit suicide. Perhaps it was the rather distant, almost cynical tone of the Iranian auteur's Palme d'Or winner that made Bahrani want to try something warmer. His Solo (Sy Savane) is at first almost too gushing, too much of a male African version of Poppy from Happy Go Lucky, and perhaps the film's only significant weak point is the way it forces us to take on faith Solo's dogged Good Samaritan interest in taciturn, curmudgeonly old William (West). But this small suspension of disbelief is amply repaid by the developing relationship between the two men, which skirts sentiment without ever giving in to it.
Solo's arrangement with William to drive him to the top of a local mountain and leave him there is dealt with in the opening scene, and the rest of the film explores Solo's life in this small North Carolina town - his touching rapport with his feisty little adopted daughter Alex (Diana Franco Galindo); the way his easy cameraderie has led him into small-time crookedness (driving a drug courier around, fixing men up with girls); the flight attendant exam he is studying for. It gradually becomes clear that Solo's jive-talking bonhomie conceals some deep frustrations with himself which he is attempting to assuage by saving William, and equally clear that William's gruff rejection of his not-to-be-deterred new friend is veined with humanity, albeit of a deeply private kind.
The provincial North Carolina settings of Goodbye Solo are a contrast to Bahrani's dense and crowded urban frames of his first two films. Suffused by an elegaic autumnal light that culminates in the still-nature photography of the remarkable closing sequence, Goodbye Solo is a celebration of life in the shadow of death. It's the finely nuanced script, though, by the director and his Chop Shop co-writer Bahareh Azimi (also a working architect and songwriter), that really impresses
Production companies
Gigantic Pictures
Noruz Films
International sales
Memento Films
(33) 1 53 34 90 20
North American sales
Cinetic Media
(1) 212 204 7979
Producers
Jason Orans
Ramin Bahrani
Screenplay
Bahareh Azimi
Ramin Bahrani
Cinematography
Michael Simmonds
Production design
Chad Keith
Editor
Ramin Bahrani
Music
M. Lo
Main cast
Souleyman Sy Savane
Red West
Diana Franco Galindo