Jessica Brillhart talks medium's future at Sheffield Doc/Fest.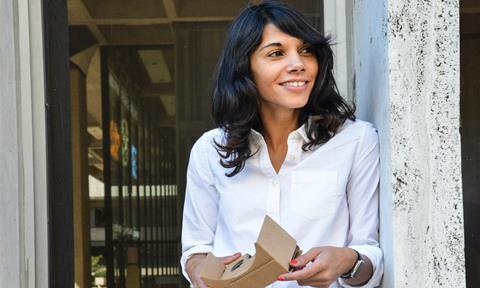 Jessica Brillhart, principal filmmaker for VR at Google, is attending Sheffield Doc/Fest this week to show her latest project, dubbed Voyager VR.
Comprised of two VR experiences, and on show in Sheffield until June 15, Voyager takes the user to the practice room of a philharmonic orchestra (Beethoven's Fifth) and into the way of life of Native American race the Navajo (Navajo Nation).
Screen talked to Brillhart about how filmmakers should approach making VR projects, and how she sees the medium evolving.
Screen: What are the key topics of discussion in the world of VR at the moment?
Jessica Brillheart: Interactivity, augmented reality, WebVR (virtual experiences delivered via a web browser), and artificial intelligence. One of the more pressing conversations is the notion of accessibility. There's a barrier to entry and connection to VR that runs deep, and I think we're at a point where we need to be considering that depth critically.
VR is still finding its way, particularly in film, is it here to stay?
I don't think it's crucial for VR to find a home in any one particular medium. Other mediums are nursing VR, bringing it into their conversations and seeing what it can do – and more often finding out what it can't do.
This is a great thing, and a crucial thing, because when you take an older medium – like film or theatre – and throw it at VR, you start to discover its tension points fairly quickly.
As an example, a filmmaker notices fairly quickly that the way they might edit a film doesn't work when it comes to editing in VR. The mediums are totally different, and that's what needs to be considered.
Can it work for film or documentary features? Conventional wisdom seems to be that the technology is too cumbersome for extended use.
I think everyone can agree that technology evolves rapidly, so we shouldn't be worried about what's cumbersome now being an indicator of anything.
When we think about long-form in VR, we shouldn't lock ourselves to succeed where film succeeds. We should be thinking about branching narrative structures and permeations, with endless outcomes, opportunities, moments. We can also think about experiences that perhaps, like a great film, we wish to return to time and time again.
Trying to achieve the long-form narrative becomes rather limiting when there's so much potential to do more, to create unique connections with audiences in ways that are impossible for a medium like film.
Regarding technology feeling cumbersome - creators need to understand the limitations of the technology they're using and build for the overall experience. They need to consider where someone might be accessing it, on what device, and under what circumstances.
How do filmmakers make VR work commercially? It seems to be expensive to make and the potential for returns is currently minimal.
The folks who currently in the space are total heroes – it takes a tough skin, sharp mind, a quick-footed creator. You make and you hack and you experiment as much as you can. This is not for the faint of heart, or mind.
It's expensive, the technology to make this stuff isn't particularly accessible, and the space from a production and post-production standpoint is severely fragmented.
I occasionally get a student who assumes I have a team of fifty people helping me do all of this, which is hilarious because I have a desk and a producer, sometimes. That's the extent of my support. But then I reach out to the amazing folks I've gotten to know over the years to help me out. We're all in it together.
That said, you don't need expensive equipment to make something compelling in VR.
You've said that emphasizing storytelling in VR isn't right – how should filmmakers be approaching VR projects?
VR creators should be crafting for the potential of story to occur instead of one singular, premeditated story. We need to be aware of the breadth of experience.
This is daunting for a lot of creators coming into this space because they have a story, and they want the visitor to get that story. This need to force it blocks a lot of the great things VR can do. It also severely misses the point of the medium – which is that someone can look at and engage with whatever they please, the creator needs to be ok with that.
How key is interactivity?
Interactivity can be a wonderful tool for crafting in the VR space – and one I'm particularly excited about. It allows us to connect with worlds in a way that makes us feel valued and crucial, which heightens one's want to stick around, engage and explore.
That said, it's an additional – and quite powerful – narrative layer unto itself. What you allow someone to do, or not to do, and how that's presented can consciously and unconsciously drive someone to make assumptions about the experience.
But we should be careful here. Just because interactivity can enhance a VR experience, doesn't mean everyone should use it. It could complicate matters and detract from the truth your experience is aiming for.
How much importance is Google putting on VR? Is its investment in VR increasing?
Google is betting a lot on VR – and AR – and they're trying to figure this out with the rest of us.