A delegation of filmmakers from Greenland is at this week's EFM to raise the country's production profile with a pair of documentaries.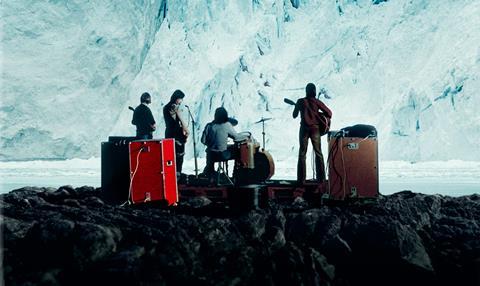 Aka Hansen's short Half&half looks at how others perceive the filmmaker's mixed heritage. Feature SUMÉ — The Sound Of A Revolution [pictured] tells the story of Greenland's progressive rock band SUMÉ ('Where?' in English, perhaps appropriately), an act that became a major inspiration to many Greenlanders in the mid-1970s.
Both films are showing at the Berlinale as part of the festival's NATIVe programme, a series of screenings that showcase Indigenous movies from the Arctic.
"Last year, when we were at the European Film Market (EFM) for the first time, we could feel the word spreading around the Martin-Gropius-Bau," says producer Emile Peronard. "There were Greenlanders in town and there was a place to go to ask specific questions — and to get concrete answers — about filming in Greenland."
He adds: "When we do international promotion in a place like the Berlinale, we always have a pretty simple story to tell: 'We exist!' If we can simply achieve that more people will know about Greenlandic filmmaking, then I'm satisfied."
"I hope everyone gets new inspiration and ideas of how to raise their next film to a new level by meeting people from around the world and seeing how they make their films," says Inuk Silis Hoegh, director of SUMÉ.
Greenland's film industry comprises just a few dozen people and the result is a lot of multitasking and production flexibility. The sector benefits from annual government subsidies worth around $425,000.
"We operate on low budgets and big enthusiasm," says Peronard. "Luckily we have a lot of local momentum these years from the government and from society in general. People are keen to support filmmaking initiatives with sponsorships or a helping hand."