The Shape Of Water has been almost 50 years in the making.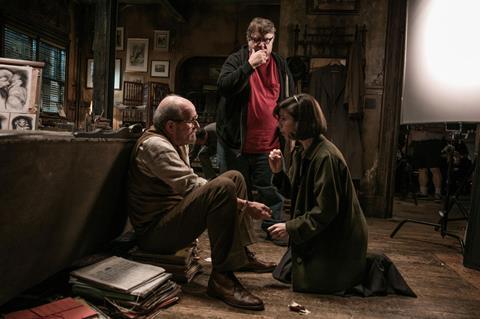 Mexican-American director Guillermo del Toro was just six years old when he first watched Creature From The Black Lagoon, Jack Arnold's 1954 black-and-white monster movie about a mysterious amphibian discovered in the Amazon. He recalls being inspired by the film — a career focused on movie monsters has followed — but dismayed by its ending, when the creature is killed after abducting a female member of the expedition. "I remember seeing the creature swimming under her [lead actress Julie Adams] and I thought it was a beautiful image. I hoped they would end up together but they didn't," del Toro recalls.
The director attempted to address his inspiration through his film projects, including Hellboy II: The Golden Army (2008), in which he scripted a romantic plotline between a princess and an amphibian man in the form of the characters Nuala and Abe Sapien (who bears more than a passing resemblance to the creature fromThe Shape Of Water). However, Creature From The Black Lagoon continued to lurk in del Toro's mind, resurfacing in 2011 when Daniel Kraus — del Toro's co-writer on the novel Trollhunters — told the director he had an idea about a janitor in a top-secret government facility finding an amphibian man and smuggling him home. The idea seemed perfect to del Toro, who knew that by focusing on characters who usually blend into the background, he could make a smaller, more intimate story.
Armed with a plot outline, del Toro began pitching the film to studios but says they were "mystified" by the idea, recalling the same response to his early days of shopping around Pan's Labyrinth. As a result, from 2011 to 2013 he had to sustain the production himself, sinking more than $200,000 of his own money into the research and development, which focused largely on designing the creature and creating the "look of the movie". In that time, del Toro also wrote the first basic draft of the script.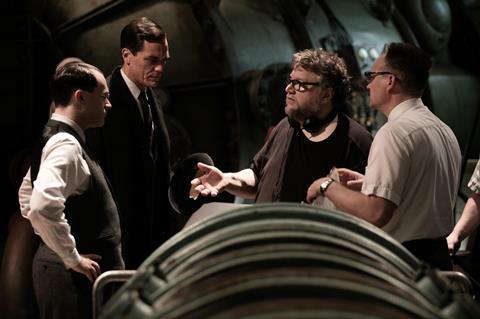 For the creature design, del Toro was determined to accentuate the physical properties, to make it humanoid and attractive. "I wanted him to look beautiful in a slim, slender way. The female inhabitants of my house would rate the designs, they were an expert panel of judges. We were evaluating the shoulders-to-butt ratio. I wanted him to have a bullfighter's silhouette, not too bulky. I wanted an intelligent, beautiful, compact creature."
Armed with his new materials, del Toro then took the project to Fox Searchlight. He says his experience with his previous film, Crimson Peak, released by Universal, had been "heartbreak" because "it cost $50m to make and they marketed it as a horror film"; it grossed just $74m globally, including $31m in the US. Wary of making the same mistake twice, he was cautious in his approach to Fox, asking the company how much money it would put up if it could guarantee marketing The Shape Of Water "as what it is", which he defines as "quirky".
The director had estimated that to achieve his vision, a budget of $40m-$50m would be tight, but Fox offered him just $19.5m, or $16.5m if he wanted to make it in black and white, which at the time was under consideration. Del Toro deferred his fee above the required minimum to squeeze every last cent into the production itself and, along with producing partner J Miles Dale, resolved to make a $60m movie for $19.5m. "A budget is a state of mind — I've learned that through 25 years of experience," he comments. Fox began platforming the film in the US on December 1, with the international rollout beginning in January.
Leading lady
Del Toro had Sally Hawkins in mind for the lead as early as 2005, when he saw her in the BBC miniseries Fingersmith. "I thought that was done in a very matter-of-fact way — two women fall in love and they fuck, end of story; it's very natural," he recalls. "Then I saw her in Happy-Go-Lucky and Submarine — she has this purity that's so luminous, she has one of the most beautiful faces in cinema right now; but at the same time she's accessible and relatable, you could believe her taking the bus."
Casting the creature was never up for debate because the director knew he would once again turn to Doug Jones, who has appeared in almost all of del Toro's films in a variety of eclectic guises, including famously as the Pale Man in Pan's Labyrinth.
Imagining the relationship between Hawkins' character and the creature, del Toro wanted to make a version of Beauty And The Beast that was not "puritanical", avoiding the sanitary plotline of a beautiful princess and a beast who transforms into a perfect prince. At the beginning of The Shape Of Water, Hawkins' character masturbates in the bathtub — a moment that establishes "she is not a Disney princess", says the director. Similarly, while the creature has numerous instances of humanity and tenderness, del Toro says it was equally important to "make sure it eats the fucking cat" to remind the audience of its otherness.
The film contains several scenes featuring sex and nudity — including one potentially classic sequence in which Hawkins and the creature fill her bathroom floor-to-ceiling with water before making love in the submerged space — which was a first both for the director and his leading lady. Del Toro admits he was more nervous about those scenes than Hawkins: "I guaranteed it would be done completely to her liking, with sensitivity. I was mortified about the possibility of it going wrong — I think that I was more prudish than her."
The aforementioned sequence was the production's biggest technical challenge, particularly on the tight budget. Several of the underwater segments were shot 'dry for wet' — ie, when smoke, coloured filters, lighting and slow motion are used to create the illusion of being underwater — but del Toro did not think the technique would convince for that showpiece scene. Instead, his team literally sank the bathroom set, with Hawkins and Jones suspended on wires to help orchestrate their movements. "It consumed a whole day but it was worth it — we needed the magic of the bodies floating," del Toro recalls.
The magic factor is visible in the film's setting, which is anchored in the 1960s — a period the director chose because of its parallels with today — but retains del Toro's trademark magical realism. "Politically, the film is now. It's identical — the Cold War, the casual racism, the casual sexism, everything is the same," he comments. "When America dreams of 'Making America Great Again', they're dreaming of 1962, it's the most magical period in America's imagination — the space race is on, they have economic superiority, everybody can have a car in a garage and a suburban home with a TV, a wife with petticoats. Everything is golden if you're a WASP [white Anglo-Saxon protestant], but if you're a minority you have it very difficult."
The Shape Of Water puts the spotlight on marginalised characters, or as del Toro says, "invisible people" — the janitors played by Hawkins and Octavia Spencer; Jones' imprisoned creature; Richard Jenkins' unheralded poster designer; and Michael Stuhlbarg's ignored scientist. Before he became established, del Toro says that he felt marginalised as a director. "As an immigrant, I've always experienced some form of racism — mild, casual, inadvertently dispensed," he comments. "Early in the 1990s all people gave me to read were screenplays about matadors and drug dealers, and I kept responding, 'Would you give a mounted police screenplay to [Canadian director David] Cronenberg?'"
Auteur approach
Del Toro has since risen to the top of his profession. His 2006 fantasy drama Pan's Labyrinth won three Oscars, and he then took the reins of mega-budget sci-fi Pacific Rim (2013), which grossed $400m worldwide. In between those features, he directed the sequel to his 2004 comic-book adaptation Hellboy. Those films offered up del Toro's twist on the superhero movie — subsequently propelled to stratospheric heights by Marvel Studios — but in the decade since Hellboy II he has become disillusioned with the genre. "I think they [superhero movies] are too safe, too built. It's like a car with all the airbags and seatbelts; to me that's a boring car. I like a dune buggy."
Del Toro thinks producers need to more regularly take a "riskier, bolder approach" to the genre. "There's a recipe to them now, they look for a safe, calculated audience," he says, adding that he was impressed with Wonder Woman, which he believes sought out a new audience. "I've been offered massive franchises that I've been massively uninterested in," he adds. Del Toro did, however, harbour ambitions to make a 'Justice League Dark' film featuring a litany of alternative superheroes from the DC universe, but he and studio Warner Bros, which owns the rights, "did not see eye to eye" on the project.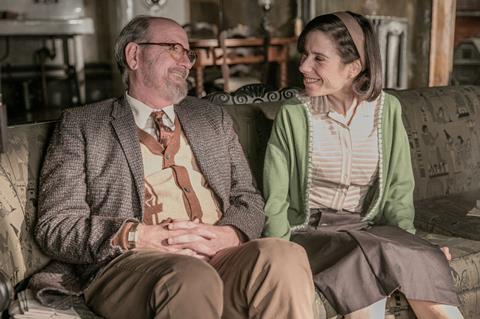 The director has worked consistently throughout his career, directing 10 films over a 25-year period and producing numerous others, but he is cautious about his next project. "I think it's tough to find audiences, lots of 'sure-fire' films are falling flat," he says. "Now, a lot of people want to be in complete command of how they consume a film. The way we consume audiovisual entertainment has changed — people want it when they have a little free time, on their tablet or at home after work, when it requires zero effort." The solution, he believes, is to create spectacular, story-driven experiences that will encourage people into cinemas.
For now, del Toro says he is most excited about taking a year's sabbatical from directing, but when he does return, it will be for a project he feels passionate about: "I want to make movies that I am willing to croak for."