Heading to Berlin with his Amazon-financed Don't Worry, He Won't Get Far On Foot, Gus Van Sant tells Screen why he still prefers to see films in a theatre.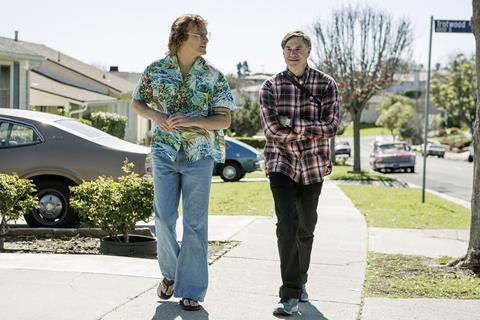 Gus Van Sant could easily be the most anonymous person in the room when Screen International meets the US filmmaker at Sundance Film Festival. Far from ostentatious, and with his dog at his feet, it is the expression that gives him away — like a 1960s surfer dad caught in the headlights of today.
Decked out in a plaid shirt and jeans in a converted media lounge in Park City, Van Sant gives nothing away about how he feels Don't Worry, He Won't Get Far On Foot went down at its Sundance world premiere several days earlier. In fact, there was generous applause at the Eccles Theatre and US critics have been mainly supportive.
Now Van Sant's latest feature heads to Berlin, where FilmNation handles international sales and a broader audience will sample his tribute to late quadriplegic cartoonist John Callahan, which glides between acerbic character study and observational comedy. Van Sant had known Callahan's drawings and began hanging out with his fellow Portlander when Robin Williams optioned Callahan's book circa 1997, and they began to map out an adaptation. "He didn't live very far — it was only 10 blocks," Van Sant mumbles, breaking into a fleeting smile when someone brings his Australian Shepherd puppy. "We went on trips. He liked to go in a cab that could take his wheelchair and go to a restaurant on the beach."
Drinking journey
According to the filmmaker, Callahan was eager for Williams to portray him on screen. "If somebody's doing your life and Robin Williams is playing you, you're like, 'OK, let's make it happen,'" he notes. However, the film's subject would never get to see his journey on screen from hard-drinker to irate, wheelchair-bound hard-drinker, to sobriety, as Callahan died in 2010.
Van Sant worked closely with his subject's family during the process. They made introductions to people whom Callahan knew. They were happy after the premiere, the director says, based on what he could ascertain from a quick post-screening chat. "They'd read the script and we followed it pretty closely," he states.
When Williams died in 2014, Van Sant and his team developed two scripts. The first focused more than the finished product does on Callahan's search for his absent mother, while the second contained narrative flights of fancy and surreal sequences. "Mine [the third version] was dialling it back to the things that were in John's book," Van Sant says. "One of the things he talks about in the book is his recovery. That was central to his whole thing."
Joaquin Phoenix, who acted for Van Sant in To Die For 23 years ago, took over lead actor duties shortly after Williams' death. "We were both living in LA and talking about different projects, and when that came around I immediately asked him," he says.
The director has been looking forward to a return to Berlin. "My first film [Mala Noche] went to Berlin in 1985," he says. "It was during the year of My Beautiful Laundrette and Derek Jarman's Caravaggio. Since then I've gone with Promised Land, Good Will Hunting and Finding Forrester."
Don't Worry, He Won't Get Far On Foot (named after a Callahan cartoon) shot over 25 days in early 2017 in Los Angeles. Van Sant knew independent cinema stalwart Ted Hope, whose employer Amazon Studios came on board to finance at pre-production stage. Van Sant's work has often examined the lives of young men finding their place in the world, and has ranged from commercial fare such as Good Will Hunting to indie material like Elephant. However, one thing has remained constant. Van Sant knew Amazon Studios had pledged to release its films theatrically with partners - this was before the company moved into self-distribution - and that was the clincher.
"Yeah, for me it's important," he says. "But I'm coming from another era. Rather than watching something on a phone, I want to see it in a theatre."