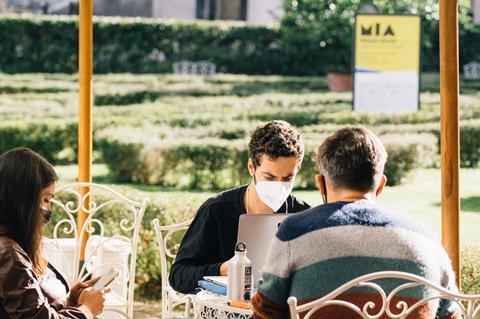 All roads lead to Rome this autumn for Europe's film and TV industry, with the seventh edition of Italy's MIA International Audiovisual Market opening tomorrow, October 13, and running until October 17.
The physical Italian event looks set for a bumper year, with attendance outstripping the pre-pandemic 2019 edition. "There's really a sense of the European industry wanting to come together in person," says Francesca Palleschi, head of MIA's strategic development division.
While MIA is aimed at both film and scripted and unscripted TV professionals, Europe's film sales and acquisition sector in particular is expected to be out in force. Sales agents are galvanising around in-person attendance at MIA following Cannes' split into a hybrid Marché du Film in July, a low-key Toronto for Europeans in September and the decision to move the American Film Market (AFM) online for a second year in November.
"Numbers have increased, not just on 2020, which is to be expected, but more importantly on 2019," says Palleschi. "We're seeing a lot more UK sales agents, for instance, which is interesting as we're overlapping with BFI London Film Festival. They've come in the past, but I feel they're more motivated, perhaps because of AFM being online."
By the end of September, 140 features had been registered to screen, around 80 of them for world or market premieres, representing just over 14% on pre-pandemic levels in 2019, according to MIA.
Professional body Europa International — which represents 45 sales companies across Europe — is also getting behind a push for in-person attendance by both sellers and buyers. "It's been hard figuring out where everyone is going in recent months and we're saying it's time to prioritise," says member Sabine Chemaly, EVP international distribution at TF1 Studio.
She will market premiere the environmental drama Everything Will Change and comedy Price Of Parenting at MIA. "My line-up is not driven by festival movies," she adds. "I've got European movies and I'm looking for European buyers. We need a B2B screening market like MIA in the autumn. After 18 months of doing deals on the back of links, it's time for distributors to reconnect with the cinema experience too."
Europa International head and TrustNordisk managing director Susan Wendt agrees: "It's become a wild guess about what to attend. You don't know what's online and what's not, and who's really going where."
Wendt, who is a member of MIA's advisory board, might be expected to get behind the market as a must-attend event, but her sentiments are echoed by many other European sellers this year.
"This year is a good moment for Rome because of the AFM being online and because it's one of the few moments when industry can actually meet physically," says Andreas Rothbauer, founder and co-managing director of Germany's Picture Tree International.
He notes that even prior to Covid, Santa Monica was not attracting some of the buyers who now head to Rome instead. "More and more arthouse distributors were not going to AFM physically anyway for various reasons…We'd catch the more arthouse guys in Rome and then head to AFM to do more business-driven things and [connect with] Latin America, Asia. That was already the case."
Alice Buquoy, SVP, international theatrical sales and acquisitions at Munich-based Global Screen, is another European executive happy to see a strong MIA. "It's exciting to see MIA market going from strength to strength and becoming more important with each year, both for sales and acquisitions. We hope that this trend continues and the market becomes even bigger since the timing in early autumn is ideal," she says.
Another supporter is Antonio Saura, managing director of Madrid-based Latido Films. "We have always attended and last year it was great for us, being one of the few markets that was able to happen on-site, not online," he says. "We are firm supporters of on-site markets, despite the fact that we won't stop attending online ones like Busan or the AFM, but I think it's not quite the same to work, meet clients or sell when you are able to meet in person. The online tends to standardise products."
A stronger presence
Other senior sales executives due to attend in person include Charades' Carole Baraton, Pathé International's Marie-Laure Montironi, Indie Sales' Nicolas Eschbach, LevelK's Debra Liang, The Match Factory's Thania Dimitrakopoulou, Heretic's Ioanna Stais, Film Factory Entertainment's Vicente Canales, Bankside's Yana Georgieva and HanWay Films' Gabrielle Stewart.
Asia is largely absent, although a few executives from the region have registered for online. A handful of US companies will have a physical presence, including A24, 1091 and Magnolia Pictures.
Wendt suggests the pandemic boost to MIA could herald a return, for Europeans at least, of the film market calendar that existed prior to the closure of Mifed in 2004 (AFM's decision to move from spring to autumn cemented the Italian market's demise after years of decline). While she does not miss Mifed's hangar-like Fiera di Milano setting and poor screening facilities, the veteran sales executive suggests the European sales and acquisition sector, which has never fully embraced AFM, needs a strong autumn event more than ever.
"You feel the tension after this whole period of Covid," says Wendt. "Of course, sales and distributors have been going to MIA since the beginning, but screening attendance has never been that good.
"Perhaps, what's happened with markets due to the pandemic will be a turning point for MIA. Maybe we'll get back to the atmosphere of Mifed — screening films in a market and then doing deals face-to-face."
Geoffrey Macnab and Elisabet Cabeza contributed to this report.