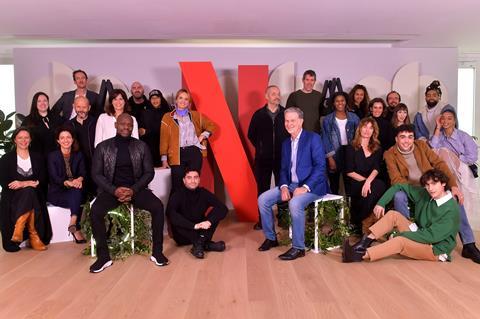 The great and the good of France's cultural institutions and film and TV production scene turned out for the official opening of Netflix's new French offices in central Paris in the presence of the US platform's founder and CEO Reed Hastings on January 17.
"The only people missing were Frémaux, the Seydoux and Saada," said one attendee, marvelling at the high-profile crowd.
He was referring to Cannes Film Festival chief Thierry Frémaux, as well as Nicolas Seydoux and Jérome Seydoux, the influential chiefs of Gaumont and Pathé, who are both passionate advocates of the big screen experience, and Maxim Saada, CEO of the Canal Plus Group. The latter has seen its subscription base fall amid the rise of the global streaming players.
Frémaux reportedly attended a more select Netflix dinner the previous evening.
The presence of figures such as French culture minister Franck Riester, Paris mayor Anne Hidalgo and National Cinema Centre (CNC) chief Dominique Boutonnat as well as film and TV professionals such as Gaumont vice CEO Christophe Riandee and producers Alain Goldman and Marc Missonnier, however, bore testimony to how far the platform has come in gaining acceptance in France since it first launched there in 2014.
"It hasn't always been easy between Netflix and France," Riester said in a speech at the inaugural cocktail. "At first, there were reservations, suspicions and mistakes on both sides… but in the end, we've both understood we can't really live one without the other. Today marks a new chapter in our relationship."
Mutually beneficial
France is now a major market for Netflix, where it has some 6.7m subscribers. With subscriptions running from the basic monthly tariff of $8.8 (€7.99) to the multiscreen option of $17.70 (€15.99), annual French turnover runs at somewhere between $700m to $1.2bn.
For its part, Netflix is an increasingly important financier for France's film and TV industries. The streaming platform has invested some €200m in French productions since its 2014 French launch and is promising another €100m for this year.
Some 20 French Netflix Original productions are underway including Jean-Pierre Jeunet's artificial intelligence comedy BigBug, action picture Sentinelle by Julien Leclercq; an adaptation of the popular Arsène Lupin novels starring Omar Sy as the iconic gentleman burglar; Damien Chazelle's musical drama series The Eddy and a new untitled series about young comedians trying to make it on the Paris stand-up scene by Fanny Herrero, creator and writer of hit show Call My Agent!
Situated in the heart of Paris's theatre-land opposite the famous Edouard VII Theatre, where Orson Welles once directed and performed in the late 1940s, the offices will house some 40 staff and also act as a creative hub for film and TV talent collaborating with the platform. It is the fourth office opened by Netflix in Europe, after the creation of hubs in Amsterdam, Madrid and London.
Hastings spent the best part of a week in France to support the launch of the new offices, holding talks with Riester and key film and TV industry players, meeting the creators of the upcoming Netlfix Originals; visiting the country's prestigious Fémis film school and then attending a French investment forum on Monday (Sept 20) at the Château de Versailles, where he sat down with French president Emmanuel Macron.
Challenges
Although Netflix looks well on the road to establishing itself as a key and trusted player in France, it still faces a number of challenges in the territory in coming months.
Importantly, France wants to incorporate Netflix into the country's audiovisual laws governing funding obligations, content rights and media windows for any entity diffusing content in the country. The currently legislation, dating back to 1986, is currently undergoing a major reform to update it for the digital age.
Under proposals presented by Riester to film and TV professionals in early January, streaming platforms like Netflix and Amazon could be expected to re-invest 25% of their French revenue back into locally-produced European content in return for the right to stream into the territory.
In the past, operations like Netflix and Amazon could have circumvented these obligations by simply not physically setting up shop on French soil. The European Union's new Audiovisual Media Services Directive, AVMS Directive, which was ratified at the end of 2018, changes all that.
Under the directive, companies targeting audiences in a particular EU territory will be subject to its audiovisual legislation wherever they are based. The directive also demands that at least 30% of content distributed into Europe by audiovisual operators – whether they be a traditional broadcaster or global SVoD player – hail from Europe.
As it overhauls its audiovisual legislation, France will be the first EU territory to incorporate the AVMS Directive into law. The deal it brokers with Netflix and the other platforms could set a precedent for the rest of the EU.
Netflix's future obligations under the audiovisual talks will be thrashed out in complex negotiations involving the government, the country's some 40 film and TV professional bodies and the platform. These talks are due to start in March. Before that the country's professional bodies will attempt to set a common position, which will be an equally thorny process.
Key sticking-points for the Netflix negotiations are expected to be obligations around the pre-financing of projects run by independent producers and rights ownership. Riester made it clear in his speech that pre-financing obligations; support for independent, creative producers; the right of the director to the final cut and the protection of intellectual copyright, or droit d'auteur, were non-negotiable principles for France.
Netflix is likely to be reluctant to sign up to pre-finance content without gaining control of all the rights. However, a 2019 deal it brokered with TF1 Studio to co-finance French historical drama series Le Bazar de la Charité in return for exclusive worldwide SVOD rights for four years is a sign that it is open to a more flexible approach.
The French government has drafted in former diplomat Pierre Sellal and Florence Philbert, head of France's Institute for the Cinema Finance and Cultural Industries (IFCIC), to mediate the talks.
Netflix will be represented by its director of public policy in France Marie-Laure Daridan, who who joined the platform from Apple France in early 2019, having previously worked at the country's National Audiovisual Institute (INA).
Desire to work with rather than against
Riester said the aim of the French government was for the "transformation" of France's audiovisual legislation to be drafted in cooperation with Netflix and the other platforms.
The other challenge facing Netflix is the arrival of a raft of other streaming platforms in the France this year, kicking off with Disney+ on March 24, but Riester also seemed to suggest that for now, Netflix would be in a privileged position when it came to the negotiations.
"We're not going to do this transformation against Netflix but rather with Netflix and the other platforms, and in particular with Netflix, which was the first to launch in France and then set up in Paris," he said.
He also hinted that the country could be open to softening its chronology laws for Netflix, saying that the platform's place in the strict media window calendar should reflect the contribution it ends up making to the pre-financing of audiovisual works.
At present, so-called virtuous streaming platforms, fulfilling a strict set of obligation criteria, have a window of 17-months between the theatrical launch and streaming release of a feature film.
So-called "non-virtuous" players, such as Netflix and Amazon are subject to a 36-month gap. There are suggestions that the government could be open to closing this to as little as seven or eight months in the event that platforms agree to make a greater contribution to funding local content but even this is still unlikely to suit Netflix's distribution model.
Speaking at the inaugural cocktail, Hastings acknowledged negotiations lay ahead but said that for that evening he preferred instead to savour the moment of opening offices in Paris.
"Like Canal+, we recognise we have obligations but conversations about this are for later," he said to laughter from his guests. "This evening is a celebration of our desire to work hand in hand with you all to create unique French stories."
Netflix appears committed to staying in France and collaborating with its film and TV talent, but it remains to be seen under what terms this will happen.