The new executive director has long-term goals for Hong Kong International Film Festival, and remains optimistic about Hong Kong cinema's future.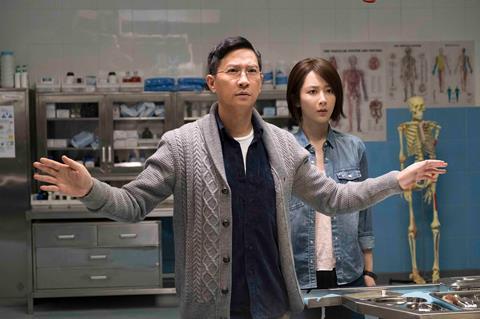 Despite having four decades of industry experience under his belt, Albert Lee, the new executive director of Hong Kong International Film Festival (HKIFF), admits that nothing in his past could possibly have prepared him for this new role.
"The challenges are quite different," says the former Emperor Motion Pictures CEO of the HKIFF job. "I've attended many film festivals over the years, but I never thought that I would one day be running one. If I discount my brief tenure as director of the ill-fated HAF [Hong Kong-Asia Film Financing Forum] in 2003, which was cancelled at the last minute because of SARS, it is my first time working at a festival."
Lee's film career started at Hong Kong studio Golden Harvest during the golden age of Hong Kong cinema through the 1980s and into the 1990s, spending two decades producing and distributing films worldwide. He joined Emperor Motion Pictures in 2003, producing more than 20 films during his 15-year tenure.
Lee took up his post at HKIFF last November, taking over from Roger Garcia who held the position from 2010-18. A number of Lee's key colleagues are also new to their positions, including head of programming Geoffrey Wong, head of marketing Catherine Liu and operations manager Billy Cheng. Their collective focus, says Lee, has been to ensure the 43rd edition has a smooth transition from previous years.
One crisis hit early with the February closure of The Grand Cinema — a key HKIFF venue accounting for a quarter of its screening slots. Fortunately an agreement has been made with the cinema's new operator Broadway Circuit, which took over the lease, that enables the festival to keep The Grand Cinema as its major screening venue.
Despite being resolved, the scare underlines the importance for HKIFF of finding a permanent home — a long-term objective that Lee hopes will be achieved by the time the festival celebrates its 50th anniversary in 2026. "Most established film festivals would have a focal point, like the TIFF Bell Lightbox in Toronto and the Busan Cinema Center in Busan," he says. "The Hong Kong Philharmonic would probably call the Cultural Centre its home and now there's even a Xiqu Centre for all forms of Chinese operas. On the contrary, Hong Kong cinema does not have one."
Opening salvo
HKIFF will open on March 18 with Bodies At Rest, a Cantonese-language action thriller starring Nick Cheung and Richie Jen, directed by Die Hard 2's Renny Harlin. The Media Asia co-production is the only Hong Kong film to receive its world premiere at this year's HKIFF (compared to none in 2018), while the Hong Kong Panorama strand has been pared down to six titles this year.
"HKIFF has come a long way since its inaugural edition in 1977. During this time, the fortune of Hong Kong cinema has ebbed and flowed," says Lee, who nonetheless remains optimistic. "Hong Kong cinema reached its nadir a few years ago. With the emergence of a new and younger generation of local filmmakers such as Oliver Chan, Jun Li, Lee Cheuk Pan and Sunny Chan, it's slowly on its way back. Things are certainly looking brighter."
Also featured in this year's HKIFF line-up are First Night Nerves, Hong Kong New Wave director Stanley Kwan's first feature in almost a decade, which will receive a gala premiere, and a collection by local animator Wong Ping including three of his most recent shorts, International Film Festival Rotterdam prize-winner Fables 1 among them.
This year's Filmmaker in Focus is multi-hyphenate Hong Kong action icon Sammo Hung, who will conduct a seminar while his various roles as actor, director, producer, stuntman and choreographer are screened in a 10-film retrospective. "I was impressed with The Prodigal Son and Eastern Condors in how he merged his unique style of action and storytelling into different genres," says Wong, who succeeds long-serving artistic director Li Cheuk To after his departure last year. "It's also exciting to see Pedicab Driver on the big screen again, one of Hung's favourites."
A total of 232 titles from 63 countries and regions will be showcased over 15 days, including five world premieres, three international premieres and 56 Asian premieres. New this year is the expansion of the long-running Young Cinema Competition. "With new and advanced filmmaking technology, a wave of young directors are emerging around the world, especially in Chinese-speaking countries," says Wong. "This year we've expanded the competition with a new section for Chinese-language films."
The Chinese Competition features eight titles, including Xu Zhenhao's Give Me A Ride, with another eight films in the World Cinema Competition, among them Japanese filmmaker Yuko Hakota's Blue Hour (both films are world premieres). Four prizes will be given out in each section — the Firebird awards for best film, director, actor and actress.
Three masterclasses are to be held this year, featuring filmmaker Asghar Farhadi, who will meet Hong Kong audiences for the first time after the screening of Cannes 2018 opener Everybody Knows; Korean auteur Lee Chang-dong, who will show a newly restored version of Peppermint Candy along with Burning; and Chinese actor/director Jiang Wen, who is screening gangster thriller Hidden Man.
Keeping film front and centre
Other notable HKIFF guests include Jacques Audiard with Venice Film Festival prize-winner The Sisters Brothers; Florian Henckel von Donnersmarck with Oscar-nominated Never Look Away; and Angela Schanelec, who won Berlin's best director Silver Bear for I Was At Home, But…. Further Berlin award-winners making their Asian premieres include Francois Ozon's By The Grace Of God — which will close HKIFF on April 1 — and Golden Bear winner Synonyms from Nadav Lapid, which will receive a gala premiere.
Given the last-minute withdrawal from Berlin of two Chinese films — Zhang Yimou's One Second and Derek Tsang's Better Days — speculation has been rife that China is tightening up on film censorship. Lee says: "HKIFF has always strived to keep an open and independent mind when it comes to programming. I recognise that we live in a political world and decisions we take will be interpreted one way or the other. But nothing would deviate us from our sole mandate, which is to promote film culture in Hong Kong."
HKIFF HAF work-in-progress preview
With a growing industry reputation, the third HAF Work-in-Progress has doubled in size.
After testing the market with eight projects in 2017, the Hong Kong-Asia Film Financing Forum's (HAF) Work-in-Progress (WiP) Lab has swiftly established itself as an important platform for near-completed productions. Most of the projects from the first two years have gone on to premiere at festivals, with notable titles including Village Rockstars, India's entry for this year's best foreign-language-film Oscar; Ayka and The Man Who Surprised Everyone, which won best actress awards at last year's Cannes and Venice's Horizons sidebar respectively; and Still Human, which has eight nominations at this year's Hong Kong Film Awards.
Entering its third edition, the WiP Lab continues to expand with the launch of a new section dedicated to feature documentaries. Nine documentaries have been selected, including Odoriko, an immersive journey into the dressing room of a Japanese strip theatre. A WiP documentary award with a cash prize worth $9,900 (hk$78,000) will be handed out.
"WiP is a growth area," says Jacob Wong, director of HAF. "We started with WiP for fiction films and this year we introduced WiP for documentaries, seeing that there's a good and growing crop of documentary titles out there and that there's supply as well as demand."
Ten projects are included in the narrative feature section, among them Hello! Tapir, about a boy in search of the mythical nightmare-eating creature in the forest. Combined, the two sections have doubled the size of the previous WiP editions and organisers claim it is the first WiP market to have fiction and documentary projects in almost equal number.
Unlike the main HAF — which is for projects in development or pre-production stages — the WiP Lab extends HAF services downstream with a platform for late-stage projects that are seeking completion funding, post-production partners, sales agents or festival berths. "WiP titles sit well with distributors on the lookout for product to represent and with festival programmers looking for works to present," says Wong. "It's also good for financiers just coming into the business, as WiP projects stand a good change of seeing daylight and can be boarded at a lower cost."
Each WiP project team will have an individual booth in the same HAF area for one-to-one meetings, and the opportunity to present their projects at an open pitch session that takes place on March 18 for documentaries and March 19 for fiction features.
The third HAF Work-in-Progress Lab will run from March 18-20.