Taiwanese director Hou Hsiao-Hsien has had a banner year, with Cannes' best director prize under his belt and a stint on the Venice jury. He talks to Damon Wise about The Assassin.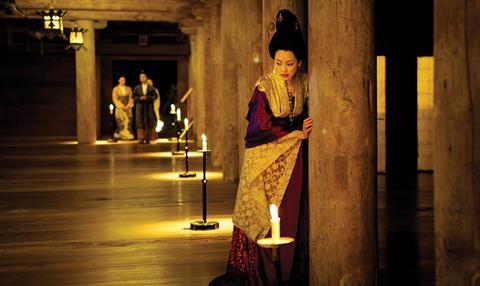 'I found those places — kind of lost places — in China. We didn't even have to do the set decoration, everything was right there'
Hou Hsiao-Hsien
"Pure image is a rare thing nowadays," says Hou Hsiao-Hsien, who, alongside the late, lionised Edward Yang, was a pioneer of the Taiwanese New Wave in the early 1980s. Like Yang, Hou has occupied a very special place in world cinema ever since — he is a low-key yet significant figure on the international festival circuit who may not have experienced the mainstream crossover success that has greeted other Asian directors such as Ang Lee, John Woo and Wong Kar Wai, but whose works are studied by film scholars for their aesthetic and structure.
Now 68, the Taipei-based film-maker has been feted by Venice and Berlin and has been a regular visitor to Cannes since 1988, when his film Daughter Of The Nile secured a berth in Directors' Fortnight.
It is noteworthy that when Hou returned to the Croisette this year — where he took the best director prize for his long-gestating project The Assassin, his first Cannes prize since 1993's The Puppetmaster — it was with a film that was deemed out of character. Far removed from his more typical efforts, which deal with Taiwanese history and culture from the last century, The Assassin is both a period story, set in the Chinese Tang Dynasty era of the ninth century, and a wuxia film of the kind popularised by King Hu and Shaw Brothers.
Long-time admirers of Hou, however, were not as surprised as Cannes audiences perhaps were — the director once addressed this, saying, "I don't try new things every time, as Western critics [might] think, but rather I set different limits."
Still, Hou was definitely not expecting The Assassin — the elliptical tale of a hitwoman (Shu Qi) ordered to kill the man she once intended to marry — to take one of the three main prizes given by the Coen brothers-headed jury. "I understand that in Europe they have a unique vision on image," Hou says, "different from the USA. But I didn't expect they would accept [my film], especially when I did the editing. I did a lot of jump cuts, I took out all those sequences I was not satisfied with, or where the performances of my actors did not work well for me. I am happy they could appreciate my film."
The unusually long gap between The Assassin and Hou's previous film, the French co-production Flight Of The Red Balloon, which played Un Certain Regard in 2007, led to speculation about issues with the production. In the past, this prolific film-maker has rarely left more than a two or three-year gap between releases. But Hou claims The Assassin's delay was purely pragmatic. "I was president of Taipei Film Festival and then [on the executive committee of] the Golden Horse Film Festival for the past eight years," he says. "I felt I could not do both things at the same time. I had to concentrate on my president job and, when my duties were finished, I started preparation on The Assassin."
Hou's first port of call was the famous Zizhi Tongjian, a chronicle of Chinese history from the year 960 to 1279. More research followed, and Hou discovered female assassins were not uncommon during that time. "There were a lot of female assassins during the Tang dynasty," he says. "It was a very unique era, all kinds of female assassins. Some of them just hid themselves in a normal life for many years, just to wait for the right moment to complete their mission.
"There is a story about a female assassin who even got married and had a kid — and when the moment came to complete her mission, she even killed her child."
Although this seems far removed from the social realism of Millennium Mambo or Café Lumiere, Hou insists a powerful thread unites his films: "Human beings. I care about people." It is a factor that makes casting such a crucial part of the process for Hou. "First come the actors," he says, "and then I will find a role for each of them. Looking for an actor is a very difficult job. It is a great opportunity when you meet an actor that you want to work with, like Shu Qi.
"For me," he continues, "it is not a question of casting actors, but casting roles for actors. If I didn't have the actor first, it would be difficult for me. I prefer, and I think it's faster, to have an actor first, then write a story for him or her."
Although Hou was well versed in wuxia literature, his research did not extend to revisiting its cinematic origins, noting the extreme difficulty of making films in the genre in the days before computers, when "they could not control the wires very well". Hou's cast were untrained in martial-arts choreography, requiring weeks of rigorous preparation.
"They had to practise all the time and, at the beginning, they also had to learn to control their faces," he notes. "If a normal person does a big martial-arts move, they will have a tortured face, but a high-level martial-arts person won't. A cool, cold assassin won't show any expression on her face, but at the beginning Shu Qi couldn't help it."
Creating the look
With critics falling over themselves to praise The Assassin's ravishing style, Hou insists that part of the film came to him organically. "The human brain is not like a computer," he says. "We did research first, to understand the Tang dynasty's lifestyle and to create the locations and, once the locations were done, I would adjust. For example, silk was a material very popular in Tang. This material could reflect the lights in a very beautiful way. Our production designer went to India and Korea to buy lots of silk tissues. She then used them to make the curtains and the clothes — under the candlelight, the colours are quite beautiful."
While the production design fits perfectly with the atmospheric sets and locations, Hou shrugs off any suggestion that he faced a challenging shoot. "It was quite OK," he insists. "I found those places — kind of lost places — in China. They were not tourist places. We didn't even have to do the set decoration, everything was right there."
Despite his casual attitude to a substantial undertaking, Hou will return to more familiar territory in the future. "For the next project, I will come back to modern Taipei," he says, "which I will also mix with the past of Taipei during the Japanese occupation.
"The look of Taipei in those days was very different. During that time there were many ditches for irrigation. They still exist but only under the roads. Most of us ignore it." Film lovers can rely on Hou Hsiao-Hsien, however, to take them back there.
TIMELINE: Hou Hsiao-Hsien
1947 Born in Mei County, Guangdong province, China; his family flees to Taiwan to escape the Chinese civil war.
1972 Graduates from the National Taiwan Academy of the Arts.
1980 Releases his feature debut Cute Girl (aka Lovable You).
1986 Awarded Berlin's Golden Bear for A Time To Live, A Time To Die.
1989 A City Of Sadness wins the Golden Lion in Venice.
1993 Makes Cannes Competition debut with The Puppetmaster, winning the jury prize.
1997 Olivier Assayas' documentary HHH: Portrait Of Hou Hsiao-Hsien debuts at Venice.
2005 Awarded the Akira Kurosawa prize at Tokyo International Film Festival.
2007 His first non-Asian film, Flight Of The Red Balloon, shows at Cannes.
2007 Awarded the Leopard of Honour at Locarno.
2008 Becomes president of Taipei Film Festival.
2015 Wins Cannes' best director prize; joins Venice jury. The Assassin plays at the London and New York film festivals.