The casting of Scarlett Johansson went largely unchallenged by Chinese and Japanese audiences.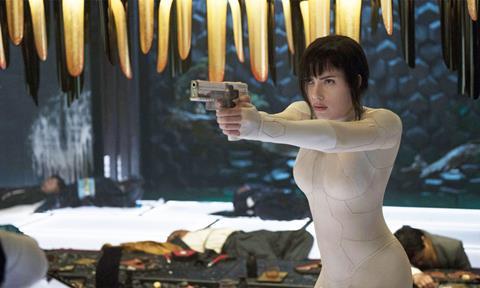 Paramount's Ghost In The Shell, the live-action adaptation of the cult Japanese manga, had decent but not spectacular openings in China and Japan last weekend.
In China, the cyber-punk thriller grossed $21.6m over the three-day weekend (April 7-9), which topped the weekend box office and outstripped its North America debut, but was below expectations for a 3D US studio movie.
In Japan, the film opened in second place in terms of box office revenue over the two-day weekend, trailing Sing in its fourth week. Opening on Friday (April 7) it grossed $3.2m over the three-day weekend, which is considered respectable but not blockbuster business.
Whitewashing row
In neither market was the film affected by the whitewashing controversy that plagued it in North America and resulted in a disappointing $19m opening weekend.
The casting of a white actress, Scarlett Johansson, as a police cyborg named Motoko Kusanagi went largely unchallenged by Chinese and Japanese audiences, not because they're unaware of issues of race or privilege, but because they're not under-represented minorities in the societies they're living in.
As one Japanese viewer commented online: "Hollywood whitewashing is not an issue that most Japanese people in Japan care about. Why? They see themselves represented in Japanese media all the time."
But the film still didn't perform to expectations in Asia's two biggest box office markets, which means the $110m production, directed by Rupert Sanders and backed by Paramount, DreamWorks and Reliance, is likely to end up in the red.
In China, the film had the marketing muscle of local investors Weying Technology, Shanghai Film Group and Huahua Media behind it, but was hit by an unfavourable release date – sandwiched between Kong: Skull Island, which opened on March 24, and The Fate Of The Furious, which opens this weekend.
As Furious 7 is currently China's biggest ever imported movie, the latest installment in the blockbuster franchise is widely expected to reinvigorate the sluggish Chinese box office and will likely push Ghost In The Shell off screens.
Unfamiliar source material
The film was also affected by the fact that Chinese audiences are not overly familiar with the source material. When Masamune Shirow's manga was first published in 1989, the vast majority of China's cinema-going audience hadn't been born yet, and not many were around when Mamoru Oshii's anime version hit screens in 1995.
Over the 22 years since the release of Oshii's iconic film, the property has generated a steady stream of animated movies, TV series, novels and games and influenced Western movies including The Matrix series, Avatar and Minority Report. But despite the Chinese audience's complex, on-off love affair with Japanese content, the IP is not well known in China, even among older consumers.
Indeed, it's not that well known in the rest of the world. "Ghost In The Shell has a loyal worldwide following, but when you compare it to Power Rangers or anything else in the Marvel universe, it's still fairly niche," says a talent agent who works between North America and China. Unfortunately, arriving 22 years after the original, the adaptation ended up looking derivative of the very same Hollywood movies that it inspired.
Japanese audiences are obviously more familiar with the original franchise, but it still falls into cult rather than mainstream territory. According to local press reports, die-hard fans (known as 'otaku' in Japan) felt it was respectful of the source material, although some commented that it doesn't dive as deep into the manga's philosophical musings on the nature of consciousness and the human soul.
As in China, Japanese audiences were mostly positive about Johansson's casting and subsequent performance. Just prior to the release, Oshii defended the casting: "The Major is a cyborg and her physical form is an entirely assumed one. The name 'Motoko Kusanagi' and her current body are not her original name and body, so there is no basis for saying that an Asian actress must portray her."
It's undeniable that the controversy badly affected the film's performance in North America, meaning the US studios may need to rethink their future casting decisions. It's also undeniable that Asian-Americans are justified in fighting back against decades of under-representation in mainstream media.
Western faux pas
But for Asian markets, which combined are worth around $15bn compared to the $11.4bn North American market, there are a whole other slew of potential casting faux pas that Western producers need to consider.
One telling reaction to Ghost In The Shell in Japan is that some viewers commented that it's better to have Johansson play the role than an actress from another Asian country. Due to cultural and political sensitivities, local audiences may be more concerned about Asian actors being cast across national or ethnic lines.
When Chinese actors were cast as Japanese characters in Memoirs Of A Geisha (pictured), the film ended up being banned in China and criticised in Japan. "It's just as dismissive to lump all Asians together, implying everyone looks the same," says another agent.
Meanwhile, Chinese audiences are deriding Hollywood's attempts to woo them with Chinese storylines or actors in minor roles. Even when it's done right, which happens rarely, local audiences know as soon as they see or hear an actor speak whether they are local, overseas Chinese or another ethnicity. That affects how realistic they find the character to be.
And these issues are not likely to subside as Asian markets grow and Hollywood continues to plunder Asian source material. There are several more manga adaptations in the works, including Fox's Alita: Battle Angel, directed by Robert Rodriguez; Warner Bros' remake of Attack On Titan, to be produced by David Heyman; and Lionsgate's adaptation of Masahi Kishimoto's Naruto.
Scheduled for release next year, Alita: Battle Angel stars Rosa Salazar, Mahershala Ali and Christoph Waltz. Casting non-white, but still non-Asian actors may silence some of the critics. But it doesn't address the issue that, with the rise of Asian markets, Hollywood needs to build a pool of Asian or Asian-American actors that work with audiences in both North America and big Asian territories like China, South Korea and Japan.
Casting Chinese-Canadian actor Ludi Lin as one of the main characters in Lionsgate's Power Rangers shows there are tentative steps towards this realisation. But there are cultural pitfalls aplenty. For Asian markets, casting the wrong Asian, or bringing in an Asian face simply to fend off criticism, could be as financially damaging as casting a Caucasian woman as a Japanese cyborg was in the West.