As the Hong Kong-Asia Film Forum (HAF) celebrates its 20th anniversary, two projects stand out this year as the first to rise through the ranks of its own eco-system: Cai Jie's Borrowed Time and Lau Kok Rui's The Sunny Side Of The Street.
During early development, the two projects joined HAF's Film Lab in 2019 where both walked away with script consultation service awards. HAF welcomed them back to the in-development projects (IDP) section in 2020 and now return in the work-in-progress projects (WIP) section, taking place virtually from March 14-16 alongside Filmart Online.
Here, Screen explores the journey for each project to date and what comes next.
The Sunny Side Of The Street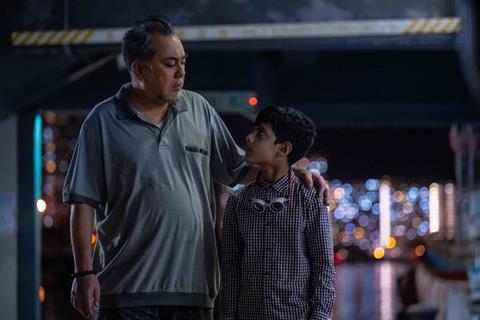 Dir. Lau Kok Rui
Prods. Vinod Sekhar, Winnie Tsang, Soi Cheang, Peter Yam
Malaysia-born director Lau Kok-rui often takes a keen interest in the migrants and asylum seekers living in his second home of Hong Kong. Following his 2019 short Have A Nice Day, about a jobless Pakistani immigrant who becomes a rideshare driver in the city, his feature debut The Sunny Side Of The Street focuses on a Hong Kong-born Pakistani child refugee who forms a special bond with a local taxi driver.
While a focus on Hong Kong's ethnic minorities might not be an easy sell, producer Peter Yam feels thankful that the project has gained publicity and exposure from HAF. "We went to the Film Lab with a full script and it was great to get a lot of feedback and encouragement from the mentors such as [filmmakers] Amy Chin and Liu Jiayin," he says. "Our confidence grew as we progressed to IDP and we went in with a clearer vision of the themes and the styles."
A meeting with Hong Kong-based sales and production outfit Golden Scene during IDP in August 2020 turned out to be critical. Right after the event, Golden Scene connected the filmmakers with Petra Films, which would eventually become the project's main investor. Petra Films is a new banner under Petra Group, a global conglomerate run by Malaysian businessman Vinod Sekhar that focuses on sustainable industries. The Sunny Side Of The Street marks Petra Films' debut project.
Golden Scene's Winnie Tsang has secured prolific, award-winning actor Anthony Wong (Still Human) to play the lead role of the taxi driver. Limbo director Soi Cheang, who previously produced Have A Nice Day for Lau, is also on board as a producer.
"We have gone quite far from a two-man bandwagon, thanks to HAF," says Yam. He plans to pique the interest of top festivals with a rough cut of the film, which will be ready for the upcoming WIP.
Borrowed Time
Dir. Cai Jie
Prods. Stanley Kwan, Mo Jinjin
Chinese director Cai Jie's feature debut Borrowed Time is a tale of two Cantonese-speaking cities, following a young woman who embarks from Guangzhou to Hong Kong in search of her long-missing father, only to embark on a secret love affair similar to that of her parents three decades before.
Cai first presented the project during the Talents Tokyo development programme in 2016. He has since made several trips for story research and location scouting – with producer Mo Jinjin to Hong Kong and with scriptwriter Wang Yin to a rainforest in Malaysia. Renowned Hong Kong director Stanley Kwan (Centre Stage), whom Cai previously met at the Wu Tianming Film Foundation, boarded the project as producer in 2020.
"The 2019 HAF Film Lab gave us the opportunity to review our progress with mentors such as Yin Hongbo and Amy Chin on producing, Lu Fei Yi and Liu Jiayin on scriptwriting," Mo recalls. "We continued to work with Mr Lu on the script for a further two years after the event."
Shooting was set to begin in summer 2020, but the Covid-19 pandemic brought travel to a halt. "There were suggestions that Guangzhou could be used to double as Hong Kong," she says. "We were reluctant to make such compromise, but we ended up dropping Malaysia as a location."
After rejigging filming schedules and production strategies, cameras finally started rolling in Guangzhou in July 2021 and in Hong Kong two months later. "We were able to start filming and wrap up the production, all thanks to the tremendous help of Jacob [Wong, HKIFF Industry director] and the HAF team who assisted us in getting the permits for Hong Kong," says Mo.
To cut down on quarantine expenses, only five members of the production – including actress Lin Dongping, who plays the daughter – came to Hong Kong to work with a local production team and local cast including Tai Bo (Suk Suk) and theatre actor Eddy Au Yeung.
At the upcoming WIP, Mo is seeking completion funding as well as distribution and festival opportunities.