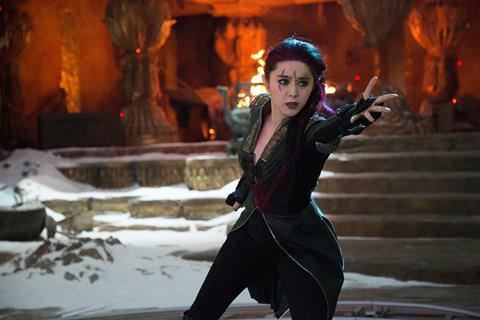 As the global industry congregates at this year's EFM, attendees will find themselves in a familiar predicament. New projects and packages will spark interest, yet beyond the market hype lies a challenging independent landscape that makes it hard to accurately assign value to a project, let alone predict box-office performance months or years down the line.
US-based analytics platform Cinelytic launched last year with a suite of tools that uses millions of data points and proprietary algorithms that the company says puts the power of swift decision-making in the hands of the user.
Cinelytic has developed a cloud-based project management platform that claims to enable a more systematic approach to greenlighting, investing in and distributing films. The service uses AI-powered analytics based on existing industry data (some proprietary, some licensed from third parties) that lets users evaluate project value and risk through proprietary predictive analytics and comps (data about comparable projects).
Providing comps is nothing new. However, once a professional obtains comps, they typically engage in a time-consuming process of consulting colleagues in finance or sales to predict revenue and return on investment (ROI) projections. Cinelytic claims it speeds up the process through its industry-first cloud-based content development platform that enables multiple partners on a project with different areas of expertise to share intelligence from anywhere in the world, all in real time.
The machine learning-based predictive analytics tools can forecast revenue scenarios for all media windows with almost immediate results.
Starting from scratch
Backed by private equity investment, Cinelytic is led by co-founder and CEO Tobias Queisser, co-founder, CTO and former NASA rocket scientist Dev Sen, and COO and ex-Warner Bros Pictures International executive Christian Monti.
Los Angeles resident Queisser studied finance in London and spent 10 years in banking and a hedge fund, before producing films. He launched Arctic Pictures in 2013 and co-produced a $4m thriller project. Keen to run numbers on the project, he was unable to find any tools and resorted to inserting "bits and pieces" of data into an Excel spreadsheet.
"I was astonished by the level of risk people took without a methodical evaluation approach," he says. "These days content consumption is recorded electronically so the data exists, but often does not get shared, and there is a lack of understanding of how best to use data."
Queisser saw room for improvement. "I didn't understand why film needs to be such a risky asset class. I've been involved with venture capital where you finance start-ups and you know it's risky, but there is a more standardised approach to assessing value and risk."
The initial idea for Cinelytic was based on an analogous system Sen developed for NASA to assess the risk of failure of NASA rockets and spaceflight systems, and work that he had done developing predictive revenue models for films. The partners claim that by combining the best practices from the fields of science, finance and the entertainment industry, the Cinelytic system, approach and methodology is fundamentally different from what other companies are doing in the space.
The company has been in beta testing this year with several early adopters, including Tom Butterfield, the Los Angeles-based founder of Culmination Productions and former head of production at Content Media. His credits include London Town and An Actor Prepares.
"With the death of the old sales model internationally, it's very hard as an indie producer to give a financier, particularly an equity financier, credible data," says Butterfield.
Producer Rob Feng of Dream Factory Group, currently in post for Luce with Octavia Spencer and Naomi Watts, describes Cinelytic as "a paradigm shift".
"It allows you to take information and have it all blend together and give you a quick macro view," explains Feng. "I feel more informed talking to foreign sales agents now."
Queisser himself has become a regular face at conferences, delivering keynotes on data analysis. "Technology is changing the film industry, starting with consumer behaviour," he says. "We see that from piracy data that we assess. A lot of people pirate because they can't access content they've become used to consuming anytime, anywhere. Obviously we're against piracy, but we like the piracy data because it's a data set that's not restricted to distribution deals. The piracy data doesn't depend on whether there's a release or it's censored — it's pure demand."
Queisser, Sen, Monti and their team are building out the platform to cover TV projects, and have been approached by companies from the music and video-game sectors. Next year they plan to take Cinelytic a step further with the launch of Audience Analytics.
"You'll be able to put your film package in the system and it will predict audience size and key demographics," says Queisser, "and which geographical areas we should focus on in the release." The new tool aims to enable subscribers to tailor P&A campaigns, and possibly even bring in brands that speak to target audiences and encourage them to invest.
But Queisser is quick to reassure potential customers Cinelytic will not take all the fun out of the film business.
"We don't touch the creative part," he says. "That has to stay human. We only help with the business case. Greenlighting a film is always a creative decision. But we want to bring the 'gut' part of the decision down to 60%. The creative part should probably still override, but in order to create a better product, execute and market it better, and find a more financially satisfying outcome, it helps to use a more methodical approach to project evaluation and risk assessment."
Cinelytic: The Lowdown
There are other data analytics tools out there, so what makes Cinelytic different?
Cinelytic says its comprehensive AI-driven analytics embedded in a project management system is currently unique in the film industry, and enables a more methodical approach to greenlighting, investing in and distributing films. The platform features project and talent analytics tools, and the company says the cloud-based content development platform that enables multiple users to work on a project at the same time is also an industry first. Predictive analytics tools forecast revenue scenarios for all media windows in real time with "unparalleled accuracy". An integrated financial model allows users to calculate financing and ROI scenarios. Cinelytic says the integrated nature of the system means users do not constantly have to go to different data sources and tools to get their information and insights.
I'm an independent producer, how do I use Cinelytic?
Users can engage with the platform to quickly and efficiently compare and contrast talent and their relative value in the US and international markets by media and genre. The predictive analytics tool lets users determine revenue based on inputting key assumptions about the project. The result is financial outputs including a budget based on sales, tax credits, subsidies, grants, loans and equity. The system also has a module to take into consideration ask/take prices that then power a domestic output, international output and a detailed ROI waterfall.
How much does it cost?
Cinelytic is a subscription service currently targeting studios and independents, and a full subscription costs thousands of dollars. The company plans to offer what it calls a "cost-effective" version for individual film professionals next year.
What tools do studios get access to that I won't get access to if I pay the lower-tier subscription?
Cinelytic offers custom-made enterprise tools that incorporate a studio's own data. The main subscription includes all the base components. Lower tiers will not include predictive forecasting.
Can I keep my identity and movie project data anonymous?
Yes. Project data is protected by a firewall so only a user can see their projects, and choose to whom they grant view or edit permissions.
Is there evidence Cinelytic works?
Cinelytic says the platform has helped users secure project financing, saving them time and money. Collaboration with partners on a project has been sped up through the multi-user functionality. Cinelytic has back-tested its predictive forecasting models and claims 80% accuracy (depending on film budget) prior to greenlight decisions, which are often two to three years prior to a film's release.
What's the timetable for international expansion?
While the core focus at time of writing is the US, the system can be used from anywhere in the world. Clients include companies in the US, Europe and Asia.
Top 10 actresses in key markets
This reflects the economic bankability of a talent according to theatrical box office, taking into consideration a person's filmography and weighting their position/role in the cast. It discounts older films and animation/cameo appearances.
UK
1. Emma Watson
2. Judi Dench
3. Helena Bonham Carter
4. Cate Blanchett
5. Scarlett Johansson
6. Jennifer Lawrence
7. Anne Hathaway
8. Daisy Ridley
9. Naomie Harris
10. Amy Adams
US
1. Scarlett Johansson
2. Jennifer Lawrence
3. Emma Watson
4. Cate Blanchett
5. Amy Adams
6. Helena Bonham Carter
7. Anne Hathaway
8. Michelle Rodriguez
9. Elizabeth Banks
10. Daisy Ridley
CHINA
1. Michelle Rodriguez
2. Celina Jade
3. Scarlett Johansson
4. Lin Yun
5. Zhang Yuqi
6. Fan Bingbing
7. Shu Qi
8. Liu Yan
9. Ma Li
10. Jennifer Lawrence
FRANCE
1. Emma Watson
2. Scarlett Johansson
3. Cate Blanchett
4. Marion Cotillard
5. Helena Bonham Carter
6. Michelle Rodriguez
7. Jennifer Lawrence
8. Audrey Tautou
9. Valérie Lemercier
10. Sigourney Weaver
SOUTH KOREA
1. Scarlett Johansson
2. Jeon Ji-hyeon
3. Anne Hathaway
4. Kim Hae-sook
5. Han Hyo-joo
6. Kim Hyang-ki
7. Yunjin Kim
8. Kim Hye-soo
9. Gwyneth Paltrow
10. Emma Watson
INDIA
1. Kareena Kapoor
2. Katrina Kaif
3. Deepika Padukone
4. Priyanka Chopra
5. Sonakshi Sinha
6. Vidya Balan
7. Anushka Sharma
8. Asin
9. Kangana Ranaut
10. Lara Dutta