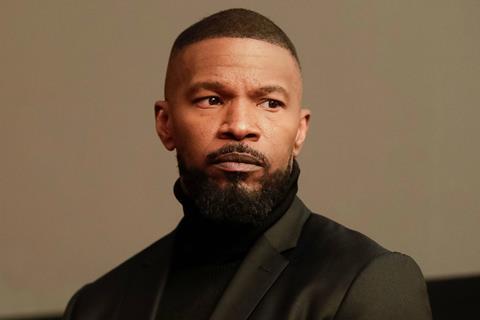 For Jamie Foxx, co-starring in Just Mercy meant calling on a whole range of experiences - some gleaned from his own early life, some from a revered director who steered him in three previous films, and some from a 30-year Hollywood career as a comedian, Grammy award-winning musician and Oscar-winning actor.
The 1990s-set true-life drama - directed by Destin Daniel Cretton and getting a limited US release through Warner Bros on December 25 before going wide in January - follows young, Harvard-trained lawyer Bryan Stevenson (played by Black Panther's Michael B Jordan) as he sets up shop in Alabama to defend wrongly condemned prisoners in the southern US state.
Foxx's Walter McMillian is one of Stevenson's first cases, a black working man sentenced to be executed for the murder of an 18-year-old white girl in spite of ample evidence supporting his innocence.
The real McMillian died - a free man - several years before work started on the film. But being raised in a segregated Texas town gave Foxx his own insight into the character.
"I'm not saying it was easy to get into his head," admits Foxx, best known for his show-stealing performance as Ray Charles in 2004's Ray and his title character turn in Quentin Tarantino's Django Unchained. But growing up in the South and having a father jailed for seven years for possessing $25 worth of drugs, showed him, he says, that "you could be a black man in the wrong place at the wrong time and your world could be turned over. So I understood that part."
Comparing his youth to his life in Hollywood, he adds, showed him "the proximity of the racism" in the South. "In California, it's a little more covert," he notes, "but in the South it can be right in your face."
Foxx had already glimpsed life on death row during a visit he made to California's San Quentin prison to research his lead role in Redemption: The Stan Tookie Williams Story, a 2003 TV movie about a founder of the Crips street gang. In San Quentin, he saw that "the worst thing you can give a death row inmate is hope," he says. "So that was one thing we wanted to make sure people understood [in Just Mercy] - that hope could kill you in this circumstance."
Asked about the challenge of conveying emotion through the stoical mask McMillian wears in many of the film's key scenes, Foxx throws out the name of Michael Mann, the director for whom he co-starred in Ali, Miami Vice and, with an Oscar nomination as the result, Collateral. In the latter, as the taxi driver reluctantly ferrying Tom Cruise's hitman around late-night Los Angeles, Foxx was giving a scene his fast-talking, wise-cracking all when Mann cut the action short.
"He says, 'What are you doing?'" Foxx remembers of that day on set. "I say, 'I'm trying to do my thing, Mike.' He says, 'How about you don't do your thing. When was the last time you saw a guy who drove a taxi cab do his thing? He's trying to get home because he's tired. The person in the back is not a celebrity, he's just another person. So why don't you be real.'"
Mann's direction taught Foxx that "the great actors are effortless in their portrayals". So in Just Mercy, under Cretton's direction and opposite Jordan, "myself and Michael were trying not to right the wrongs of society with every sentence. We wanted to just play the characters".
Band of brothers
Working with Jordan, a fast-rising actor/producer almost 20 years his junior, reunited Foxx with someone he describes affectionately as "my little brother". The two first met through the open-house events that Foxx has been hosting in Hollywood for the past two decades, inviting artists to his home to meet and talk with figures such as Quincy Jones and Denzel Washington.
Shooting Just Mercy in the US South of today - the project filmed mostly in and around Atlanta, Georgia, with a few scenes captured in Alabama itself - raises the question of how inviting the locals were to a production telling this kind of story from the relatively recent past.
Foxx, though, dismisses the notion that such a story might induce wariness below the Mason-Dixon line. "The South is not consistently racist," he insists. "It's everyday life, it's good food, it's southern hospitality on both sides, black and white. And then every once in a while there's spikes of things that happen.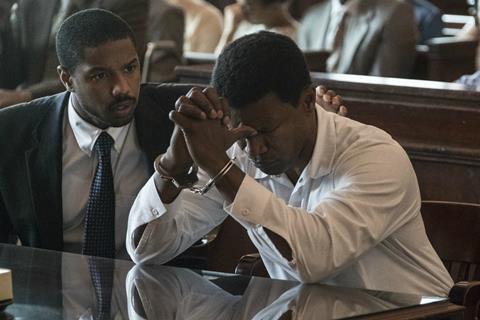 "They understand that we've got to tell that story. They get it and I think they want the story told. Because the South is continuously trying to heal from those things. So this story helps that process."
Resurgent profile
After his run from Ray to Django - with acclaimed appearances in the likes of Jarhead, Dreamgirls and The Soloist along the way - Foxx has recently been keeping a relatively low profile in the film world. He has been busy recording and releasing his fifth R&B album 'Hollywood: A Story Of A Dozen Roses', hosting and executive producing music-based network TV game show Beat Shazam, and appearing in a live TV take on Norman Lear sitcom classics All In The Family and The Jeffersons.
His work in Just Mercy - which after its premiere at September's Toronto International Film Festival drew praise from critics for his and Jordan's "memorable, eventually gut-punching performances", and for Foxx's "beaten-down magnetism" and "strongest performance in years" - has already started to change that, and his film profile might rise further with a couple of upcoming projects.
After shooting in 2017, Foxx's feature directing debut, sports-based comedy All-Star Weekend, is "getting close" to securing a release, he reports. Still waiting for a production greenlight, meanwhile, is Spawn, a new adaptation of the 1990s comics, created by Todd McFarlane, about a murdered CIA assassin who returns as a super-antihero.
McFarlane, who is set to direct the film for Blumhouse Productions, is currently in the middle of a script rewrite. And Foxx, who became attached nearly 18 months ago, jokes that he has made it clear to McFarlane that he is still very much up for the meaty title role: "I said, 'Boy, I'll bite a chunk out of your leg if you pick somebody else.'"