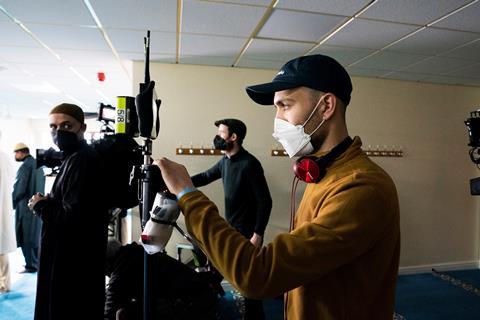 A development slowdown at the start of the pandemic gave rising UK director Moin Hussain some serendipitous space to finesse his debut feature Sky Peals, which is premiering this week in Venice Critics' Week.
The sci-fi follows Adam, a disaffected young man working in a motorway service station, who learns that his father has died and begins to search for answers. Michelle Stein produced the film through her company Escape Films.
After Hussain began writing the treatment at the start of 2019, the project – at that stage called Birchanger Green – had enjoyed a productive year. "I had a lovely year where things were going quickly," says Hussain, who took the project to the prestigious TorinoFilmLab, "getting to travel all over Europe with other filmmakers who became friends", and with Film4 on board was entering "the latter half of development."
"Then lockdown, which felt more challenging."
Suddenly apart from his collaborators, Hussain fed the separation he felt in that period into the film. "There are links in the film to that sort of isolation. It was in there before but it felt apt that I was writing in that time," says the filmmaker, who was named a Screen Star of Tomorrow in 2018. He spent the period "really honing down and working out who this character was."
With hindsight, "it probably didn't come at a bad time" says the director. Having aimed to shoot in late 2021, Sky Peals eventually went into production in February 2022 – "one of the last productions to be a proper Covid production", says Hussain. Bankside Films boarded worldwide sales rights in May 2022.
In-between nowhere spaces
Hussain hails from east London but his debut feature is inspired by moving to the English town of Norfolk for the second half of his teenage years, where he got a job at a drive-thru McDonalds. It lit a fire in him to represent "these recognisable places you get in the UK, these in-between nowhere spaces on the way to [somewhere else]."
When it came to recreating these places for the film, the initial plan was to shoot in an actual service station. "You quickly realise that these service stations you imagined don't really exist," says Hussain. "Or they're always open; the car parks can't put a film unit in – where are the cars going to park?"
Hussain credits production designer Elena Muntoni and the locations team with finding the shopping centre that provided their interiors, and the disused sports centre for the exteriors. "All the locations were community centres, car parks or service stations – the places you don't ever stay, but you find yourself moving through. I'm interested in this character who exists in these spaces permanently."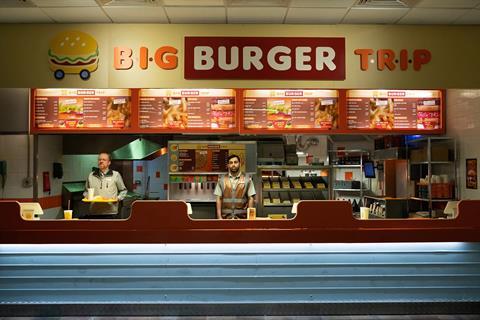 Eventually the crew created "our own amalgamation" of various service stations and in-between nowhere spaces. "The finished product is the service station of my dreams, more than a service station of a particular reality," says Hussain.
Muntoni is one of a majority of female heads of department on Sky Peals, alongside composer Sarah Davachi, editor Nse Asuquo, casting director Heather Basten, production manager Rachel Kelly, art director Victoria Richards and costume designer Sophie O'Neill
"Each person you appoint, you do it on merit," says Hussain, while acknowledging he and Stein "wanted to have a crew that was diverse and reflective of the story we were telling."
Sky Peals came to Hussain "very quickly" after putting aside a previous project about a coastal town revisiting old maritime stories about an ancient evil. Some of the ideas from that prior project have transferred to one of two early-stage features Hussain is writing for himself to direct, "in a similar genre space – a horror ghost story" closer in tone to his 2017 short Real Gods Require Blood.
For now, he's happy for Venice to be where Sky Peals makes contact with the world – contact being a key theme in the film. "While we're all gearing towards hyper-connectedness in our culture and society, we are losing something," considers the filmmaker.
"With every Apple service, every technology that's invented, we're shaving a couple of minutes off our daily to-do list; but there is an unaccountable loss of contact and connection. [Sky Peals] has this character yearning to make contact with something far away, something bigger than himself; but maybe it's indicative of something a bit closer to home."