The scripted drama boom is changing the entire TV industry. But is it a change for the better?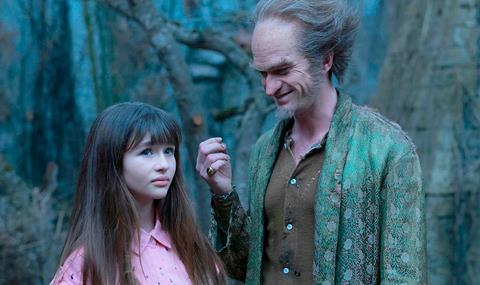 "It's an exciting time," is a refrain now most commonly uttered by those in the business of making content for the US streaming services.
Not only have Netflix, Amazon and co fuelled a surge in the volume of scripted content, subscription video on demand services (SVoDs) are also doing their bit, as they expand and evolve, to change the business and art of high-end television.
"Partly it's driven by the SVoDs, partly it's driven by the retrenching of the feature film business," says Ted Miller, co-head of the television department at Creative Artists Agency (CAA), whose client Matthew Weiner is among the high-profile writer-producers working on streaming series.
"You have artists who want to tell great stories and if those stories are not being done in the movie business they are being done now in the television business. It's an exciting time."
Last year, according to figures from cable company FX Networks, US streaming services made 92 scripted series, twice as many as they produced in 2015 — and 91 more than they made in 2009.
Driving a revolution
With an annual content budget of $6bn and a global subscriber base of 93 million, Netflix is doing most to drive the surge in online originals, recently with hits such as big-budget UK production The Crown and more modest in-house series Stranger Things.
New and upcoming series — including family show Lemony Snicket's A Series of Unfortunate Events, YA series 13 Reasons Why, dark comedy Maniac and feature update She's Gotta Have It — point to a broader strategy going forward. None of the SVoDs were prepared to discuss their programming plans on the record.
That broadening "shows that as the global footprint expands and the audience expands there's the ability to programme a wider palette of shows", says Amy Powell, president of Paramount Television and Digital Entertainment, studio producer of Lemony Snicket, 13 Reasons, Tom Clancy's Jack Ryan and Maniac.
Amazon Prime, which made its initial mark with series such as Transparent and The Man In The High Castle, has said it doubled its original content budget in the second half of 2016 (estimates put the service's annual spend at around $3bn) and upcoming series illustrate where the money is going:
Tom Clancy's Jack Ryan will feature pricey action shot around the world, David O Russell's untitled series will star Robert De Niro and Julianne Moore, and The Romanoffs, Weiner's eagerly awaited follow-up to Mad Men, will be an eight-episode anthology drama with international locations and a budget of $50m.
The latter, says Miller, is the kind of "uniquely international" project that might not have a place at a traditional US network but will work for a globally expanding SVoD.
Hulu, which currently streams only in the US, is a newer entrant in the field, with shows including The Path and Casual.
But its upcoming series — among them period drama Harlots, co-produced with the UK's ITV, 10-episode Margaret Atwood adaptation The Handmaid's Tale, starring Elisabeth Moss, and JJ Abrams/Stephen King horror-drama Castle Rock — indicate serious ambition.
The Handmaid's Tale is a gradually unfolding story of hope in a dystopian future. "That kind of slow burn is what fits these platforms perfectly well," suggests Steve Stark, president, television production and development at series producer MGM.
Further US streamers getting deeper into the online originals space include Sony's free service Crackle, which recently debuted UK-shot crime series Snatch (a spin-off of the Guy Ritchie feature of the same name), and YouTube Red, whose initial slate aimed at teens and families includes a take on the Step Up feature franchise.
Competition in the sector will hit a new level if Apple fulfils expectations and gets into the scripted original programming business. The computer and music industry disruptor has reportedly been taking pitches from producers for original films and TV shows, though so far it has only announced a couple of non-scripted projects.
Producers supplying the already active services see the SVoDs providing opportunities for new kinds of TV storytelling. On Tom Clancy's Jack Ryan, for example, Amazon encouraged the ambitious direction the creators wanted to take.
"We wanted to have a very novelistic approach to the material and they allowed us to have the budget to fulfil that vision," says Powell.
The surge is also creating opportunities for international co-producers. Hulu is making pre-apocalyptic crime drama Hard Sun, from Luther creator Neil Cross, with the BBC.
Amazon has made historical drama Britannia with the UK's Sky and is working with the BBC on Good Omens, a comedy based on the novel by Neil Gaiman and Terry Pratchett.
And Netflix is co-producing Alias Grace (another Margaret Atwood adaptation) with Canada's CBC, The Spy with Canalplus and high-profile dramas Troy: Fall Of A City and Black Earth Rising with the BBC.
While Netflix in particular is understood to be increasingly keen on making series in-house and retaining worldwide rights, SVoDs are still often open to working with international broadcasters and sharing rights.
"If another network is making a great show that's greenlit and it's something you think your audience would love, why would you cut off your nose to spite your face?" says Chris Rice, partner and head of international TV at WME IMG, which brokered the deals on Britannia and Alias Grace. It is handling secondary sales on the latter.
Hefty paychecks
There are concerns the competition among streaming services may be pushing the cost of scripted series to unsustainable levels.
The services have been willing to make some big payouts to talent — a reported $350,000 per episode each to Maniac stars Jonah Hill and Emma Stone, for example, and $750,000 per episode to De Niro for the Russell project — to secure a supply of series enticing enough to keep viewers subscribing month after month.
"It's particularly affecting the broadcast and basic cable networks," says Stark, "because they can't pay the actors what these premium services are paying."
There are even fears in some quarters of the US industry that the clout wielded by the SVoDs — and Netflix in particular — could soon reach a dangerous level.
At a press event last summer, FX Networks CEO John Landgraf, the executive who coined the name 'Peak TV' for the current scripted boom, suggested "it would be bad for storytellers in general if one company was able to seize a 40/50/60% share in storytelling. I don't think monopoly market shares are good for society, and I think they'd be particularly bad for society and storytellers if they were achieved in the storytelling genre".
Peak excitement may now have been reached. There are plenty are hoping for calmer times ahead.
The international disruptors
There are plenty of global online services doing things differently in the film and TV business.
The big-name SVoDs aren't the only ones in the streaming universe disturbing traditional film and TV industry practices. In the arthouse and independent film distribution sphere, curated VoD service MUBI has been offering classic and foreign-language library films to subscribers around the world for a decade now.
But at Cannes last year the company acquired theatrical and digital rights for the US and UK to Finnish Un Certain Regard prize-winner The Happiest Day In The Life Of Olli Maki and French competition entry Slack Bay (Ma Loute), with plans to launch both films theatrically later this year.
Further all-rights buys are being finalised and going forward. MUBI plans to release about six new features a year in cinemas before moving the films quickly into the online realm for a 30-day window.
"We don't see ourselves as theatrical distributors," explains Bobby Allen, vice-president of content at MUBI.
"We're very much a VoD platform, our business model is selling subscriptions and retaining those subscribers. But we see this theatrical opportunity as a chance to bring the newest films to those subscribers and also create some brand awareness for MUBI in the theatrical environment."
"The value we're able to generate from those subscribers who come to movies through the activity around the theatrical release totally justifies the investment."
In the documentary world, Field of Vision was launched 18 months ago by Laura Poitras, director of Oscar-winning documentary feature Citizenfour, with backing from eBay founder Pierre Morad Omidyar's multiplatform news organisation First Look Media.
Though it doesn't operate primarily as a publishing platform, Field of Vision commissions up to 50 short films a year.
They include Josh Begley's US-Mexico border odyssey Best Of Luck With The Wall, which is made available to viewers through news organisations, film festivals and online platforms before becoming available (for no charge) on the Field of Vision site.
The idea is to enable filmmakers to make cinematic documentaries that respond quickly to events without the delay caused by having to apply for grants or broadcaster funding.
"What we can do is be a place for films that are timely and need support to be able to be produced and published quickly," says AJ Schnack, co-creator of Field of Vision and director of short Speaking Is Difficult.
In addition, says Charlotte Cook, co-creator at Field of Vision, "We're hoping filmmakers can come and use us as a way to hone their creative skills and try different approaches."