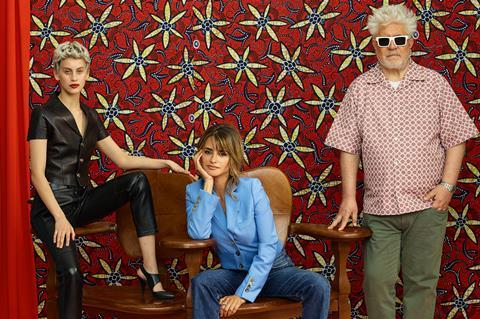 Pedro Almodovar's Parallel Mothers passed the £1m ($1.4m) mark in February, just 25 days after its release at the UK-­Ireland box office. It is a milestone rarely reached by a foreign-language film in the market but one that Almo­dovar's films pass regularly.
"Pedro has built up trust from a committed audience over many years, and he consistently delivers high-­quality movies," says Lee Bye, head of UK theatrical distribution at Pathé, which has released the Spanish filmmaker's titles for the last 24 years, starting with the UK rollout of Live Flesh in 1998. "Each of his films has had unique themes, so we're able to develop new audiences on each title, plus keeping that committed audience."
With the exception of Curzon's Oscar-winning phenomenon Para­site, which took £12.1m ($16.4m) in 2020, Parallel Mothers is on track to become the highest-grossing non-English-language film in the UK and Ireland since Almodovar's last release Pain & Glory, which made £1.5m ($2m) in 2019. The pair are only separated by Japanese anime Demon Slayer: Mugen Train, which took £1.2m ($1.6m) in 2021, and Parallel Mothers could overtake that by mid-March.
Parallel Mothers opened in the UK on January 28. As the audience for an Almodovar film typically skews to middle age, timing was everything during the Covid‑19 pandemic.
"We had to wait until we knew the marketplace was coming back," says Bye. "We looked at as much data as we could, but it still comes down to a gut instinct."
Flexibility is key in a post-­pandemic exhibition landscape. "Faith [Taylor, Pathé UK's head of marketing] had to be very smart about balancing what we could and couldn't book in advance. In the old days we used to plan and book months ahead. That doesn't happen anymore. You have to be more agile."
Pathé worked with booking partner Warner Bros to harness its "knowledge and expertise". The collaboration began on Almodovar's 2009 Broken Embraces, when Pathé outsourced its theatrical sales department. Subsequent releases were handled by 20th Century Fox (now absorbed by Disney), before Warner Bros returned for Parallel Mothers. These partnerships cover the bookings, but "it's [Pathé's] campaign and spend", notes Bye.
Generating buzz
Parallel Mothers booked in 184 locations — a huge 45% increase on Almodovar's previous widest UK-Ireland opening, the 127-site The Skin I Live In (2011). The lack of big studio films on release gave Pathé the confidence to be bold. "There was concern that we were going too wide and wouldn't be able to follow on with holdovers," says Bye. "But there was an oppor­tunity in the current marketplace."
To create awareness, the film's lead actress Penelope Cruz and Almodovar appeared on flagship BBC TV chat show The Graham Norton Show. Cruz has been nominated for an Oscar and composer Alberto Iglesias is also up for best score. The picture is nominated for best film not in the English language at the Baftas.
The campaign included a poster of a lactating nipple, designed by Spanish artist Javier Jaen. When released in August 2021, the image was initially banned by Instagram under its nudity policy, before a public campaign brought its reinstatement — and a rare apology from parent company Facebook (now known as Meta). The ban was "a bit of a struggle", says Bye, because "in the modern world everything happens online".
Bye says the controversy became a positive, with the image in demand in promotions and giveaways. He points out that "we weren't going to use it widely because it wasn't really giving you what the film is about". Another image, of Cruz embracing co-star Milena Smit, became the one‑sheet and has proved popular, according to Bye.
Parallel Mothers will likely end in Pathé's pre-release projection bracket of £1.2m ($1.6m) to £1.5m ($2m), which has been home to most of Almodovar's titles in the last 20 years. The exception was 2006's Volver, which accrued £2.9m ($3.9m).
Compared to previous titles from the filmmaker, Parallel Mothers' success in the UK and Ireland is outperforming its reception at home — the film has grossed just $2.9m in Spain, down on Pain & Glory's $7m. France may be the biggest territory, with an approximate gross of $4.5m to date for Parallel Mothers, while Italy is close to matching Spain with a gross of $2.8m. It has picked up $1.7m to date in the US.
Bye believes the strength of the UK performance is down to the power of the brand. "Almodovar is what we sell," he says. "He brings lots of elements to that. He's a master filmmaker, he gains critical acclaim, we also get awards traction. And there's a heart and tenderness to his movies."
'The Duke' release
Hot on the heels of Parallel Mothers from Pathé is The Duke, the final fiction directed by the late Roger Michell. With Warner Bros again handling bookings, it will open in 650 locations this Friday, February 25 – the widest ever UK-Ireland release for a Pathé title, topping the 633 of Judy from 2019.
"It's availability of space in the marketplace; the bigger films there now aren't our audience," says Bye. "Uncharted isn't something our audience are going to see; there's The Batman after that. We looked at the dating and thought 'that gives us an opportunity to play'. We''re going for it."
Bye is confident the audience is there. "It's a film that people haven't seen for a while – a proper British film. We're not banging people in capes through walls. It has an emotional clout to it as well, a really intriguing story."
The future of cinema releases requires cross-distributor collaboration, suggests the theatrical veteran. "The Duke is going to be for an older audience, so we needed Belfast and Death On The Nile to come out and get those audiences into cinemas," says Bye. "Hopefully us coming into the marketplace and making it work has a knock-on effect for other arthouse and non-English language films going forward. It's a bit of give and take – everyone has to join in to make it work."