Rami Malek needed singing lessons, dance tuition and a dialect coach to transform himself into Freddie Mercury for Bohemian Rhapsody. He tells Screen about the challenging shoot.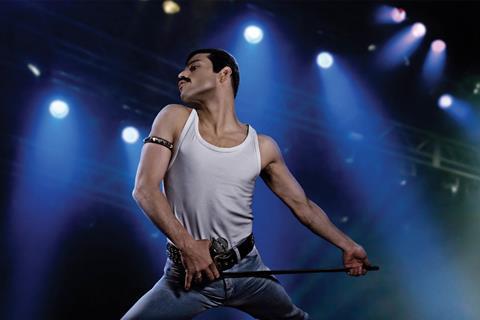 Rami Malek's usual method for creating a character is to start from the inside out. But when it came to playing Freddie Mercury in 20th Century Fox's Bohemian Rhapsody, Malek worked first on the legendary Queen frontman's flamboyant physicality before delving into the psychological.
"I watched all the archive footage you could ever find," recalls the Mr Robot star, who has scored a Golden Globe nomination for his extraordinary performance, "and I keep searching for more because I'm even more of a fan than I've ever been. I really did look at him as a rock god, an icon for all of us. He did anything he wanted to do on stage. Just to capture that aspect of him was going to be a challenge. And I thought the only way to do it would be to have time. If I had enough time, I was giving myself a fighting chance."
So long before the film was even greenlit, Malek embarked on an intense period of research and preparation, informing Los Angeles-based producer Graham King of GK Films: "'I'm flying to London. I'm going to try and find some singing classes and some piano classes; I've never done any of those in my life. I need your help. I need a choreographer. I need a dialect coach.' [Freddie] had a very specific way of speaking. He had a very specific way of doing anything."
Malek was particularly keen to work with a movement coach. "I'm not a dancer and I knew I needed to be spontaneous. I looked at what Eddie Redmayne did in The Theory Of Everything and tried to find his."
Alas Alexandra Reynolds was busy, but "someone led me to Polly Bennett and within a day we were working on ballet moves," continues Malek. "[Freddie] was very elegant in his footwork and he got a lot of that from Bob Fosse and Liza Minnelli, so we watched Cabaret quite a bit. At one point Polly [had] me do 'Killer Queen' as a Shakespearean soliloquy as performed by Marie Antoinette. Essentially, she was getting me to be as spontaneously Freddie as possible. To not mimic him in any way, or try to do an impersonation, so that I, in any moment, whether it be a straight scene or a concert, felt as though he was existing in my body, and it was all grounded in my physicality and my performance."
Together, they looked into Mercury's family and upbringing to discover what made him the man he was. "Almost from the very beginning we started to look at his mother, how her facial structure moved, how his sister moved, how they spoke. Then we started to look at his early work. Sometimes we'd watch him in an interview in the '70s, then an interview in the '80s and see how his physicality matured and evolved. [Polly] calls it heritage movement. Everything stems from your youth. The punches he throws in Live Aid, those are born out of his early boxing days at St Peter's boarding school in India."
Malek's on-set physical transformation was equally intensive, requiring multiple wigs, makeup and even a prosthetic nose. Then there were Mercury's famously protruding teeth, which earned him the childhood nickname Bucky. For Malek, it meant wearing a false set. "I wore them every night, almost, for a year to get used to them," he says. "I felt incredibly insecure when I first put them in. I felt I needed to compensate in some way, and my posture elongated almost immediately, and I thought, 'Wow, what gorgeous posture Freddie had. Was he doing the same thing?' I never really had an answer for that."
Leading man
Malek's performance is even more remarkable in light of the film's behind-the-scenes drama. Bohemian Rhapsody's credited director Bryan Singer was fired by Fox after his continued absences from the set forced the studio to halt production with two weeks left to shoot. Eventually, he was replaced by Dexter Fletcher who finished filming and supervised the edit. In previous interviews, Malek has tended to be circumspect about what went down with Singer.
"I would love everyone to know exactly what happened day-to-day," he says. "It was a very, very difficult, complicated time on set. All I wanted to do was honour this man and do him justice. I had put so much effort into doing just that, day in and day out. I'm very, very proud of the way I conducted myself. I have never felt I could be more of a leader than I was on that set.
"I gathered every ounce of strength I had in me, to step up and not only make sure I was taking care of Freddie by being there for everyone, cast and crew. I look back on it as a period of immense maturation, and I feel a strong sense of dignity. I have to thank my fellow actors for lifting me up every day. I also had great producers on my side. The crew on this, almost all English, saw the dedication we had as a cast, and the work I had already put in, and were never going to let me down. I have to hand it to every single one of them for stepping up, even under moments of great duress."
But while Malek has received near universal praise for his portrayal of Mercury, the film has been criticised in some quarters for whitewashing the more excessive side of the Queen singer's lifestyle to paint a more palatable portrait. "If it goes into a hedonistic, very promiscuous, illicit aspect of his life, I think we start to really limit our audience," contends Malek. "The fact we are getting millions of people to go out and hear about Freddie Mercury's story and Queen's story, introducing so many fresh ears to great music, and perhaps sending a message of living a defiant, authentic, inclusive life, I'm very proud of that.
"Of course, there are a number of ways to tell Freddie's story," Malek continues.
"The one thing I was told he said before he passed, to the band and to [manager] Jim Beach, was, 'Do what you want, just never make me boring.' I don't think we've made him boring."