Former Sons Of Anarchy actor Taylor Sheridan explains why he took up writing, a move that has paid off with acclaimed scripts for Sicario and Hell Or High Water.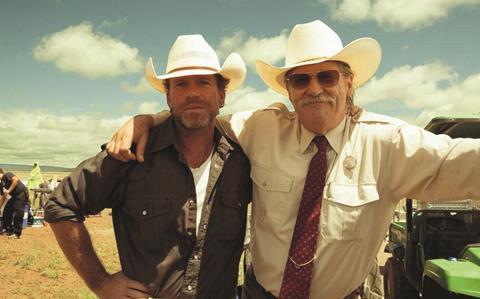 By his own admission, Taylor Sheridan was taking "a pretty big, wild swing" when he gave up a respectable acting career - a decade-and-a-half on US TV shows ranging from Walker, Texas Ranger to Sons Of Anarchy - to try his hand at screenwriting.
His first effort turned out nicely, becoming last year's Denis Villeneuve-directed drug war drama Sicario and landing Sheridan a nomination for best original screenplay from the Writers Guild of America.
Now Hell Or High Water has shown Sicario was not just beginner's luck.
The atmospheric action drama - which earned its writer Independent Spirit and Gotham Awards nods - tells the story of troubled sibling bank robbers, played by Chris Pine and Ben Foster, and a soon-to-retire Texas Ranger, played by Jeff Bridges.
The movie is set against a backdrop of the drought and financial hard times that have hit small-town west Texas in recent years.
Sheridan, who grew up in Texas and is father to a six-year-old son, cites the notion of "generational failure" - as well as a cousin who was a federal marshal in Texas - as being among the sources of inspiration for the new film.
The cousin, forced into mandatory retirement after 30 years of law enforcement, "dedicated his life to this thing", Sheridan says, "and it was arbitrarily taken away from him. So the idea of a life of no purpose was interesting to me."
Also crucial to the film's mood and authenticity was what Sheridan, who now lives in Wyoming, saw on a 2007 trip back to Texas. Thanks to the predatory lending practices of banks, he reports, "the towns I had grown up in and romaticised were all boarded-up and almost abandoned".
And the drought that is still affecting the state, he adds, "was really the last gasp for a lot of cattle ranches that had existed for 120 years. It was the death of a way of life."
The combination of personal experience with economic reality and the influence of Western and crime movies of the 1970s eventually resulted in a script that was rich enough to hook an impressive cast as well as hot UK director David Mackenzie, whose credits include the 2013 prison drama Starred Up.
Mackenzie, Sheridan recalls, came in saying what every screenwriter wants to hear: "He loved the story. He didn't want to change a thing."
Busy slate
Not surprisingly, Sheridan, who also has a small role in Hell Or High Water, now has a full plate of behind-the-camera work. He is in post-production on his directing debut Wind River, a thriller based on his own script, with Jeremy Renner starring as an FBI agent investigating a murder on a Native American reservation.
Sheridan's script for Soldado, the follow-up to Sicario, is now being shot by acclaimed Italian TV director Stefano Sollima.
He is also writing a series, Yellowstone, for HBO, and an English-language version of French thriller Disorder (which screened in Un Certain Regard at Cannes 2015) for Sony. He is also eyeing the latter as his next directing gig.
After a few years of flexing only his writing muscles, filming Wind River has been tough, he concedes. "We shot mostly in Utah at 11,000 feet, in four feet of snow, so it was hard. But I wrote the script for me to direct, so I knew what I wanted to get and I got it."
Following on from Sicario and Hell Or High Water, Wind River concludes an Old-West-meets-New-West trilogy that explores the modern US frontier: "How much it has changed, how much it hasn't changed," Sheridan explains. "And how much we are still enduring the consequences of that settlement and assimilation."
The trilogy has been completed in fairly short order and suggests Sheridan's 'big swing' is going to pay off.
He took it after being offered a disappointing contract to continue on Sons Of Anarchy (for two seasons he was the clean cop always at the heels of the show's biker fraternity).
At that point, he says, "I realised that this was all it was ever going to be. It was the top of the pyramid."
The awareness made him decide to try putting the experience of a jobbing actor to a different kind of use.
"I don't think I was ever a terribly good actor," he admits, "but I was very good at understanding story. I've read probably 10,000 screenplays, so it was on-the-job training for a very long time.
"When I sat down to write, I said to myself, 'Don't try to write a great script, write a movie you want to see about things that matter to you.' That's what I did and that's what I try to remind myself of every time I write now."