Several planets needed to align to pull off Taika Waititi's tonally daring Jojo Rabbit — which included finding a young actor capable of carrying the picture. The filmmaking team talk to Screen about the journey from page to screen.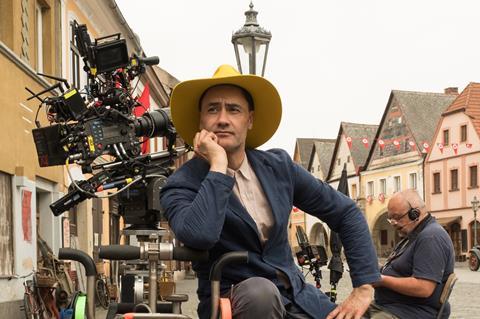 When Taika Waititi read Christine Leunens' novel Caging Skies in 2011, he put his money where his mouth was and optioned the book himself. "Taika's very entrepreneurial," says Carthew Neal, who runs Piki Films (the Maori word means to ascend, climb over or get on) with Waititi and produced both Hunt For The Wilderpeople and Jojo Rabbit. "He has always taken the key role in developing, writing and optioning his material. In New Zealand, we have a funding system a bit like the UK, and a lot of people wait for the funding to write their script. What I love about Taika is he doesn't. He's like, 'If you want to make a movie that much, write your script.' So he did. He didn't wait for anyone to give him permission."
Waititi hoped Jojo Rabbit would be the follow-up to his acclaimed 2010 debut Boy. While the script had plenty of admirers — it made the Black List of the best unproduced screenplays in Hollywood in 2012 — everyone Waititi and producer and wife Chelsea Winstanley developed it with wanted a big star to play Adolf Hitler, Third Reich leader and imaginary friend to the eponymous Jojo. Unable to secure a name actor, Waititi put Jojo Rabbit aside and went home to New Zealand to direct What We Do In The Shadows and Hunt For The Wilderpeople.
Then, in 2017, while Waititi was in post-production on Thor: Ragnarok, Fox Searchlight called to say they would be willing to back Jojo Rabbitif if he played Hitler. Waititi agreed and Searchlight and TSG Entertainment came on board to the tune of $14m. With financing in place, Waititi turned his attention to finding his 10-year-old Jojo, bringing in UK casting director Des Hamilton to lead the search. "Des is known for his street casting, because that's where we find less cultivated performers — people are more real," says Neal. "Taika was looking for someone who, at that age, could just be themselves, rather than be acting too much." Hamilton scoured the UK, Germany, Canada, New Zealand and the US without success. "Then Roman came out of the blue," says Neal of Roman Griffin Davis. "We were only a month, six weeks from shooting, so were really cutting it down to the wire, and we were lucky to nd him. We had the most incredible audition with him, where we had three or four scenes to do and it was half an hour and he just had this incredible intensity about him and connection with Taika."
While Davis had not acted before, his mother is shorts filmmaker Camille Griffin and his father cinematographer Ben Davis, whose credits include Captain Marvel and Guardians Of The Galaxy. "I worked with Ben years ago, making commercials," says Waititi who did not know Roman was Davis's son until after he had been cast. "He comes from this beautiful family of filmmakers, and what's interesting is he had been on set a couple of times on his dad's films, but had never acted, which I found fascinating. But he was also incredibly smart and informed, and he had done a lot of research. For his callback, he had decided to educate himself on the Holocaust. He's a very caring kid, and the first time he saw me dressed as Hitler, he got emotional, because he knew the connection, and what it meant. So I knew I was in good hands working with him."
Joining Davis were 18-year-old Thomasin McKenzie (Leave No Trace) as Elsa, the Jewish girl hiding in Jojo's attic; Scarlett Johansson as Jojo's mother Rosie; and Sam Rockwell as Captain Klenzendorf, leader of Jojo's Hitler Youth troop. "Searchlight have a big relationship with him," says Neal, "because he had won the Oscar with them the year before [for Three Billboards Outside Ebbing, Missouri] and he was interested in the duality of this fallen soldier who was gay, basically." Rounding out the cast were Rebel Wilson, Stephen Merchant, Alfie Allen and Archie Yates as Jojo's best friend Yorki. The latter was another of Hamilton's discoveries. "He's an amazing find. A crazy, hilarious kid," notes Neal.
Favoured nation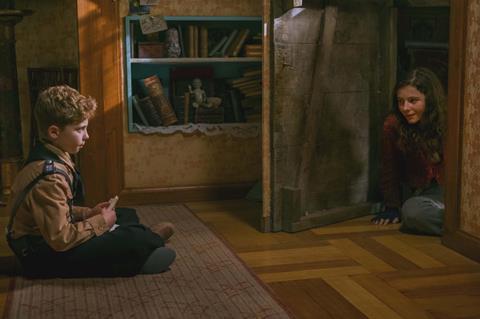 The plan was to shoot in Germany, with the production receiving development finance from Studio Babelsberg. "I loved the idea of shooting in Berlin," says Waititi. "I used to live in Berlin, and consider it one of my home towns. But Germany, it turns out, have upped their human rights game, and you can really only work children about three hours a day. So it was going to be hard to make this film there, because the schedule was going to be almost double. Then I had this bright idea of moving east. I thought, 'Let's go to the Eastern Bloc, because surely it's going to be different there.' But it's no different at all. It was five hours a day. In New Zealand you can work kids 10 hours a day. I was just working out ways of working kids for longer," he laughs.
Eventually, the production settled on the Czech Republic, using Barrandov Studios for interiors, although Davis, because he is English, worked under UK law. The crew included alumni of Waititi's earlier films, production designer Ra Vincent (What We Do In The Shadows), costume designer Mayes Rubeo (Thor: Ragnarok) and editor Tom Eagles (Hunt For The Wilderpeople).
"Back in 2012, I read his earliest draft of Jojo Rabbit and we tried to work out a plan to make that film on a micro budget somewhere in New Zealand," recalls Vincent. "As luck would have it, we shelved the project until there was a better financial backer. So from something pretty sparse and mostly a character study, we ended up with a much bigger, fleshed-out world. The Czech Republic was a great choice because it comes readymade for that era."
Waititi was, however, keen that Jojo Rabbit eschew the look of traditional war movies. "The idea was to see this world through the eyes of a 10-year- old boy, so Taika wanted to bring a lot of colour into the design and the costumes," says Neal. "We had to really convince the locals we didn't want the same old grey costumes they would bring out for each war movie. We wanted colourful ones, and wanted to find interesting, colourful buildings."
The production spent four months in the Czech Republic. "Two months of pre-production, then 40 days of filming," says Neal. "Half the movie we shot in Jojo's house. We were very conscious of that going into production, that we needed to make sure the house didn't become boring."
Modelled on a renovated Baroque stone cottage, the home's interior was built on a soundstage at Barrandov, with its various floors positioned side-by-side. "We wanted to have the flexibility to pull ceilings and move walls and light from various places to give us a little more theatrical variation," says Vincent. "The living room, because it was somewhere we spent quite a bit of time, needed character, so we found some gorgeous 1930s wallpaper and Nora Sopkova, the set decorator, brought her own style of art-deco sofa furnishing."
Enhancing the aesthetic
To create Jojo's fictional home town ofFalkenheim, the production stitched together elements from two Czech towns, Ustek and Zatec, "which had a beautiful big open square, to end up with this very colourful, vibrant, German village", says Vincent,who used an old art department trick to enhance the already bright building exteriors."Even though the streets were pretty amazing when we arrived, we gave them two or three extra hints, painting a facade of a colour that sets of the others, and all of a sudden you have a childlike memory of a German village. You don't want to go batshit crazy, but this story needed the whimsical for it to really work."
Not that they had much money to spend. "We had a teeny tiny little budget," continues Vincent, whose department had just $800,000 to play with. "That was meant to buy all of the army equipment, the handguns and the artillery, and build the studio sets and pay for some of the location improvements. We were fortunate that working in the Czech Republic there is such a huge availability of skilled crafts people."
Just as fortuitously were the large number of enthusiasts specialising in Second World War re-enactments who the production utilised to populate the climactic battle scene, shot in the ruins of an abandoned sugar factory."They were amazing," says Vincent of the various groups, who provided them with US, German and Russian troops. "These guys showed up in uniform, had blank- ring weapons and were amazing performers because they loved doing it. So we had this huge palette of firepower and actors that came cheap. Jojo's experience of the battle of Falkenheim was never supposed to be that insane, but it became as big as it did because we had access to these guys."
Behind-the-scenes was more of a challenge. "Taika's a very collaborative director, so the environment [on set] is that every one is contributing," reveals Neal."That's how our crews in New Zealand work. They're not just there serving things up, we want them to come up with ideas too. Culturally we had to work hard to get that out of [the Czech crew]. In the end, we got a fantastic result and it was a really fun process."
Jojo Rabbit premiered at Toronto International Film Festival in September, where it won the festival's audience award—an accolade picked up in previous years by eventual best picture Oscar winners Green Book and 12 Years A Slave.
Disney's Fox Searchlight released Jojo Rabbit in the US in November, taking $19.4m at the box office so far. Internationally, it bowed in New Zealand in November (grossing a solid $2.8m to December 9), with the UK to follow on January 1.