As the dust settles on Cannes' fallout with Netflix, the Berlinale appoints well-known cineaste Carlo Chatrian, and sales agents despair over selection decisions, Screen asks whether the big festivals are becoming elitist and what that means for the indie film industry.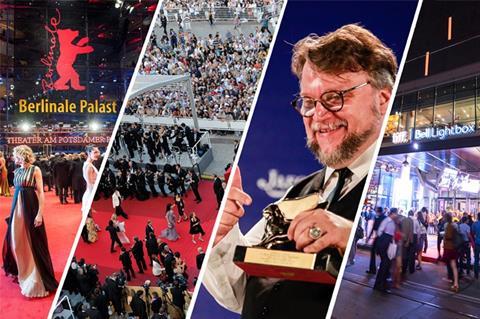 Rumblings of discontent have been heard this year about the programming and jury choices of the A-list festivals. "Victory for Adina Pintilie's humourless and clumsy documentary essay underscores Berlin's status as a festival that promotes the dull and valueless," wrote UK newspaper The Guardian of the Romanian Golden Bear winner, Touch Me Not.
Many festival delegates expressed dismay about Cannes Film Festival's stand-off with Netflix in May, which meant some of the most eagerly anticipated titles of the year were not shown on the Croisette: the SVoD giant could not guarantee that the films would receive the local theatrical window required by the French industry, and the festival bowed to local pressure.
The gender imbalance among filmmakers chosen for official selection is increasingly, and embarrassingly, apparent. Programmers have been accused of being too populist and mainstream in their choices, or not populist and mainstream enough.
It matters because securing a slot at Sundance, Berlin, Cannes, Venice or Toronto is often crucial to the distribution chances of an arthouse or even an independent film. When faced with competition from the SVoD streamers, the declining pre-sales market and the crisis facing arthouse distribution, independent films simply may not be noticed by buyers without a festival platform.
"The big festivals are becoming more and more the make-or-break element in the career of arthouse films," says Thorsten Ritter, executive vice-president of acquisitions, sales and marketing at Berlin-based sales agent Beta Cinema.
Sales agents point out that being in official selection at Cannes, in particular, will multiply the market potential of the film. International distributors go there determined to secure the best new titles and the world's press is on the ground to write about them.
"You can only create that kind of buzz if you have everyone from the industry in one place," says Moritz Hemminger, deputy head of sales and acquisitions at Germany's ARRI Media.
Some sales agents express frustration when small, fragile, defiantly uncommercial, experimental films are chosen in the main competitions. If those titles win the main prizes and are then ignored by audiences when released worldwide, the net effect can be to devalue the economic standing of the entire event that programmed it.
A strong counter-argument can be made that when films such as Apichatpong Weerasethakul's Uncle Boonmee Who Can Recall His Past Lives or Pintilie's Touch Me Not win the Palme d'Or, the Golden Bear or the Golden Lion, their success gives a major boost to arthouse distribution in general. "The recognition Touch Me Not received at the Berlinale had a huge impact on the film's life," says Pintilie, the film's Romanian writer/director. Touch Me Not took seven years to develop and make, and has gone on to screen at festivals around the world and secure distribution deals in 30 countries.
By contrast, certain genre titles shut out of the A-list festivals have subsequently flourished. For example, Beta's Scottish thriller Calibre finally premiered at Edinburgh International Film Festival this June to rave reviews and then streamed on Netflix only days later.
"Many would say, 'This film deserved to play in the theatres and find regular distributors around the world.' But this is where we are headed now," says Beta's Ritter. "The romantic side of me agrees, yes, this could have had an individual campaign in every country. But with Netflix, it was the perfect combination, it is now available in so many language versions simultaneously around the world. The effect on the career of the filmmaker is maximised and the doors for the producers are open."
It is not hard to find those who believe Cannes' attempts to prohibit films without theatrical distribution in France cannot be sustained. After all, as Efe Cakarel — founder and CEO of UK-based arthouse streaming platform MUBI, which bought Touch Me Not for the UK — suggests, doing so is going against the spirit of a festival dedicated to artistic excellence.
"It is very backwards thinking, not necessarily aligned with the ethos that a festival like Cannes is committed to, which is introducing really great cinema to the audience," Cakarel says. "It should be completely independent of the commercial considerations of release windows."
Some fervent admirers of Cannes believe the festival — and other A-list events — are in urgent need of artistic renewal. "Festivals must adapt, even reset themselves," says Anaïs Emery, artistic director of Neuchatel International Fantastic Film Festival (NIFFF) in Switzerland. "We should rethink what is an independent production, what is an auteur, what are the new processes of creation. Our responsibility is to be more open-minded. Festivals have always had a business model in which we show films before the exhibitors. We have the first window of exhibition but to protect this hierarchy is a bit old-fashioned. We have to look for a new business model."
Venice prospers
In the short term, Venice has benefited from Cannes' position, snagging the world premieres of Alfonso Cuaron's ROMA and Paul Greengrass's 22 July — two films that were in a prime position for a Cannes slot.
"It's impossible to keep a conservative position in front of these new players," says Venice's artistic director Alberto Barbera, who has himself come under fire for programming just one film by a woman director in the main competition this year. He says it is in traditional exhibitors' interests to "make innovative proposals" about how best now to release films rather than to engage in a war of attrition with the streaming platforms.
Meanwhile, Harriet Harper-Jones, acquisitions and development manager at leading UK arthouse distributor and exhibitor Curzon, suggests this year's Venice selection feels like "Old Cannes". The Horizons sidebar is "incredibly cinephilic and auteur-driven", with "other strands being a lot more mainstream and international".
Harper-Jones does not believe festivals are falling out of touch with the industry. "There is continued symbiosis between them," she counters, pointing to initiatives such as Cannes' Next VR platform, the various talent labs at the festivals and the more flexible programming that saw titles such as the Twin Peaks and Top Of The Lake TV series screened in Cannes last year. "The festivals are responding to the desire of viewership."
The programming choices of the major festivals, Cannes in particular, resonate culturally beyond the industry vortex of each event. "Its curation is extraordinary," director Jane Campion said of Cannes last year. "It really has such beautiful high standards of enjoying visionary voices and I don't think there is anything else like it. Everything else is just more populist in its emphasis."
However, those choices, particularly in the headline sections, are always open to criticism. Last year, a declaration signed by 79 German film directors called for "renewal" of the Berlinale and for the appointment of a new artistic director who would streamline its programme and strengthen its competition. The statement called the latter "by far the weakest of all the major film festivals".
The Chatrian era
Several names were floated as potential successors to the Berlinale's long-serving artistic director Dieter Kosslick. These included Cameron Bailey from Toronto, Rajendra Roy, chief curator of Film at MoMA, and Bero Beyer, artistic director of International Film Festival Rotterdam. In the end, Locarno's artistic director, Carlo Chatrian, was chosen. He will take up the job in May, concentrating on the artistic side of the festival while Mariette Rissenbeek, presently the managing director of German Films, will serve alongside him as executive director.
Chatrian's appointment has been broadly welcomed. "Carlo is a cinephile and he listens," says Ritter. "He is not about his persona or his ego — he is always about the films and the filmmakers."
Jean-Christophe Simon, CEO of sales agent Films Boutique, agrees: "It looks to me a very natural change for Berlin." He expects Chatrian to "continue the tradition of Berlin being a political festival favouring discoveries".
Many point out none of the major A-list festivals have a female artistic director — and most of them never have done. They suggest unconscious bias can still slip into programming decisions.
"If you want to achieve diversity in the programme, you have to work on the diversity of the programming team because each programmer is biased by their own experience. It depends on the decision makers," suggests Maren Kroymann, managing director of Berlin-based M-Appeal.
"We should have female representation in every level of society and in festivals as well," agrees Emery.
The campaign for gender parity grows louder, the Berlinale under Chatrian remains an unknown quantity and no one would bet against Cannes in its Netflix showdown. But what does seems certain is the power of film festivals to give an invaluable global platform to arthouse and independent films is resolutely undiminished.
Whether these films will eventually be watched in cinemas or on TVs and mobile devices, the distributors will still be coming to Cannes, Toronto, Berlin, Sundance and Venice in their hordes to find them.