For the actor-director, it was the lockdown that brought back memories of a different kind of disruption during his childhood years. Screen talks to the filmmaker about the personal journey of Belfast.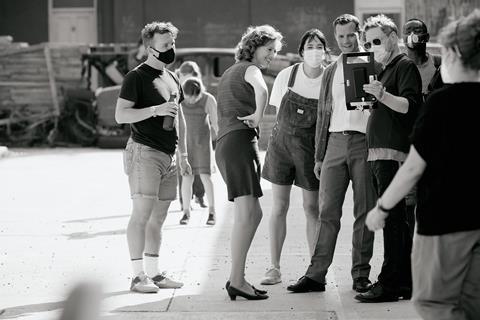 As a director, Kenneth Branagh has long been comfortable switching between big-budget studio pictures and smaller, more intimate productions. After 20th Century Fox's Murder On The Orient Express and before Disney's Artemis Fowl, for example, he made the Shakespeare-autumn-years biopic All Is True for less than $5m. His latest picture Belfast is not quite so modest ("between $10m and $15m", Branagh discloses), but it is certainly his most personal project yet, taking the 61-year-old filmmaker somewhere he has never been before on screen: his own life. And it might never have happened without Covid‑19.
"I got to the beginning of this lockdown and, as happened to many of us I think, emotions came quite close to the surface," he says, speaking to Screen International during the BFI London Film Festival in mid-October. "This intense memory I had of another lockdown — a lockdown that involved pulling up pavements and building barricades at either end of the street — suddenly became very vivid to me, though it had been leaning on my insides for a long time."
Branagh is speaking of his early childhood in the Tigers Bay area of Belfast, where at the tender age of nine his life was turned upside-down by the eruption of The Troubles, as violent vigilante gangs sought to rid his Protestant community of any Catholic elements.
Eventually, his parents decided to uproot and move the family to England, where they settled in Berkshire. In one fell swoop he went from a "life without burden or worry" to something "quite the opposite". It was, he says, "the most significant event in my life and I hadn't fully understood it or fully acknowledged it. For one reason or another, it definitely formed who I am. As a result, I sounded different" — Branagh dropped his Belfast accent during later childhood — "and had a different kind of life, probably a different kind of job. I can still feel and remember things — just a taste of the settled nature of my existence before that violent event. Even though it's through the impressionistic, you might say naïve or romanticised, eyes of a nine-year-old. It just never went away. And somehow I wanted to acknowledge it."
Drawing on his memories, and embracing their "romanticised" flavour by filtering them through the movies he loved as a boy (most significantly Fred Zinnemann's 1952 western High Noon), Branagh wrote the screenplay soon after the UK lockdown began in late March 2020, with the project being officially announced in July that same year. It was, he believed, a "high risk" venture, thanks mainly to the same pandemic that acted as its catalyst.
"It became clear that any kind of art or entertainment that involved asking people to leave their homes and go and watch something was now under existential threat," he says. "In that context it felt like, as an artist, your obligation had to be to try and go to the most personal place you could for the kind of story you needed to write. In that precarious film environment where nothing is clear, you've got to feel yourself 100% behind it, because if you don't, why in this difficult time would you expect other people to come along?"
The gamble went beyond the current viral threat, Branagh continues. "It's about a place some people won't have heard of, it's black-and-white, it's an arthouse film, et cetera. I thought, as soon as potential backers start reading it, they'll feel, 'Oh this is niche, with an audience of six.'"
Universal appeal
As Branagh took it to various independent financiers ("Wall Street types, some City types, all the rest of it"), however, he was buoyed by the response. "What was brilliant was they absolutely got the story. They understood there was a universality in the idea of a family in crisis; the cultural specificity was not reductive and restrictive. What it seemed the script was doing was allowing an access to emotion that people valued. I've found countless people saying to me, 'Oh, that reminded me of when my family had to make that decision to move.' It was very encouraging, and some of the deep concern was assuaged."
In the end, Branagh was able to take Belfast "a little upscale", and partnered with Focus Features. The Comcast-owned company came in, he says, "at exactly the right time". With the UK lockdown easing to the point where carefully managed shooting had once again become possible, there was a strong sense of now or never.
"There's a line in Shakespeare," says Branagh, being incredibly on-brand: "'There is a tide in the affairs of men, which, taken at the flood, leads on to fortune.' We didn't know whether this lockdown, when it opened up, was going to close again very soon. So we shot in August and September of last year, across the flattest period of the curve for the rate of infection."
Northern Ireland Screen was also brought in, though its assistance was logistical rather than financial, Branagh insists. As it turned out, the production did not spend long in Belfast, where it focused mostly on location exteriors. "Taking on board an existing street that was more period was problematic," Branagh explains. "People didn't want to move, and when it came to more modern streets the look wasn't right, plus there was all the modernity we would have to move." Then there were the Covid‑19 regulations: "If we were going to bring Judi Dench [who plays the grandmother of Branagh's young incarnation] over, there were issues in terms of how the [quarantine] bubbles worked."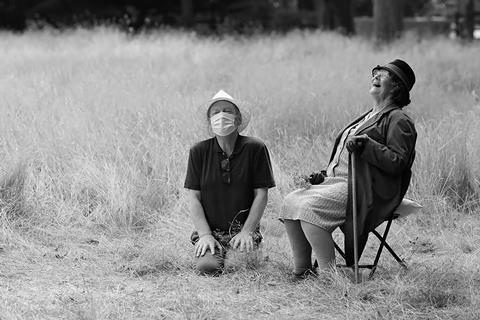 To ensure complete visual and logistical control, they created a "pop-up studio" at the International Exhibition & Conference Centre in Farnborough, England, where the entire street was built. "They had enormous amounts of hard standing on which we could build the set, and these hangar-like spaces that gave rain cover," says Branagh. "The film has a very strong look that's very particular, so building the set became an absolute must. I couldn't be on a real street in Belfast saying, 'Can we move that lamppost?'"
One of the unexpected hazards of bringing late-1960s Belfast to life, Branagh found, was less visual than olfactory. "Sometimes terrible cooking was filling the air," he chuckles. "There's a couple of scenes we cut from the movie, one involving the cooking of pigs' trotters which went on for hours and hours, and absolutely stank the house out. As did the tripe. Tripe poached in milk. Jesus Christ…" His face wrinkles at the memory. "If you could open a window, you did."
If recreating his childhood street didn't prove enough of a challenge, there was also the tricky task of finding the right young actor to play Branagh's nine-year-old avatar, Buddy. After a long search by casting director Carla Stronge in Belfast, then Lucy Bevan and Emily Brockmann in London, they settled on Jude Hill, whose luminous performance belies the fact it is his feature acting debut; he holds his own alongside the likes of Caitriona Balfe and Jamie Dornan as his parents, as well as Dench and Ciaran Hinds as his grandparents.
"He's quite a shy boy, but he loves acting," Branagh says of Hill. "He's somebody who's at the early stages of developing, so he's very open. He's very interested. He's very curious. He's a former Irish dancer, which gave him a physical discipline that meant he's not afraid of repeating things — and not just repeat, but to try and recreate, to find things anew each time with multiple takes."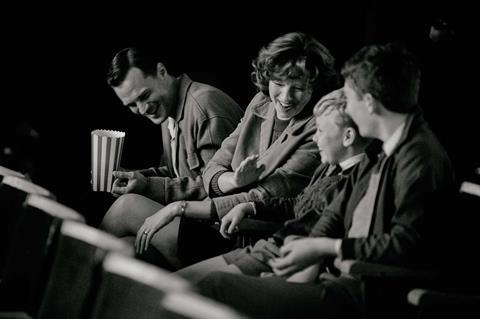 If you think Branagh — who has appeared in many of his own films — resisted the temptation on this occasion, think again. "I was in this!" he says, revealing that he originally played Buddy as an adult, returning to Belfast five decades later in a contemporary coda. "But it was superfluous. It didn't work. The 'now' was really about the city, not about my personal journey. So I cast myself [and] I cut myself," he laughs. "Which meant I didn't have to write that difficult letter I often have to write."
Screen presence
Branagh will be seen under his own direction again, returning as the moustachioed Hercule Poirot in the upcoming Death On The Nile, his Agatha Christie-adaptation follow-up to Murder On The Orient Express. It is a film that has not only been severely delayed (three times to date) by the pandemic, but also the disturbing claims made about one of its core ensemble, Armie Hammer, who in March 2021 faced allegations of sexual assault (which the actor has strenuously denied). How has Branagh been managing that grave situation?
"That is a very personal and I think private matter that's being dealt with very seriously," he says. "I can't comment on any details about that, as it's ongoing, but I've no doubt about its seriousness. We have to be patient, and we have to listen and try to understand, and hope compassion and fairness wins out for all concerned."
Following Death On The Nile, Branagh will be scruffed up and bulked up in the role of prime minister Boris Johnson, for Michael Winterbottom and Kieron Quirke's This Sceptred Isle. Branagh describes it as "a national chronicle, covering the events of the early part of the pandemic from the first signs in Wuhan, all the way through to the early part of the lockdown". He plays down his own involvement, insisting "the Whitehall story is only part of it".
It remains to be seen whether his next directing project will be a return to big-bucks Hollywood filmmaking, or whether Belfast will encourage him to keep it small and personal. Either way, there is always an element of "exposure", as he puts it.
"If you've had the privilege of directing a big movie that's around $100m, then it's a pretty hairy moment when that film opens — not just for me, but also for the people who wrote the cheque. It's a different kind of exposure on a film like Belfast — whether you get a kicking for something that's very special and precious to you."
Given the rapturous response to the film since its premiere at Telluride in September, including the people's choice award at Toronto, and a decent $6.7m at the North American box office since release in mid-November, a "kicking" seems unlikely. Even so, he sounds prepared for the worst. "One's had a kicking before and I'll have kickings again. So I thought, 'Well if I get a kicking for this one, at least it's something I love, and I'll put one foot in front of the other, and all will be well.'