In the Dr Seuss canon, characters do not come more towering than the spindly grump who steals Christmas. Screen talks to the makers of Illumination Entertainment's awards hopeful and box-office hit The Grinch.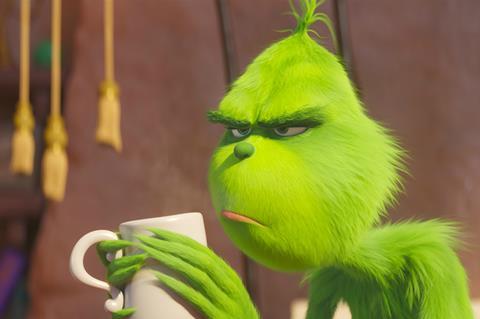 Why does the Grinch hate Christmas? It may sound like a riddle but for the makers of The Grinch that question was the way into a new screen version of Dr Seuss classic How The Grinch Stole Christmas!.
In turning the slim 1957 illustrated book into a computer-animated feature for a modern audience, "our immediate instinct was to focus on the Grinch", says Scott Mosier, who directed the film with Yarrow Cheney for animation studio Illumination Entertainment and its parent Universal Pictures. The aim, Mosier explains, was "to look into his past life a bit, to deepen the emotional story and develop the world and the characters around him".
The book has, of course, been filmed twice before, first in 1966 as a beloved, Chuck Jones-directed animated TV movie with Boris Karloff leading the voice cast, and then in 2000 as a (less beloved) live-action feature directed by Ron Howard and starring Jim Carrey.
The Grinch (released in North America as Dr Seuss' The Grinch) gives a nod to the Jones/Karloff version — partly by including a new recording of the song 'You're A Mean One, Mr Grinch' performed by rapper Tyler, The Creator — but it took its grounding from the original source material.
"We really wanted to start with Seuss's initial vision," says Cheney, who was production designer on Illumination's previous Seuss-based feature, The Lorax. "All of the elaboration we did on the story we tried to root in the book."
As scripted by Michael LeSieur and Tommy Swerdlow, the new version takes time to get to know the Grinch (voiced in this outing by Benedict Cumberbatch), a furry green grump who lives in a cave rigged with inventions and contraptions that, along with loyal dog Max, cater to his day-to-day needs and allow him to avoid his cheery neighbours in the alpine town of Whoville.
And in this version, when the Grinch, aided by Max and a misfit reindeer, resolves to steal Christmas from the Whos, he comes up against a slightly older incarnation of Cindy-Lou (voiced by Cameron Seely), a young girl brimming with holiday cheer but also keen to help out her overworked single mother Donna Who (Rashida Jones).
The estate of Theodor Seuss Geisel (Dr Seuss's real name) — which had formed a relationship with Illumination on The Lorax and with company CEO Chris Meledandri when he was an executive producer on Fox and Blue Sky Studios' 2008 Seuss animation Horton Hears A Who! — was consulted about the plan to give the Grinch more of a backstory; a backstory that eventually makes very clear what the character has against Christmas.
"We were always working in conjunction with them," says Mosier. "Everyone's feeling was [to] go back to the book and I know the estate wanted to see a new version that originated with the book."
A long journey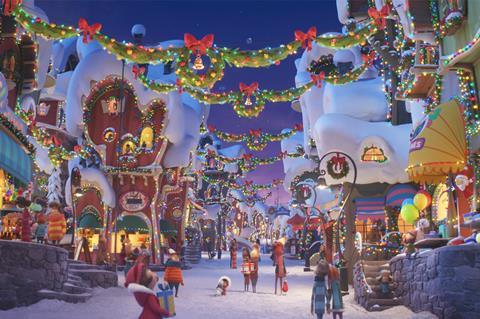 Getting the story on screen was an extended and sometimes arduous process — even by computer animation standards.
During its four years of production, the film went through a change of personnel. The originally announced director Peter Candeland (an animator best known for his Gorillaz music videos) who was paired with Cheney (co-director on Illumination's The Secret Life Of Pets) left the project. He was replaced by Mosier, producer and editor on Clerks and other Kevin Smith features, who was already on board The Grinch as an executive producer.
According to Illumination's Janet Healy, producer of The Grinch with Meledandri, the original directing configuration "just wasn't the right fit creatively for everyone. Scott was already on the movie, so he stepped in and helped us take it to the finish over the last two years. He has a lot of experience in editorial as well as producing, so that was a complement to Yarrow, who comes from production design primarily."
There were also technical challenges for the team at Illumination's Paris facility Illumination Mac Guff, where the film was made for $75m — a relatively modest CG budget but typical for Illumination, which keeps costs down with the help of French tax credits. The fur covering the title character and his helpers — and often trimming the clothes of the Whos — was one challenge. "We spent a lot of time enhancing our fur systems so we could carry off a really beautiful close-up of the Grinch," says Paris-based Healy. "And we spent a lot of time on our rigging tools for facial expressions so we could get the nuance and range of performance that [the character] was going to need."
The snow on which much of the action takes place — and with which the characters' fur frequently has to interact — was another test. "Snow is a very heavy, complicated calculation for rendering, because it reflects, it sparkles, it has interaction," Healy explains. "Making it so we could get the level and calibre of look that we wanted, but still do it in the time and with the resources that we had, was something we had to work hard on with the team."
Less of a challenge, by all accounts, was working with the film's voice actors, who also included Saturday Night Live's Kenan Thompson, two-time Oscar nominee Pharrell Williams (an Illumination regular who has composed songs for all three of the studio's Despicable Me films) and Angela Lansbury.
Cumberbatch was particularly involved, lobbying early on to voice the Grinch with an American accent rather than in his own English brogue. "He really wanted to give it an American slant because he thinks it's an American book," Healy says. "We recorded his normal voice and his American voice. His American voice felt fun and fresh, so we went with that."
The versatile and much-in-demand Cumberbatch remained involved for most of the production schedule, according to Mosier. "We brought him on early because we knew that the Grinch had to be this fully realised character," recalls the co-director. "He was on the project for almost three years and it was great being able to be in the booth with him and talk about character and performance and share the directions we were taking with the story."
Story, technology and performance came together in a finished product that Healy says has given her just what she was hoping for. "The Grinch is one of the most beautiful films I've seen in CG," she says. "I always wanted to make a Christmas movie in CG because I knew the medium would make it magical."
Universal and Illumination got an early present when The Grinch launched on November 9 with an opening weekend North American box-office take of $67.6m, the second-largest November opening ever for an animated film.