This year's documentary features include a bumper crop exploring political themes. Screen talks to filmmakers behind a trio of titles drawing urgency from a time of conflict and division.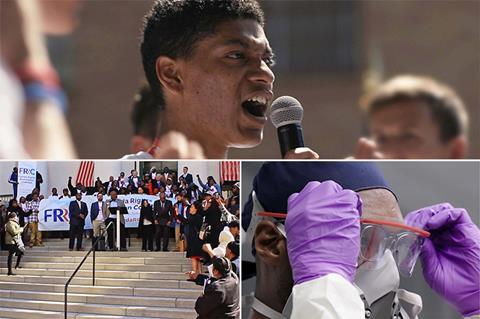 The prevalence of documentaries with political content in this year's line-up of awards contenders is no surprise after a bumper year for non-fiction films and a tumultuous 12 months in politics.
Included in the record field of 238 films ruled eligible for the 2021 documentary feature Oscar — then narrowed down to a shortlist of 15 titles — were political biographies and histories (John Lewis: Good Trouble, MLK/FBI); international investigations (The Dissident, Kingdom Of Silence, A Thousand Cuts); head-on polemics (Unfit: The Psychology Of Donald Trump, The Plot Against The President); and a range of perspectives on the state of the US political system and the Trump administration — among them The Fight, about the American Civil Liberties Union, and Frederick Wiseman's marathon City Hall.
Three films from the latter contingent show some of the ways US documentarians have approached their political themes and the challenges posed by the subject matter. And they also point to the effect politically themed documentaries can have in the wider world.
All In: The Fight For Democracy, which sits on the Academy Awards' shortlist and the Baftas' 15-strong longlist for best documentary feature, takes a relatively direct approach to, as Lisa Cortés (co-directer with Liz Garbus) puts it, "trying to figure out how we got to this moment, to a moment of insurgents storming the Capitol".
Acquired for the world by Amazon Studios, the film looks at voter suppression in the US, using archive material and contemporary interviews with experts, activists and would-be voters to illuminate a potentially abstruse subject.
Stacey Abrams, the activist and Democratic politician who was the first African American woman nominated by a major party as a state governor candidate, is one of the interviewees and a producer of the film. But Cortés insists the aim was to look impartially at the history of tactics associated over time with both Democrats and, most recently, Republicans.
Though work on the project started in 2019, the longheld plan for a US release last September — just before national voter registration day and six weeks ahead of the US presidential election — imposed a deadline on the filmmakers that Cortés says was "a joyous challenge. When you have a deadline for a project that you love, it actually puts additional wind in the sails."
The release was backed by an impact campaign that involved pop-up screenings where viewers could register to vote, and micro-grants to organisations helping prospective voters register and get to the polls. Amazon also made the film available in front of its paywall on national voter registration day and for the weekend before the general election.
The campaign continues to this day, Cortés explains: "We are starting to work with different states and individual school districts to provide the film as a tool, but also to provide discussion guides to aid in excavating and understanding this history." Because, says the director, "the fight for the franchise gives some insight into how we arrived here".
Battle lines
Winner of the grand jury prize for documentary at last year's Sundance Film Festival and one of the 15 titles on the Oscars' best documentary shortlist, Boys State takes a more oblique approach. It follows four diverse and charismatic participants in a week-long annual programme that has a thousand Texas high-school boys run a mock state government election, with two fictional parties setting platforms and picking candidates to run for governor.
Attempting to understand the political polarisation in the US that led to Trump's 2016 election victory, director/producers Jesse Moss and Amanda McBaine saw the Texas event as "an interesting and unexpected way to have this conversation", says Moss, "to sidestep the black hole of Trump and engage these important questions".
The logistics of following the four would-be politicians and shooting most of the film over a single week amid a throng of boisterous teens necessitated the use of six directors of photography (in addition to Moss and McBaine) and the capture of more than 40,000 gigabytes of footage that took a year to edit.
"We needed them to be extra­ordinary at what they do," says McBaine of the 28-person crew, "because we knew if we didn't get everything we needed that week — plus what we had filmed in the three-and-a-half months leading up to it — we didn't have a movie."
The film they did end up with — released by Apple TV+ and A24 last August in the US, just as the real-life US presidential candidates were beginning their campaigns — "provides an entry point for people across the political spectrum who want to understand how young people are processing this moment", Moss suggests. "We kind of see our future written in front of us, that clash of different ways of approaching politics — as a game to win at all costs even if it requires dirty tricks, and as the politics of integrity, of compassion, of principled leadership."
Totally Under Control deals only indirectly with politics, but the political calendar caused it to be made on the tightest of schedules, with just six months from conception to release. (It is a sign of this year's highly competitive race in documentary that the film missed out on the Oscar shortlist.)
Employing damning testimony from public health officials and investigative reporting into the early US response to the Covid-19 crisis, the film, says Alex Gibney, who directed with Suzanne Hillinger and Ophelia Harutyunyan, is about "politicians and their conflict with scientists. The purpose was to look at how competently did the government — the executive branch — manage the pandemic. That was what focused our minds."
The intention was always to complete work in time for release prior to last November's election, Gibney adds, "so that voters could render a judgment. In that sense we didn't think of it as political, we thought of it as civic-minded."
To shoot during the pandemic the project employed a minimal crew and a specially designed 'Covid cam', combining a computer, a digital camera and a microphone, that could be delivered to interviewees and operated remotely by the filmmakers.
And though the approach was non-partisan, political pressure was a factor during production, the filmmakers suggest. "We heard later that a lot of people weren't getting back to us because they felt their phone lines were being tapped and their emails were being read," says Hillinger. The Trump White House, she adds, acted "to make sure none of the messaging from anybody working in the government was out of line with what the White House wanted to say".
Released in the US by Neon and Hulu in mid-October, a few weeks before the election, the film "did have an impact", Gibney believes. "The one issue that seemed to sway people who were otherwise irretrievably planted in one camp or another was Covid."
With the election finally settled and the administration of new US president Joe Biden calling for an end to aggressive political polarisation, will interest in politically themed documentaries wane in 2021? Filmmakers suggest not.
Moss, currently working on Mayor Pete, about Pete Buttigieg, the openly gay presidential hopeful appointed to the Biden cabinet as secretary of transportation, can see the possibility of "fatigue for a certain kind of film perhaps, and maybe, with the new administration, a subsidence of some of the anxiety that's driven political coverage".
But because documentary feature makers "can spend a little bit more time and go a little deeper", says Moss, "there are opportunities".
Gibney — who says he is currently working on a project about "a massive crime in the US in which politicians were deeply implicated" — believes the climate for political films is still healthy, "if you get inside a story and make it a compelling tale of something that's gone terribly wrong, or indeed a tale of heroism in which somebody or a group of people has managed to force change. People are always interested in that story."