Wife-and-husband duo Jasmila Zbanic and Damir Ibrahimovic tell Screen about the challenges mounting Quo Vadis, Aida?, the Oscar-nominated story that revisits Bosnia's Srebrenica massacre.
Conflict-traumatised extras suffering flashbacks, a broken-down tank and a crippling cashflow crisis in the middle of production were just some of the challenges facing Bosnian director Jasmila Zbanic as she filmed Oscar-nominated drama Quo Vadis, Aida? in the summer and autumn of 2019.
Her most ambitious film to date, the drama revisits the Srebrenica massacre of July 1995, in which more than 8,000 Bosnian Muslim men and boys sheltering in a United Nations (UN) safe zone in eastern Bosnia were killed over the course of three days by Bosnian Serb forces under the command of Ratko Mladic. This atrocity also cast a shadow over the UN, which failed to protect thousands of terrified civilians who had massed in and outside their makeshift base in a factory building in the town of Potocari, just north of Srebrenica.
Serbian actress Jasna Djuricic stars as a local schoolteacher working as an interpreter for the UN's Dutch peacekeepers, who tries desperately to secure the safety of her husband and two young adult sons.
It is the fifth fiction feature from Zbanic and producer and husband Damir Ibrahimovic, who met in a shelter during the siege of Sarajevo and have been collaborating ever since. "I was studying directing at the Academy [for Performing Arts]. Damir was an economist and started helping me out," explains Zbanic. "After the war, we opened a video rental store, the first in our neighbourhood after the siege. We earned good money for the time, which we put back into short films.
"He always hides," she continues, teasing Ibrahimovic, who is sat beside her on the Zoom interview, a quiet but reassuring presence. "We work very closely. When we're preparing a project, Damir reads the script while I attend production meetings, but once shooting starts we're in separate rooms. I am really protected. I just have to take care of directing."
The couple created their production company Deblokada in 1998. Ibrahimovic initially juggled producing with a day job but devoted himself purely to production for Zbanic's debut fiction feature Grbavica. The drama, exploring the legacy of the rape of women during the war, won the Berlinale's Golden Bear in 2006 and was Bosnia & Herzegovina's Oscars submission in 2007.
Quo Vadis, Aida? may have given Zbanic her highest-profile awards success to date — overcoming its late-in-season acquisition in the US (by Neon's boutique label Super Ltd) to score an Oscar nomination for international film, following Bafta nods for director and film not in the English language — but it was no easy choice to tackle the Srebrenica massacre, and came only after a long period of reflection. "We would talk about how the story should or could be told but neither of us said out loud, 'We should do it,'" recounts Zbanic. "It felt too big, both as a production and emotionally. It's also such a hot subject politically — the minute you touch it, there's a problem."
Source material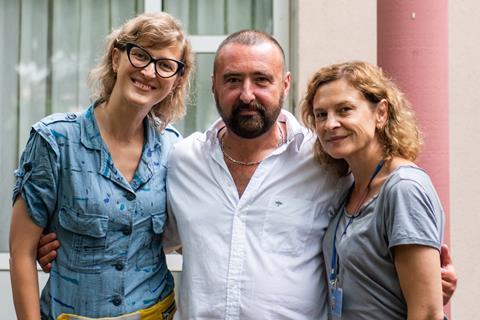 The pair finally found a framework in the autobiographical work Under The UN Flag: The International Community And The Srebrenica Genocide by Hasan Nuhanovic, a UN interpreter at Potocari whose mother, father and brother were slain after being forced out of the base despite his entreaties for them to be allowed to stay. The filmmakers acquired the rights and started developing a screenplay with Nuhanovic but he found the process too painful, forcing a rethink of the adaptation.
"At the same time, readers of the script weren't connecting with the protagonist," says Zbanic. "At a certain point, I thought, 'Let's try it with a female in the lead, a mother who is protecting her kids,' and the script immediately worked better."
Piecing together the actions of real-life figures such as Mladic and Colonel Thomas Karremans, who was in charge of the Dutch peacekeeping mission, also took care. Although currently serving a life sentence for genocide and other war crimes, Mladic remains a hero for many Bosnian Serbs. Zbanic opted to create his dialogue out of footage shot by the personal cameraman Mladic took on his campaigns. Such is the following for Mladic in neighbouring Serbia, that Serb actor Boris Isakovic (who is married to Djuricic) thought long and hard before taking on the role and has since come under pressure at home.
Karremans turned down Zbanic's request for a meeting so she consulted David Harland, the former UN head of civil affairs for Bosnia & Herzegovina who researched a draft UN report on what happened at Srebrenica, for advice on whether the version of events in her screenplay rang true.
In the meantime, Ibrahimovic had started piecing together finance. It was impossible to fund the film solely out of Bosnia & Herzegovina and he ended up bringing eight co-producers from across Europe onto the project, who in turn tapped a variety of sources to generate funds. The complexity of the co-production — which is between Bosnia & Herzegovina, Austria, Germany, France, Netherlands, Norway, Poland, Romania and Turkey — slowed down the arrival of money but, by the spring of 2019, Zbanic and Ibrahimovic were impatient to shoot that summer.
They bit the bullet at the 2019 Berlinale, gathering all the co-producers in "a huge rented room" to plead their case. "Everything was primed to shoot but we were missing some of the finance. This made it risky to go ahead, but Damir really pushed for us to go into pre-production," says Zbanic.
Ibrahimovic felt the "project would die" if shooting did not get underway. It was a risky move to push on, and midway through the shoot the production hit cashflow problems, which Ibrahimovic managed to solve with a $590,000 (€500,000) personal bank loan (the final budget came in at $5.3m).
His determination to push on with production in 2019 proved fortuitous in the light of the Covid-19 pandemic. "Given the amount of extras we have in the film, it would never have been possible under Covid-19 shooting conditions," says Zbanic.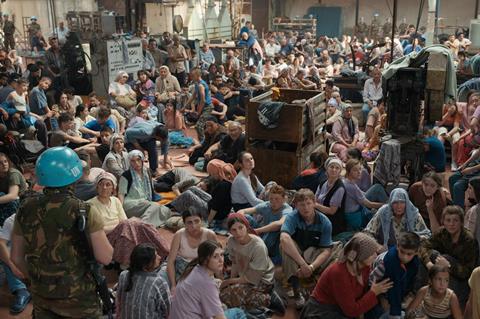 Shooting finally began in July 2019 in and around the southern Bosnian towns of Stolac and Mostar. Zbanic has strong ties to Srebrenica, having connected with the local Mothers of Srebrenica group and also having run theatre workshops there for local children aimed at fostering co-existence, but she and Ibrahimovic did not feel shooting there was an option.
The town now lies in the predominantly Bosnian Serb territory of Republika Srpska, one of two entities that now make up Bosnia & Herzegovina alongside the Federation of Bosnia & Herzegovina, and its current mayor is a genocide denier who has never visited the Srebrenica Memorial Centre.
Southern Bosnia offered a more welcoming environment although the production still struggled to secure access to military equipment, possibly because Bosnian Serb officials blocked their request. A lawyer friend eventually managed to pull strings with a minister to secure two tanks, but after principal photography had wrapped, so they held one final day of shooting in September. "We were praying it wouldn't rain as the rest of the film had been shot in the summer — then one of the tanks broke down," recalls Ibrahimovic.
During the main shoot, Zbanic would discover that many of the extras had experienced atrocities of the war first-hand. One day, shooting came to a grinding halt after two women who had been in Srebrenica as children became hysterical at the sight of Isakovic coming on to set in the guise of Mladic.
Looking back at the shoot, Zbanic now believes participating in the film was a form of therapy for people frustrated by attempts to brush over what happened to them in the war. "It's a healing moment to have this trauma recognised. They told us they appreciated that we are talking about it when nobody else is."