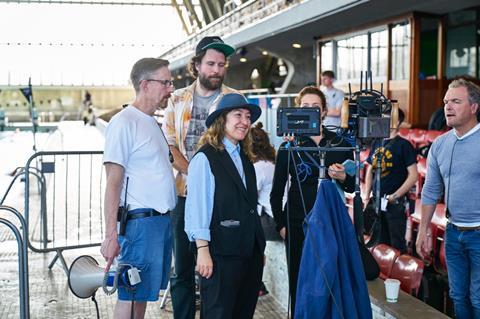 When UK producer Tessa Ross was talking to Greek filmmaker Athina Rachel Tsangari about a film project, she decided to, as Ross puts it, "take my life slightly into my hands".
Ross had enjoyed her conversations with the director of festival favourites Attenberg and Chevalier so much she wondered if Tsangari would be interested in taking on a TV series she was also developing.
"Would you think about television?" Ross asked Tsangari.
The "television" in question is Trigonometry, an eight-part drama series set in London, written by acclaimed playwright Duncan Macmillan with his wife, the film and TV writer Effie Woods.
The first five episodes premiere in the Berlinale Series strand of the Berlin International Film Festival's European Film Market today (February 25).
Ross was developing the series through House Productions, the film and TV company she set up in 2016 after stepping down as the head of Film4, with Juliette Howell, who formerly led the TV department at Working Title. The pair had fallen hard for Macmillan's idea for a love story about a couple and their lodger, making their way through the world in modern-day London. They stepped in to finance the series' development: House has backing from BBC Studios and Len Blavatnik's Access Entertainment.
"If you can't develop, you are always waiting for someone else's taste to play," Ross explains. "And we feel very strongly it's all about taste. You support someone early on finding their ideas."
After developing the pilot script with Macmillan and Woods, House took the project to Piers Wenger, controller of BBC TV drama commissioning, who quickly greenlit the series.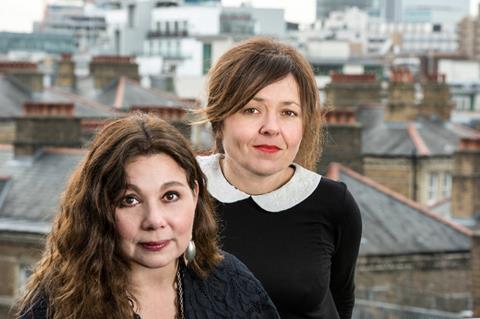 The right chemistry
But Ross and Howell did not want to gallop through the development process.
"Very often things are greenlit and you rush at them and there isn't that time to spend developing those scripts, finding exactly the right people and to get the kind of chemistry you see on screen," says Howell. "It takes time to find those people."
Ross was sure filmmaker Tsangari was one of those people. "Athina had come over from Athens with so much beautiful food. 'Here are some olives, here's some wonderful honey'. She was the most amazing woman bearing gifts," Ross recalls, not entirely joking.
It would not be Tsangari's first move into television as she had directed two episodes of the pan-European drama series Borgia in 2014. But Trigonometry promised to be a much more collaborative affair. After reading the scripts Ross had sent her, Tsangari travelled to London to spend a week with Macmillan and Woods.
"The whole thing was about intimate conversations and chemistry," says Ross.
"The scripts were so ready, so beautifully crafted and calibrated. I don't think we changed a single line," Tsangari recalls. "It's the first time I'm working on someone else's script. I knew my place as a television director was to somehow translate that language on to the screen. We were given a week to discuss, just to make sure our sensibilities and aesthetics were aligned."
A shared love of screwball comedies assured the filmmaker they were and Billy Wilder's The Apartment became one of Tsangari's most potent references for the way she decided to shoot the series.
How much she could take on was a question. The development process had been so thorough Tsangari was able to read nearly all eight of the scripts. The hard thing was working out how many she physically had the stamina to make.
Tsangari decided to direct on the first five episodes, with the Bafta-nominated director Stella Corradi taking over for the last three. Ross and Howell did everything they could to ensure Tsingara's style of filmmaking and the way she liked to work – the very reasons they had hired her – could work within the fast pace of shooting a TV series.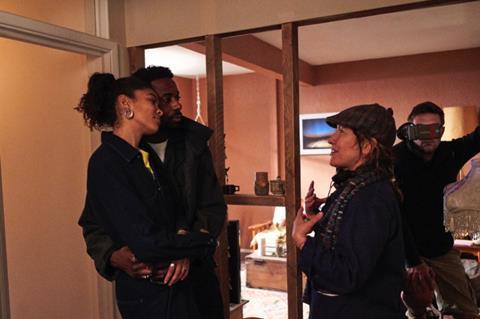 "I call myself a slow director," Tsangari explains. "It takes a long time for me to develop something, it takes me a long time to write, to get it to a point where it is a precise blueprint before we start shooting."
From meeting Ross and the initial conversation with her in July, Tsangari started shooting in January. "We had two months in the middle where we had conversations while I was in Athens as I was trying to wrap up my life there because it happened so fast. It was a very, very fast process that taught me a lot. It was a school for me.
"I really appreciated the fact because of Tessa and Juliette, and Imogen Cooper our producer, we managed to get a crew who became a family which helped me a lot.
They included US director of photography Sean Price Williams and production designer Stephane Collonge from France.
"For some of these scenes, we literally had 45 minutes to shoot. If we were all not in such absolute synchronicity and possessed compassion for each other, it would not have worked," says Tsangari emphatically. "Because I am quite ambitious when I am on the set. Very infuriatingly precise. You see this fluidity but every single thing in the way the camera moves was completely rehearsed with our DoP."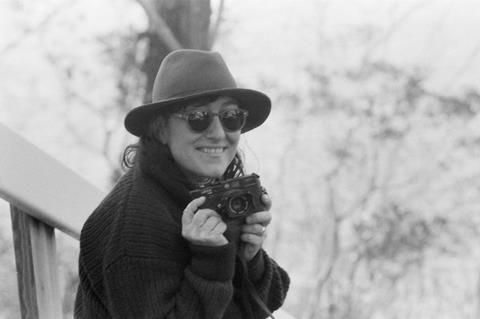 Passionate conversations
Music is very important to Tsangari, providing a creative touchstone and a way of communicating the mood she wants to create and the visual language she wants to craft with her cast and crew. Given the luxury (for television) of a week's rehearsals with her key cast – including her regular collaborator Franco -Greek actress Ariane Labed, with whom she worked on Attenberg, UK actor Gary Carr, whose credits include HBO's The Deuce and London theatre star Thalissa Teixeira – the filmmaker found the conversations easily spilled over into their personal time.
"We would just go out eating and drinking and watching stuff and listening to music."
Before the first day of shooting the cast and crew all received a playlist of music to listen to and a hard drive of 18 films to watch.
"We all arrived on the set having a base to work with," Tsangari explains. "And tons of passionate conversations. We would not go home. It would be past the allotted hours in the day and we would just move into a pub and keep talking."
Trigonometry shot on location in Hammersmith and at Ealing Studios in west London. Tsangari's episodes shot from the end of January until the beginning of April 2018 before Corradi formally took over as Tsangari headed to the edit suite. Corradi had been involved since the beginning, meeting Tsangari early on so they could build the same show together, talking regularly to Tsangari, visiting the set and watching the rushes.
Although Tsangari was the senior director, she describes the relationship with Corradi as mutually supportive.
"She had just finished [Through The Gates for Channel 4] for which she was nominated for a Bafta. I was in a city I didn't know, doing television. Who was the mentor, I don't know."
Tsangari was thrilled with that style of working. "To have this older and younger director team up this way is a great way of building camaraderie and building experience and passing the baton," she explains.
After studying at university in Thessaloniki, New York and Austin, Texas, Athens-born Tsangari describes herself as a nomad. She now lives in Atlanta, Georgia and says she writes best in English having been in the US since turning 20. "I became a filmmaker in English," she explains. Both Attenberg and Chevalier were partly shot in English.
The filmmaker is now writing her first TV series for which she hopes to direct at least the pilot. "Who isn't and shouldn't be interested in television? It's where the most daring experimentation happens, on television."
And she is still talking to Ross about the film project.
"We definitely will be working together again, I don't know how old we'll be," says Ross. "I haven't seen the next draft."
Tsangari laughs. "I've been busy!"