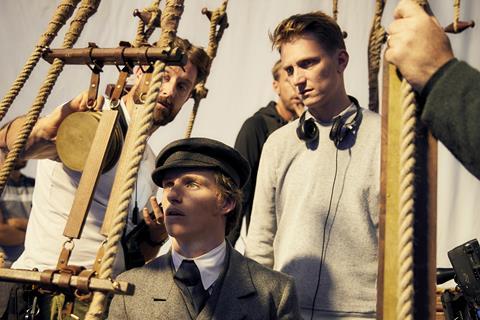 When it came to casting the two leads of his 19th century ballooning adventure The Aeronauts, director Tom Harper suffered an initial moment of disappointment. The two names he thought would be most perfect to play pioneering meteorologist James Glaisher and daredevil balloon pilot Amelia Wren were Eddie Redmayne and Felicity Jones.
"And then I thought, 'Oh God, we can't do that, because of The Theory Of Everything,'" says Harper, but he soon returned to the idea. "I thought, 'Hang on a minute, there are clearly great acting partnerships throughout the history of Hollywood, and maybe it could be a positive. They have a proven on-screen chemistry, and from what I'd heard they enjoyed working together, so this puts us ahead."
Both actors knew the other had been approached, and they communicated their interest at the same time, each then meeting the director, whose film credits include Wild Rose starring Jessie Buckley, and agreeing to do the film.
The Aeronauts began its journey when director of photography George Steel pitched the idea to Harper on the set of BBC miniseries War And Peace. Steel had been home for the weekend, and had heard on the radio an extract of the Richard Holmes book 'Falling Upwards: How We Took To The Air', a history of 19th century ballooning. The extract concerned Glaisher's 1862 ascent with balloonist Henry Coxwell to a record altitude of 37,000 feet, in a mission that played a key role in science's understanding of the weather.
After completing War And Peace, Harper bought a copy of the book, but was soon discouraged. " It was extraordinary, but much of the flight was quite boring," he recalls. "James Glaisher was a meticulous scientist and he spent the entire time taking measurements and he didn't really say very much."
Then Harper started dipping into the other stories in the book, and became more enthused. "I realised that actually if you amalgamated a number of the stories, and took a few of these different flights and put them together, then you would have something really extraordinary."
Writing a story outline, he quickly had the notion that the film could take place in real-time, within a single ascent.
"Most flights tend to be about 90 minutes, two hours. The idea of doing something in real-time, with two actors in a basket, I thought was really interesting."
Rather than go the conventional route of financing the script development, Harper – who operates his own production company Popcorn Storm – turned to his friend Jack Thorne. The prolific writer for stage and screen had scripted Harper's first two features The Scouting Book For Boys (2009) and War Book (2014). Despite his multiple projects (recent assignments include The Virtues, The Accident and His Dark Materials for TV, and Heyday Films' The Secret Garden for the big screen), Thorne said yes.
"Jack is never available," says Harper. "But, like all of us, when there's something that really interests you, you find time for it. Jack and I are always looking out for a suitable project we might work together on."
Thorne wrote the script on spec, giving Harper – who is also a producer on The Aeronauts – more control. A key decision in the amalgamation of the stories was to replace Glaisher's ballooning partner with a fictional character based on French balloonist Sophie Blanchard, who is grieving the loss of her husband in a ballooning accident.
Harper then found his producer partners in Todd Lieberman and David Hoberman of US production outfit Mandeville Films. Lieberman and Hoberman had worked with Thorne on Wonder (2017), and their further credits include Beauty And The Beast and Muppets Most Wanted.
Amazon Studios came in to fully finance the project, operating with a budget just under $40m net of UK tax incentive. The streamer then worked with regular sales partner FilmNation to pre-sell the film around the world including to eOne for the UK.
"Because my company Popcorn Storm developed it, and we wrote it on spec, we were able to control how we put it together," says Harper. "Todd and David were brilliant producers, very strong producers. They were fantastic at working with the studio and distribution – all of that's been a bit tricky, as I'm you sure you know – and managing all of that. Whereas we were much more on the ground and shaping how it comes together."
Harper is alluding to the decision Amazon Studios made in July that The Aeronauts would receive only a brief theatrical window before premiering around the world on Prime Video on December 20. The exception is in the UK where eOne will still release on November 6 with a full cinema window. This is understood to be because of the theatrical potential of the film in the UK.
"We are very clearly in changing times, and Amazon are in a process of adjusting to that," says Harper. "It's fair to say I have felt very supported by Amazon throughout the entire process. It's quite an ambitious project, in many ways, and it's not based on a piece of [popularly known] IP, so it's quite a risk to take. And they were fantastic and supportive in realising that vision.
"It's not how I would have… I would have hoped that people would go and see the film at the cinema – that's what it's designed for. At the same time, I'm really pleased that everybody, all across the world, will get the chance to see it for Christmas."
The $40m budget allowed Harper to realise his vision of actually building the Mammoth balloon, and film in it – including a daredevil sequence (using a stunt double) where Jones' character Amelia ascends the outside of the balloon at high altitude in order to de-ice an outlet valve, allowing the pair to descend.
"As much as we could, I really wanted it to feel real, and therefore because I knew we could build a balloon, I thought that we should," says Harper. "At the very least I wanted to send the camera and sound teams up in the basket, and match our visual effects to that. As it turned out, we were able to do a lot more than that. And I think that really informed the visual style of the piece."
Harper now has several projects in development, including an adaptation of Amor Towles novel A Gentleman In Moscow with Kenneth Branagh and eOne Television, and an untitled original screenplay scripted by Emily Ballou (TV's The Slap) for Wild Rose star Jessie Buckley.
The Aeronauts receives its UK premiere at the BFI London Film Festival on October 7.