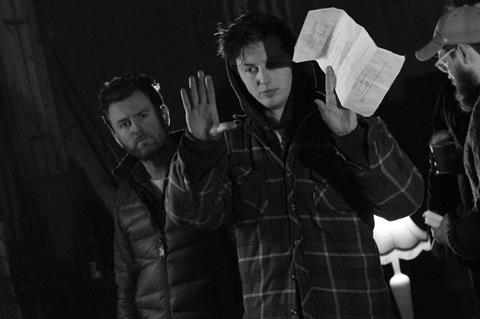 With its story of a 1930s dinner party whose guests inadvertently open the gates of hell, Jack McHenry's debut Here Comes Hell! mixes 1930s period drama with demonic possession.
As the film gears up to premiere at Glasgow FrightFest tonight (March 1), part of the Glasgow Film Festival, the filmmaker reveals how he made his audacious debut on a micro budget of £22,000.
Here Comes Hell! has been described as Downton Abbey meets Evil Dead. Why did you set it in the 1930s?
The spark of the idea came from watching David Lean's Blithe Spirit, which I have always thought was a funny movie. But it has a seance scene which is really scary, and it could easily have carried on in that tone. I also love early Hitchcock movies, in-camera effects, that style of shooting. The 1930s social backdrop was good to poke fun at – it's very stiff upper lip, trying to hold things together but they are actually having to kill each other.
You raised half of your £22,000 budget on Kickstarter. How did working with limited resources help you be creative?
With horror, you can be as fantastical as you like, you can break all the rules. We were always up against it but we were always keen to make sure that we had enough money to deliver the horror moments. Most of the effects are practical, which was important. I wanted to get the main bits in-camera so we went to a load of pound shops at Halloween to get everything we needed, and I built the models in my bedroom. There was a lot of gaffer tape involved!
Most of the film takes place in a run-down manor house. Where did you find that?
That was a real stroke of luck. Most houses of that scale are done up for weddings and things like that, and made to look perfect, and I wanted an old, crumbling Hammer Horror- type of house. Luckily we found this one under construction up in Lincolnshire called Revesby Abbey. It was amazing, but there were chunks of the roof that weren't there so it was freezing cold and the rain was coming through. We shot it in January and, if you look carefully, when people are talking you can see their breath. This is a cliche, but I think the house had to be like a character in the film. It was so important to get it right.
You made the film through your production company Trashouse Films What are your plans for the future?
We want to keep on making low-budget genre movies, kind of like what Blumhouse is doing but in a very English way. Genre Ealing comedies, that kind of thing. I also think it would be great to get other people involved. Turn it into a travelling circus of filmmakers, make a little low-budget studio.
Here Comes Hell plays Glasgow FrightFest on Friday March 1.