When Covid-19 struck, US showrunners were suddenly faced with the dilemma of whether or not to weave the pandemic into their storylines — with a range of different creative outcomes.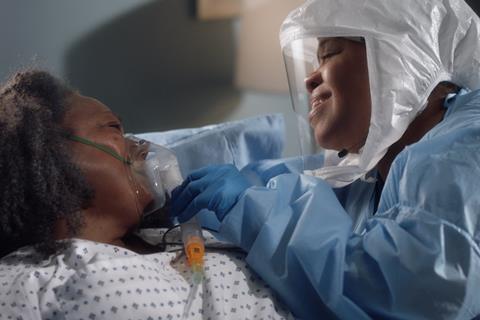 When the first shutdowns of the Covid‑19 pandemic were implemented in March 2020, content creators the world over were soon grappling with suspended productions or else adapting to the new reality. For those pushing ahead with shoots, this entailed a fresh approach to physical production, and to considerations of what could realistically be depicted on screen.
"We had to find creative ways to allow our actors and crew to be safe," explains Grey's Anatomy executive producer Zoanne Clack, "so we would have scenes with less people, and longer scenes."
But there was an even bigger creative consideration for episodic television in contemporary settings: how should a show's narrative respond, if at all, to the pandemic?
While many series avoided addressing Covid-19, plenty did, including comedies such as ABC's Black-ish. Animation South Park leaned into current events with a pair of hour-long specials examining, in its characteristically warped manner, the psycho­logical and emotional toll of quarantine isolation, plus vaccine hesitancy and misinformation. Set in a big-box retailer, NBC sitcom Superstore found humour in its characters struggling with runs on essential supplies, attempting to promote safe in-person shopping, and ultimately dealing with a consumer shift towards online spending. Shows such as Shameless and The Conners, meanwhile, connected Covid-19 to the socioeconomic struggles of their working-class characters, while the latter also debated the positive effects of frank discussion about the pandemic versus a self-perpetuating loop of fear and anxiety.
On the dramatic side, mask-wearing was woven into the fabric of procedural dramas such as S.W.A.T., and NCIS: New Orleans opened its seventh season with a two-part pandemic-themed murder before largely backgrounding Covid-19, showcasing it chiefly through the toll taken on CCH Pounder's overwhelmed coroner. In Showtime's 10-episode limited series Your Honor, episode eight sees Bryan Cranston's judge character suddenly referencing a threat that "wants to contaminate us", before delivering dialogue that explains the notable emptiness of his court for the remainder of the series.
Other shows were more assertive. Already two episodes into its production cycle in March 2020, Queen Sugar shut down and reworked its entire fifth season to incorporate and explore the effects of the first three months of the virus. This Is Us, which already examined many social issues by way of its timeline-jumping focus on the Pearson family, embraced the new realities of Covid-19, using them to assay the differing impacts of the virus on different communities and at different times. Creator Dan Fogelman has long been vocal about a six-year plan for the series, and stated that the characters' journeys in this delayed and truncated fifth season will complicate and shade big life decisions of the final arcs he envisions for its 2022 ending, giving them even greater contemplative heft.
Perhaps nowhere was the challenge of addressing Covid-19 more pronounced, however, than in medical dramas and other shows featuring first responders, many of which are among television's most consistent ratings performers. "The goal was to integrate and balance Covid-related stories with other medical stories that come in regardless of a pandemic," says Chicago Med co-showrunner Andrew Schneider, whose series was paused for six months before resuming shooting in September 2020. "Since our episodes air months after they're written and shot, the challenge was to anticipate the state of the pandemic months ahead. That was stressful."
"The pandemic actually provided us with many story ideas in terms of treatments, long-term health problems and the politics [of the pandemic]," adds Chicago Med co-showrunner Diane Frolov. "For instance, we did a story about a severely ill Covid patient who didn't believe Covid existed. And we did lean heavily on our consultants for how their hospitals were adapting to the changing severity of the pandemic."
ABC's long-running Grey's Anatomy was among the series that most embraced the pandemic, having its lead character battle a bad case of Covid‑19. The work was intensely personal for executive producer Clack, though, who penned the episode 'Fight The Power' in which Dr Miranda Bailey's mother passes away from Covid‑19.
"My mother actually didn't die from Covid but she had a very long and treacherous course where she almost died quite a few times, and she has Alzheimer's," says Clack. "And it's like Bailey says, you want there to be an end to this disease but you don't want Covid to be it. A lot of people felt that was part of their journey too, which is why I think it was so well received."
Making adjustments
Fox medical drama The Resident, meanwhile, found it necessary to embrace a uniquely challenging hard pivot — and not merely because its planned 22-episode season was eventually reduced to 14 episodes. "We pride ourselves on doing storylines that are about the problems in medi­cine, the corruption of money, bad doctors, bad practices," says The Resident executive producer Andrew Chapman. The nature of the pandemic required a reset. "We realised we were not going to be able to tell that kind of story for this season, and that we were going to have to partially discard that central theme of our show," he says.
The show's other big move was, after its season debut, to jump to a post-vaccine world. "We were very lucky we have incredibly good doctors on our writing staff," says executive producer Peter Elkoff. "Our doctors made it clear to us that sometime around January, when we would be airing, the light at the end of the tunnel would be visible for America. We banked on that, we rolled the dice, we trusted our specialists and our own judgment, and we won the bet."
Grey's Anatomy opted for another type of timeline adjustment when it began production on its 17th season in September. "One of the best things we did was set ourselves in the middle of the beginning [of the pandemic]," says Clack. Picking that point and slowing things down in the timeline of the show allowed the writers to process some of their own feelings.
"It's almost a bit of a time capsule of that time — the isolation and the feelings of helplessness were so ingrained," adds Clack. "But being just a few months ahead, we were able to look back and debunk the things that weren't working [in treatment], or at least not sensationalise them. By modelling the behaviours, we were just doing what they were doing, and being able to be truthful and to tell our stories in the same vein."