Bafta-nominated UK actress Hayley Squires talks to Dan Jolin about the life-changing effect of making I, Daniel Blake, the irony of walking the Cannes red carpet and chocolates on set each day.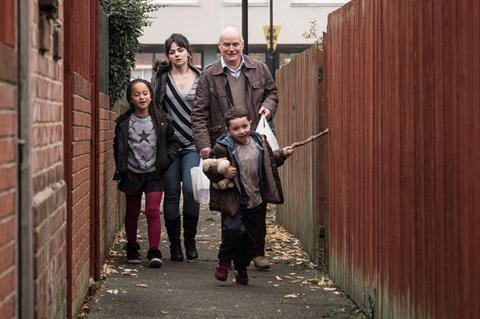 I, Daniel Blake wasn't just a breakthrough film for Hayley Squires. It was a life-changing experience.
One day in November 2015, during the five-and-a-half week shoot in Newcastle upon Tyne in northeast England, the then 27-year-old actress phoned her mum in south London.
They are close and Squires was unable to travel back to see her before the film wrapped.
But, during this particular call, what was more on her mind than the family she had left down south was the community she had discovered up north.
"When I finish this, I can't just walk away from what's happened in this film," Squires recalls telling her mother, "or the people we've met, or what it's about."
In Ken Loach's heartfelt tale of poverty, welfare injustice and institutional neglect in austerity Britain, Squires delivers a raw and rending performance as Katie, a single mother forcibly relocated to social housing in Newcastle, then denied her benefits thanks to a missed appointment.
As well as working alongside comedian Dave Johns as Daniel, she shared scenes with non-professional actors.
In the scene where a starving Katie desperately cracks open a tin of beans in a food bank, the volunteers were people who really worked at that food bank, while the extras were all people who used it.
This is not, Squires insists now, "something you can just pick up, do the job and put back down, then walk away from".
Not every film has its powerful closing lines beamed onto the walls of the Houses of Parliament, or is mentioned by the leader of the opposition in the House of Commons, or has a day named after it (the Labour Party annointed November 17, 2016 'I, Daniel Blake Day' with hundreds of screenings of the film around the UK to draw attention to proposed government cuts).
"The level of reaction really sticks with me," says Squires, now in rehearsals for the play The Pitchfork Disney at Shoreditch Town Hall in east London.
"A lot of people have written or spoken about it, and it's gone to Parliament, but there's also the more personal things of people tweeting me or getting in touch to say, 'This happened to me,' or, 'This happened to my dad or my mum.' People's response has been extremely personal."
Tireless promotion
Furthermore, says Squires, Katie "isn't a million miles away" from herself.
"Katie is working-class south London, which is where I come from. If I didn't have such a strong pull towards acting from a young age, and the support of my parents, it easily could have been my life."
Which is why Squires, who has received the kind of attention over the past nine months she has never experienced, has not tired of helping to promote the film. Doing press for I, Daniel Blake has not felt like the proverbial treadmill to her.
"It's a film that people want to talk about," she says. "If I were talking about superheroes, I imagine it would be a bit more grinding. We knew we had to push it. We had to speak truly about how we felt about what was happening to people. The film gave us an opportunity to really do that, which was great."
However, she admits she was not prepared for the experience of taking the film to Cannes, where it played in Competition, received a rapturous reception and went on to win the Palme d'Or.
"I don't think you can prepare for Cannes if you've never been," she laughs. "I mean, Ken knew [what to expect] because they love him and Sixteen Films. But it was a whirlwind for me, a lot of people in one place. It's absolute madness.
"Also, we were putting a film out we'd seen only a couple of weeks before, after pouring everything into it, and then it was going onto the biggest stage, to be propelled into the world… and everybody loved it. It was a beautiful feeling, but the nerves of that are massive."
It helped that Squires could take her mother ("She loved it, she was very overwhelmed; she kept saying thank you to everybody!"), though nothing could distract her from the irony of premiering a film about all-too-real poverty at an event she describes as "a carnival of wealth", where she had to be "walking down the Croisette with Ken in our dinner suits and cocktail dresses".
But she insists this is just one side of the festival.
"It was so genuine as well. When people have a reaction to a film, you get to the nitty-gritty of what it's all about. It was a real confirmation for us."
When I, Daniel Blake's big win was announced, Squires was already back home.
"I was at my boyfriend's house having a curry," she says. "I had it on this dodgy live stream that was all in French. But it was a beautiful moment. I couldn't believe it. To be in a Ken Loach film that's won the Palme d'Or is just a dream."
Squires' feet are planted too firmly on the ground to become lost in airy talk of destiny or serendipity, but she does admit to being taken aback by this sudden change in her life - change brought about by working with a director she has long admired.
Squires says Loach's Sweet Sixteen, which she first saw aged 15, made her think, "I want to be an actor."
It was a film she returned to again and again to re-enthuse and inspire herself.
Working with the director, though, was not easy, especially in this demanding role up in the freezing cold of "Geordie-land in November".
Loach would only reveal Paul Laverty's script in sections to his lead actors.
So for example, she and Johns only found out they would be performing in a death scene for a character just prior to shooting it. "That was not a fun day."
Loach did explain at the start of the shoot that "hunger is a major issue for Katie", so she was at least prepared to go hungry herself. Squires was told about the food-bank scene four days before filming it, and during that time ate only a bowl of vegetable soup and a banana.
"It wasn't about losing weight," she explains.
"It was about what quick starvation like that does to your body. It brings all of your emotions to the surface. There's a level of exhaustion and stress that goes with it. So then when something happens, when adrenaline kicks through your body, it just takes you into a whole other place. And me and Ken knew we couldn't do that if I was full-up."
Chocolates and Chinese food
Of course, a Ken Loach shoot is not an entirely arduous experience.
"He doesn't baby you," explains Squires, "but he's kind and funny. Even the really difficult bits are done with such a gentle touch."
She describes his crew as being "like a family", and recalls fondly how everyone was treated to Belgian chocolates at 4pm each day.
"He will ensure you've eaten and you're taken care of, and you're not just sitting in your hotel room with this character, and the loneliness and the isolation of it. He doesn't insist on that. Instead, we'd go to the pub and watch the football, then go for a Chinese."
Once again, for Squires, it all comes back to a sense of community, of people pulling together and helping each other, whether as part of a film crew or society as a whole.
I, Daniel Blake has given her career a boost, for sure - she writes as well as acts, and now has a script in development at Michael Fassbender and Conor McCaughan's DMC Films. But Squires is a woman who spends far less time talking about the value to her career of playing Katie, than what it has meant for her understanding of the world.
"We're all under the impression the world has gone mad because there are a few people in power of a particular persuasion, one of hate and pull the ladder up and sod the rest," she says.
"You're led to believe your neighbour hates you, or wouldn't help you out. That's not what we found when we made the film.
"There is still a massive sense of community among people. It's just that the media and what's fed to you by the higher powers would have you believe otherwise."
As Squires says, I, Daniel Blake is not the kind of film from which you can just walk away. Wherever she goes now, this on-screen taste of poverty will always be part of her identity. And she is all the richer for it.