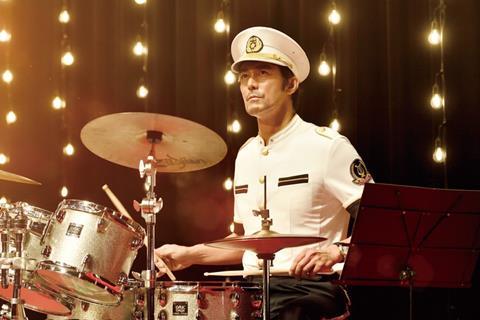 Hiroshi Abe has long been a standout star in his native Japan with celebrated roles in Hirokazu Kore-eda's Still Walking and After the Storm, and Hideki Takeuchi's Thermæ Romæ, for which he won his first Japan Academy Film Prize.
This year, he stars as a tough-as-nails detective who is suddenly transferred to the police band in Eiji Uchida's musical comedy Offbeat Cops, which will receive its world premiere at the New York Asian Film Festival (NYAFF) on Friday (July 22). Director Uchida will attend alongside Abe, who will receive the Screen International Star Asia Award before the screening
Ahead of the premiere, Abe spoke to Screen about drumming up fresh skills for the role, his collaborations with Kore-eda and why he cried when first seeing his latest film. The interview has been translated from Japanese and edited for clarity.
For Offbeat Cops, you had to learn to play the drums from scratch. What was that experience like?
I had never played drums in my life and had about three months to learn. The first time I tried was a disaster and that was before I even used my feet. It was pretty dispiriting. After a couple days of futile pounding on a drum set in a studio, I switched to one of those pads you can practice on at home, then a silent drum set. I finally started to see the light at the end of the tunnel about a month in, when all the actors practiced together for the first time. It wasn't perfect, but we managed to play a song to the end and I finally started to have fun with it. From then on, I started to improve at a steady clip.
Do you feel like there are similarities between musicians playing together and actors doing scenes together?
Right, it's like a jam session. Both musicians and actors help each other out, playing off each other to create a better performance. They are quite alike. This film helped me see that in a fresh way.
You started out as a model, then moved to acting. What led to that?
In my early modelling days, I received a few offers for TV or movies, but my plan was to get a normal job after retiring, so I always declined. At some point, I got an offer to play a character in a live-action version of an anime I'd been into as a kid [1987's Haikara-San ga Toru]. That made it easier for me to tell what the role was all about, so I agreed to appear. That was my debut.
What was it like acting for the first time?
My performance was pretty wooden. (laughs)
You might be best known in the West for your work with Hirokazu Kore-eda on Still Walking and After The Storm. What is it like working with him?
He is not the kind of director who commands you to do things a certain way. As we rehearse, he refines the script over and over, rewriting the lines to make things feel more natural. That really helps enrich the roles too. He's very thorough and polite on set, helping mould the performances with little words of advice. He's a master at building a calm, gentle environment.
Is there a director from outside Japan you'd like to work with?
Rather than name a specific director, I'll say this: as a Japanese actor, I want to try working on a foreign set. How do things work? What's the atmosphere like? It would be an incredible learning experience.
Could you leave us with a message for those about to see Offbeat Cops?
It's a film about a person with a very fixed way of looking at the world suddenly thrown into a new situation—a police band. He can't accept it at first but starts to understand the feelings of those around him and undergoes some real personal growth. I love that aspect of the film because it shows that regardless of position or age, people can change. When I saw the film for the first time, I just started crying despite myself. I'm looking forward to seeing how the audience in New York reacts.