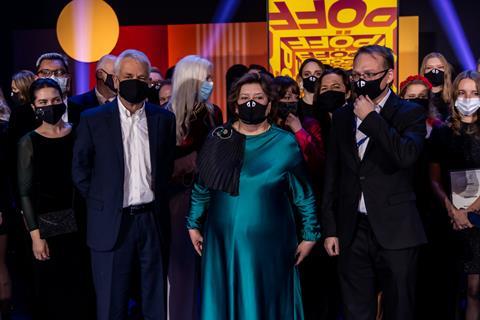 Organising this year's Tallinn Black Nights Film Festival (PÖFF, November 12-29), which took place as a scaled-down physical event this year despite rising infections in Estonia, has proven a huge challenge for festival director Tiina Lokk.
"Every day when I woke up, I'm asking whether we have to cancel the festival or move it online," she told Screen before the festival wrapped this weekend. "That's why I'm so tired! I was very nervous, but at the same time we felt it was important, and important for our minister of culture [Tõnis Lukas], for us to stay open."
Organisers insisted on mask-wearing from day one. The government also instigated a capacity cap on live events, and even though this excluded cinemas it still resulted in a considerable drop in attendances. Just before the end of the festival, Estonia was also taken off the UK's travel corridor list, with UK festival guests facing a 14- day quarantine on their return home.
In total, Tallinn hosted 646 physical screenings this year, with attendances at around 30% compared to 2019 (the final figures are not yet confirmed), rising to around 50% taking into account online screenings.
Some 85 international industry guests attended the physical event (plus 40 from Estonia), including 15 international journalists, with 1,600 accredited professionals in total. Instead of receptions, parties or big dinners, the festival tried to safely entertain its guests outdoors, with winter swimming in the Baltic Sea, ice-skating and bog walking.
Lokk said that despite some grumblings about rules requiring mask-wearing throughout the whole film, with some audience members using "not the most beautiful words when asked to put on a mask," most audience feedback was positive. "The first week was much easier than the second one, when there was a more happy and relaxed atmosphere in Tallinn."
She adds: "Psychologically it was important for our audience, even those watching online, to make this festival happen. It's giving hope that you can survive and lead your normal life, even with masks."
A big part of the line-up was available as geo-blocked online screenings for Estonian audiences, which were capped at either 250 or 500 people and also accredited professionals who can catch up with the films until December 6.
Online screenings did help expand the reach of the festival. "It was really good that people watched the films in places all over Estonia," said Lokk. "It was good marketing that they understood what kind of films we were showing."
Nonetheless, the financing this year was "very difficult", with the festival delivered for around €1.7m. "We have never had as much money as the big festivals, so we are quite well trained at working in a crisis situation," said Lokk. "What was saving us was we made a realistic prognosis in all cases. Right now we are in trouble but also we know we can manage."
Lokke said the biggest challenge was the safety of her festival team, industry guests and audiences. "The responsibility is huge," she said. "Normally a festival director has to make sure everything runs smoothly, you are getting your financing and so on, and from this side everything went as planned. But the responsibility you have for the people - it's not finished for me, it won't until [the end of the festival] when I know all my team is healthy."
This year's selection included a record number of 33 world, 29 international, and nine European premieres. At the festival's award ceremony on Friday (November 27), director Ivaylo Hristov and producer Assen Vladimirov won the Grand Prix for best film with Bulgarian drama Fear.
Industry strand
This year Tallinn's Industry@Tallinn & Baltic Event took place entirely online and featured around 850 delegates – up compared to 2019's physical iteration which had 617 guests.
"Overall the feedback was good," said Marge Liiske, director of Industry@Tallinn & Baltic. "As always some of the technology fails, some passwords didn't work, some firewalls break down. You can't test the user experience until hundreds of users come at the same time but by the end of the event we'd figured it out."
One of the benefits this year, according to Liiske, was more delegates from territories, such a New Zealand or Asia, that traditionally don't have the means to travel to Estonia, as well as high profile professionals from the US who normally cannot attend because of heavy schedules or Thanksgiving plans.
Liiske cited a masterclass with Oscar-nominated film composer Danny Elfman as one example. "Both him and the participants were very happy that they could interact."
The festival is aiming to use the online industry portal next year. "We have had very good feedback on [this] and it's something we want to use again," said Lisske. "This functionality is here to stay even if the virus goes away."