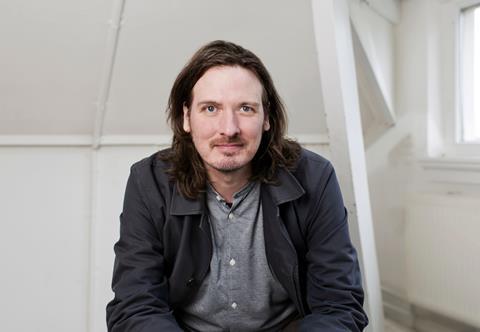 When Caspar Sonnen, head of new media at International Documentary Festival Amsterdam (IDFA), launched DocLab in 2007, immersive and interactive storytelling was still in its infancy.
Flash forward to 2021 to a world still coping with the Covid pandemic (and IDFA is taking place under a semi-lockdown), and the boundaries between the physical and the digital are blurring. Traditional museums and theatres have been obliged to move into the online space in order to stay in touch with their audiences.
In its 15th year, DocLab has both a physical and digital presence. It has spread out over Amsterdam, with live events and live screenings at venues from the EYE Museum to the ARTIS-Planetarium as well as a 'Liminal Reality' programme. Alongside its two main competitions. for digital storytelling and immersive non-fiction, it is holding conferences and exhibitions as well as its own "messy metaverse party."
Sonnen talks to Screen about the metaverse, censorship in the VR world and how that is impacting what DocLab supports and commissions.
With Facebook rebranding into a "metaverse company," would it be fair to say that VR is now truly in the mainstream?
It's interesting to explore the associations people have with the word 'metaverse.' We sent out a little questionnaire to people in the field asking what is the emotion that first comes to mind when you mention the word, 'metaverse.' This was before the Facebook announcement. It was because 'metaverse' is such a buzzword.
On one side, it is nothing new. Look at what kids are doing in Minecraft or Road Blocks. Look at how, especially during the pandemic, we have all been living vicariously through our screens, more maybe than we wanted to. That is, in a way, a disjointed, clunky version of a metaverse. The potential of what can be done in spatial media is immense. The projects [in DocLab] are a testament to that. What we're celebrating with the 'messy metaverse party' is the disjointedness, the independence which interactive artists explore and thrive on.
There has been talk of censorship in the VR world with some certain VR platforms taking a strong family values approach. Has DocLab been affected by this?
Well, yes, but I think it is too simplistic just to approach this from a censorship view. The situation, unfortunately, is much more complex. A a week before our press conference to announce our programme, Facebook deleted the entire DocLab account. It was after we posted a picture to a performance that had a breast shown. It was an evocative image from an evocative project [IDFA On Stage's Seek Bromance about a gender fluid live experience]. It was nothing close to pornographic. I don't think that was censorship. It was just basically the algorithm gone haywire.
We've seen in many aspects of reality that some of the technology that reality is connected to has grown into such a beast that the people who built it can no longer control it themselves.
And DocLab is caught in the crosshairs?
Facebook doesn't want to censor us because we are promoting projects some of which are supported by Oculus [the Facebook owned company that produces VR headsets].That is only part of the conversation. There is definitely something we in new media experienced on the digital level 15 years ago when we were making interactive projects for browsers and screens. There were systems being built like Flash by Adobe which were great enablers for new forms of expression. However, when there was a corporate battle between Apple and Adobe, that meant the death of Flash - but it also meant the death of the canon of the largest part of interactive documentary works made over the last years.
Is this negatively impacting your ability to programme and distribute work at DocLab?
It is a challenge to make these works avaiable. There is a platform war happening, of course. Certain projects only work on certain devices.
Is there yet a viable economic model for the artists in the VR world to make a living?
The easy way out of this question is to say, 'Tell me the answers for linear film and I will tell you [it] for interactive and immersive'. It is not that different. If you're a filmmaker on your own, making a highly personal and experimental piece, maybe you're better off making it on your own dime and finding an audience later. The difference is the types of players are much more diverse and disconnected in the interactive space than they are in film.
In the end, it is relatively clear that films live on television, in a cinema and/or online. In the case of immersive, museums are just as important as festivals or just as important online platforms. It really depends on the piece. If you're talking about distribution, things are much more custom [built], much more dependent on the type of project.