Film features drugs, bondage, voyeurism and sibling incest.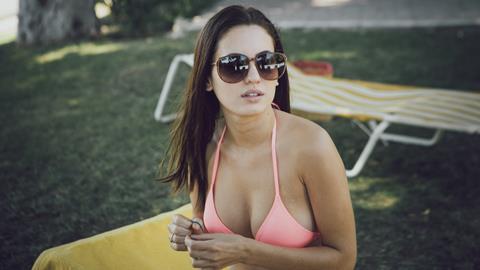 Spanish director Pedro Aguilera made a striking debut with his austere Carlos Reygadas co-produced 2007 drama La Influencia.
His latest film is an edgy psychodrama about a film director who returns to Spain from Los Angeles with his private life in a mess. His life spirals out of control further when he begins spying on his sister with a webcam.
Ciudad Lunar Producciones and Carmelita Films produced with Stray Dogs handling international sales. We spoke to director Aguilera about the film.
How did you get into filmmaking?
I never studied Cinema, I studied Fine arts. I was supposed to be a painter till I was 20 or so. I bought a video camera then and started to play with it, and finally did some short films. But as soon as I started to work on the audio-visual I felt that was the perfect way for me to express myself, better than painting, so naturally, in an organic process I left painting. I didn't have any experience on filmmaking or contacts when I started so I made a lot of mistakes by trying to develop my short films. I realised I needed advice and also to learn about how the films are made.
Not about the ideas or the stories I wanted to tell but about how to build a crew, what is a shooting process, or how to produce films. So I met several directors in Spain like Juan Carlos Fresnadillo and Daniel Calparsoro. And by talking to them I just got a job in their shootings. After that I met Carlos Reygadas and joined him in his second feature film Battle In Heaven, later with Amat Escalante, so there I knew the way of shooting that fit myself, and the kind of people I wanted to work with. So everything came naturally, it was trial and error. Not intellectual or academic but an intuitive way of learning.
What was your inspiration for making 'Sister Of Mine (Demonios sus ojos)'?
I never have a rational starting point, or self-conscious working process. I mean I did not sit on a table and start to write about some issues, it just comes naturally. Sometimes the starting point is an abstract idea, sometimes just an image. In that case I think there were two concepts or scenes. A film director that is trying to push everything around him to the limits, and finally finds that the last limit is his own family. His identity. The idea of creating cinema outside of the film industry. Somebody is creating an audio-visual Icon but just for himself, he is not showing it to the world, it's a private cinema creation.
Was this projects developed through any labs (for example Torino Film Lab)?
No, we didn't develop the project in any lab. But we went with the project to a lot of Coproduction networks, like Cannes, San Sebastian, Les arcs, Espagnolas en Paris and Ventana Sur and the project got its structure from this process I guess.
What was the biggest challenge when working on the film?
One challenge was the low budget. We needed 40 locations and 35 professional actors with text lines so it was complex. The finished film now is quite basic, but we shot a lot of material and we had different shooting schedules, in separate seasons. Several cameras, different formats, some people in the crew had no experience. For most of the crew this was their first movie, but finally it became my best shoot, ironically.
Another challenge for me was to make a luminous film, or a colourful film at least, in summer time, in daylight, but with a deep psychological impact that is obscure and perverse sometimes. So trying to handle this balance was interesting for me. A dark film in a bright context. We tried to create that contrast as well in the Spanish poster of the film. I like that contrast.
How do you think the film diverts from your previous work?
It's difficult for me to analyse that because all of my films come from the same place, I try to be honest of who I am and transform that into images. But it's true that I change the elements sometimes in every film. I like the evolution in cinema, I mean I don't like to do the same film on and on, that would be boring for me. There is always a learning process, a work in progress, it's difficult for me to form a judgment. I like to play with the media and try things. For example in Demonios sus ojos I just shot with one optic (35mm) on purpose, in my previous work I did use a lot of focals, here I don't use the zoom anymore. It is my first film shot in digital, and also the aspect ratio is 1:33. But for me this are just external elements, in the end, in my point of view, all my films had some elements in common and express parts of myself.
What are you working on next?
I have several projects going on, but the way of raising money is so unpredictable that you never know which project is going to succeed. I want to shoot a film in the island of La Palma in the Canaries; an amazing place, the last shelter in Europe in my opinion. And another project to shoot in France and Africa. Let's see what happens.