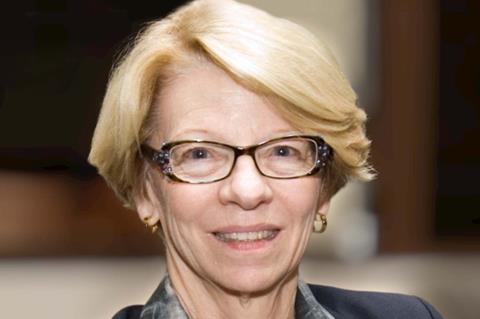 Los Angeles-based Jean Prewitt is president and CEO of the Independent Film & Television Alliance (IFTA), the global trade association representing independent content distributors and producers that also runs the American Film Market (AFM) in Santa Monica.
Prewitt joined IFTA in 2000 after a decade as a senior official at the US department of commerce representing the White House and executive branch on international commun­ications and information policy, and as a public policy specialist in Washington DC representing entertainment and technology interests.
Before that, the Harvard and Georgetown University law centre graduate was SVP and general counsel of United International Pictures, the former joint venture between Universal, Paramount and
MGM/UA, and practised federal antitrust, tax and copyright law with the firm Donovan, Leisure, Newton & Irvine.
AFM (November 1-6) returns to Loews Santa Monica Beach Hotel as an in-person event for the first time since 2019. As of October 18 there were 292 registered exhibitors, with the most hailing from the US, UK, Italy, France and Germany, followed by Canada, South Korea, Thailand and Malaysia. The event said there were 824 buyers registered from 63 countries at time of writing. The figures are rising every day.
Are you encouraged by the number of people who say they will attend AFM?
Other than parts of Asia, we're seeing broad-based registration across a wide range of countries, but also very slow registration. A lot of people have said they couldn't even think about whether they were going to AFM until they found out if Toronto worked. People are mixing it up in terms of what type of space they're taking.
The numbers at the end will show a market that's robust in terms of the types of companies and the geography. One fact to keep in the back of your head: in DC a lot of people that do events and conventions across multiple industries have cited that all of them are down 25%-30% this year because people were too uncertain. We cooked in some of those assumptions. The pandemic isn't over for people who are being asked to go to crowded environments, so that's the other reason I take a lot of encouragement from how broadly the bigger countries are participating.
What makes AFM a must-attend?
It is the most effective, broadest-­reaching true film sales market in the industry. It's not linked to a festival and it's not about anything other than getting the sales and the packaging and the business of film done. It is the most effective way to do that, plus we have the added advantage that you can also access the rest of Hollywood — the studios, and Silicon Beach where the streamers are. This is your one trip of the year to really [benefit] your business before you go into the next calendar year of spending.
Why appoint two AFM co‑managing directors — Matthew Thompson and Catherine Girard-Cobb — after the departure of 24-year veteran Jonathan Wolf?
We have restructured how we approached the AFM with Jonathan's departure, and have brought it more closely into IFTA so that everybody at IFTA, most particularly our communications, marketing and sponsorship people, have become part of the leadership team. Matthew and Catherine arrived early in the summer; neither of them has ever been to an AFM. Both of them have 25-plus years in event management and they've jumped in with both feet. Both bring new skills — Jonathan is an unbelievably smart, able leader — but these are two people who came in since technology was the backbone of events. We will [run AFM] this year with their help and then it's time to start looking at more of a clean slate on what we put together for 2023.
Tell us about some of the other changes to AFM.
The big new element is how much shorter the market is. We planned to do this in 2020 and obviously didn't. The market timing is very tight this year and that's changed a lot of the way people are planning their week, including things like our conference schedule, which we've moved back to the Loews so people can make the most of their week without transiting to other venues. For buyers and sellers it's put a lot more pressure on making every day count. The market opens on November 1, for the first time on a Tuesday. But everyone in a group I talked to said they will start on Monday.
Why did you shorten the market?
Three years ago people were actively pushing library catalogue sales [along] with new projects. Now a lot of people feel they've exhausted their catalogue over the last two years because there was such huge demand for it. They don't particularly need the extra days to pursue those sales heavily. The shorter schedule pushes to the top the sale of new projects and overall that's good for the market.
IFTA has moved a lot of its year-round programming online. Will there be an online component to AFM?
There's no simultaneous online component. This year for the first time we're recording all the conferences and will make them available after the market so that people can catch up on everything.
What are the key issues that are top of mind for IFTA members?
The main issue, and not just in the US — it was evident when I was in Cannes and other industry gatherings — is the supply chain. People cannot get talent released by the agencies or streamers to put their packages together. There's a huge tendency for talent to be held back to see if there's a better deal out there. Added to that — and I heard this more in Europe than I do here — is the lack of crew. A number of streamers have such heavy production activity that they've tied up crews. I heard from various companies that they were still trying to put into production pictures sold a year ago.
We haven't seen as many companies go out of business as was initially feared.
I agree. Certainly there are companies that have whittled down their staff or are more heavily focused on VoD, for example. We're seeing new companies coming into our membership. The independents always do their thing. They know about cutting costs. They know how to finance things, they're comfortable cobbling solutions together. People survived the pandemic to fight another day.
How has IFTA supported members during the pandemic?
In the US we focused on the need to get production insurance coverage back in place for pandemic and communicable disease losses. This still is our major ask for Congress since it affects independent film financing going forward. On other programmes, such as PPP [Small Business Association's Paycheck Protection Program, which ended in May 2021], our role was educating decisionmakers on the economics of our industry in order to get a broader access to the funding for production companies. Going into the pandemic, we got tax code Section 181 extended for five years, ensuring ongoing federal benefits from accelerated depreciation deductions. This was a welcome relief after numerous years of seeing the provision expire before a retroactive extension for the prior year.
In other countries, there was more film-specific government help put in place. Those programmes were successful locally but the sheer size of the US film industry meant they couldn't be replicated in the US as other businesses shut down, workers couldn't be paid, etc. Addressing the conditions that pushed insurers away from production insurance by creating a federal plan to share with the insurers future pandemic losses across a broad range of industries emerged as the stronger and most promising solution. It continues to be our number-one priority.
What's the latest on the ongoing fight against piracy?
We and others in the intellectual property community continue to lobby for better enforcement tools to combat online piracy, which — unsurprisingly — bloomed during the pandemic. There was a major success in late 2020 when legislation was passed to make streaming piracy done on a commercial scale a felony, as downloading already is.
There are renewed efforts now through the Copyright Office and within Congress to look at other improvements that will move enforcement from the "Whac-A-Mole" system of taking down illegal copies online one-by-one, to something that is streamlined with modern technology or a legal process protecting all stakeholders. With our partners internationally there is ongoing lobbying at national and multinational levels, and within global treaty organisations, to preserve the copyright owners' essential rights to determine their own plan for exploitation. This is basic to IFTA members' businesses and is a continuing advocacy priority.