With its global expansion strategy in full flow and a raft of blockbusters to fill its screens, the picture continues to look rosy for IMAX. CEO Richard Gelfond and EMEA president Andrew Cripps sit down with Matt Mueller.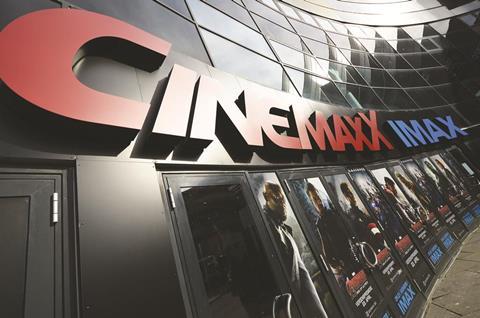 Following May's announcement that Vue International is entering the IMAX business in the UK with the launch of two cinemas (in Cheshire Oaks and Leeds), IMAX has now successfully wooed the UK's top five exhibition chains. Besides adding to their 30 existing UK sites (a fourfold increase from 2012), IMAX's Vue deal puts them in business with a major European exhibitor that had yet to buy into an IMAX partnership, and comes on the heels of Vue's launch of its first European IMAX theatre in Copenhagen.Opening on April 22 with Avengers: Age Of Ultron, the CinemaxX IMAX was Denmark's highest-grossing cinema site that weekend, a feat it repeated recently with Jurassic World.
"With all the options available to consumers, you need to give people an excuse to go out to the movies. IMAX is not just an excuse, it's an incentive."

Richard Gelfond, IMAX
The UK continues to be a rapid growth market for IMAX, second in Europe behind Russia, and operates the company's highest-grossing site, the BFI IMAX on London's Southbank. IMAX has also ventured into London's starriest vortex with its 2014 takeover of the Empire Leicester Square - part of the company's strategy to set up hubs in key locations around the world. With so much expansion, why did Vue hold out so long?
"Vue has done a lot of analysis of the IMAX business," says Andrew Cripps, president of IMAX, EMEA. "They launched their own private label, Vue Xtreme, but if you look at how strong our business is in the UK and our per-screen averages versus anything else, they've come to the conclusion that it's the right business decision for them."
Territory expansion
It is another pay-off for the company's assertive territory-by-territory approach, which puts the hard yards in to sign up one major exhibitor in a new country, and then waits for the returns to speak for the brand. "For IMAX as a global business, when you go into a new territory," states Richard Gelfond, CEO of the IMAX Corporation, "people say, 'It works in the UK but will it really work in Germany or France?' Generally, it goes well but it might go slow until a second exhibitor comes into the market. Then all of the sudden the first one doesn't have the luxury of waiting forever for it to happen, because they're going to lose good sites. It's the dynamic of having a reference theatre that's successful, and then having competition that grows the market."
"We're thinking of how to account for local tastes as well as exporting Hollywood movies. We try to programme more on a country-by-country basis."

Richard Gelfond, IMAX
VUE's launch in Copenhagen, to be followed by a Stockholm site before the end of the year, is, the duo hope, the beginning of a rapid Scandinavian expansion. Similarly in Japan, where IMAX has 25 theatres primarily with smaller exhibitors, they hope Toho's launch of the first IMAX in Tokyo's iconic Shinjuku district will prove a tipping point for Japanese expansion. Likewise in the Middle East, where deals with VOX Cinemas and Novo Cinemas will nearly double the company's MENA presence.
It is not, however, a wholly rosy picture. Europe's struggling economies pose their own challenges, with IMAX labouring to gain traction, for obvious reasons, in southern Europe (although they recently opened a second theatre in Portugal with Lusomundo). Other European markets continue to be tough to break. "In Germany, Italy and France, we don't have much penetration," admits Gelfond. In France, where the company has 13 screens, the high volume of local content in cinemas makes the IMAX model - which is reliant on the spectacle of Hollywood blockbusters - more challenging. Unlike other markets, not least the UK and China, where IMAX can rely on new-build sites, converting existing buildings and old screens is a more expensive prospect. "We need more height for the IMAX aspect ratio," says Cripps, "and in old or listed buildings, it can be difficult to get that."
The adoption of a more flexible approach to programming has gone some way to altering the perception among Europeans that IMAX is simply a pipeline for Hollywood product and 3D nature spectaculars. "We used to programme on a worldwide basis, mostly according to Hollywood's schedule," says Gelfond. "If a film didn't open day-and-date in the US and Europe, there would be gaps in our programming. Now, we're thinking of how to account for local tastes as well as exporting Hollywood movies. We try to programme more on a country-by-country basis, which has opened up the market."
Local specificity does not always pay off, however. In France, releases for Pathé's 2012 French comedy Houba! On The Trail Of The Marsupilami and Gaumont's The Young And Prodigious T.S. Spivet were relatively unsuccessful. On the other hand, Fedor Bondarchuk's Stalingrad proved a huge IMAX hit in both Russia and China, and the company has been rolling out locally produced films on their rapidly expanding Chinese circuit now up to 225 theatres - including Wolf Totem with China Film Group and Jackie Chan-starrer Dragon Blade.
With the industry fixated on China's vast growth potential, IMAX's local numbers are impressive, even taking into account the country's capped number of foreign releases. With Avengers: Age Of Ultron, for example, IMAX cinemas took 11% of the box office over the first two days from 174 sites; not bad when you take into account the film opened across several thousand screens in China. With a massive backlog of officially contracted sites awaiting development in the country, including a recent deal with Huayi Brothers, Gelfond says plans are to double the screen count in the next two years.
"2015 is an embarrassment of riches in terms of blockbusters that will look great in IMAX."

Richard Gelfond, IMAX
In addition to its global expansion, IMAX continues to push forward on the content and technical aspects of the business. IMAX announced an industry first with Marvel on the next two Avengers sequels, Avengers: Infinity War, Part 1 and Part 2. These will be the first features shot entirely with the company's cameras, albeit deploying a new suite of substantially smaller and lighter digital IMAX 2D and 3D cameras, developed through a joint venture with camera manufacturer Arri.
"As we move from film to digital and the cameras get lighter and easier to use, you'll see more of that," says Gelfond of the next-gen technology and its ability to supersede some of the unwieldiness of IMAX's existing large-format cameras. The IMAX CEO and Cripps also met with Luc Besson during Cannes, and the French director has tweeted his intention to shoot part of his upcoming project, Valerian, with the new cameras. "It's great to get a European film-maker of his stature into the business," says Cripps.
IMAX also launched its laser technology projection and sound system - IMAX with Laser - last December at the Scotiabank Toronto, followed by the TCL Chinese Theatre in Los Angeles (formerly Grauman's), which hosted the world premiere of Fast & Furious 7. It is the next-gen step in digital projection, and so far the company has taken 70 orders for this new system around the world. "On a conventional digital projector, you couldn't get enough light on a screen larger than 80 feet," says Gelfond. "Now, you can do these mega-palaces with the laser system."
"It opens up the possibility," adds Cripps, "that you could have IMAX screens of 120, 140 feet, which would enable us to build premiere theatres around the world."
Empire Leicester Square, which features a 28-metre wide screen and a 1.9 aspect ratio, is due to be fitted with laser projection by the end of the summer, with the CineStar IMAX in Potsdamer Platz Berlin following suit in October. Due to the limited seating in IMAX screens, the company has struggled to host premieres, but taking over the Empire and creating the UK's largest IMAX capacity at nearly 750 seats is one area where laser-projection's value will serve the company, not least in terms of media profile.
The company's revenues were down by 5% last year from 2013, to $10.3bn, but Gelfond and Cripps expect the figure to rebound this year thanks to a more potent line-up of Hollywood releases, with Jurassic World, Mission: Impossible - Rogue Nation and Star Wars: The Force Awakens all filling IMAX screens. With its powerful brand name, proprietary methods and business strategy, and premium viewing experience, IMAX continues to be a bright spot in global exhibition. "As in-home experiences get better, exhibitors have embraced the fact they have to upgrade their facilities," says Cripps. "IMAX plays an integral role in that."
"With all the options available now to consumers, you need to give people an excuse to go out to the movies,"adds Gelfond. "IMAX is not just an excuse, it's an incentive. Challenges are always going to be, 'Do you have good enough movies? Do you have good enough locations?' But 2015 is an embarrassment of riches in terms of blockbusters that will look great in IMAX. If you can't smile in 2015, you should be in a different business."
Top 10 markets by screen count
1 US (384)
2 China (225)
3 Canada (46)
4 Russia (38)
5 UK (30)
6 Japan (25)
7 Mexico (22)
8 South Korea (15)
9 France (13)
10 Taiwan (10)
Figures are for open theatres, and do not include signings or backlog.